In 2001, the AHS Board of Directors has accepted a proposal for a new year-end award honoring the "Best North American-Bred Young Mare." This award is to reward the young mare that has the best-combined scores from her Studbook Inspection and her Mare Performance Test.
This award is restricted to mares that are three and four years old in a calendar year. This stipulation is to reward those mares that are performance tested when they are young, and show good innate athletic ability and talent, in contrast to a mare who has had years of dressage or jumper training.
The eligibility requirements for the Hartwig Prize are as follows:
The mare must have been foaled on the North American continent
The mare must have been issued AHS foal registration papers; and
The breeder must have been an active member of the AHS at the time the mare was bred and continues to be an active member up through the time the mare is tested.
The award is designed to encourage more mare owners/breeders to have their young mares performance tested during their eligible years.
The primary recipient of the award will be the breeder of the mare. However, in instances where an individual other than the breeder owns the winning mare, the owner at the time of the Mare Performance Test will also be recognized.
The scores that these young mares achieve in their studbook inspection and the Mare Performance Test will be added together and the highest combined score will determine the winner. To recognize that a three-year-old mare is less mature and developed, in computing the annual winner, the Society will factor in a small positive value to the MPT scores of all mares that take the test when they are three years of age. Some mares may be inspected for studbook entry when they are three years old but not Mare Performance tested until the following year as four-year-olds. Also, some mares may not be presented for either studbook inspection or the MPT until they are four years old. That is perfectly acceptable and their scores will count in the year they do the MPT, but only the mares that take the MPT (as well as having been inspected) as three-year-olds will get the "handicap" factor added to their overall MPT score.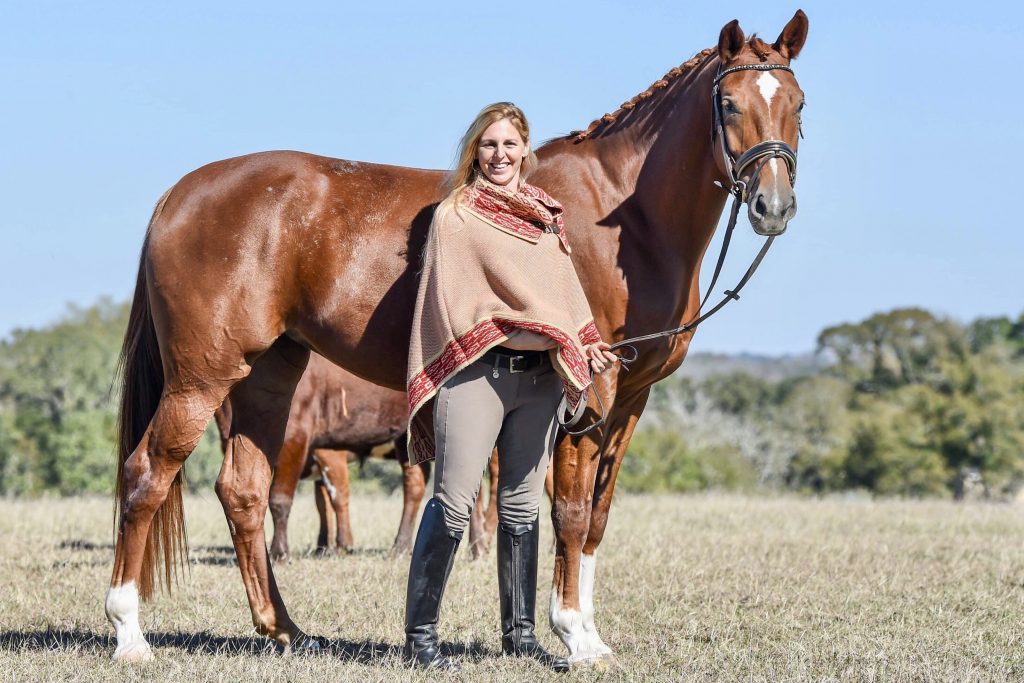 Dr. Walter Hartwig Prize Recipients
Year
Rank
Score
Mare
Sire
Dam
Damsire
Owner
Breeder
2022
Champion
15.51
Freska GVF
Fuersten-Look
Shantilly Lace
Sandro Hit
Rebecca Lewison
same
Reserve
15.46
De Nalia HVH
De Niro
Rebellienne HVH
Rotspon
High Valley Hanoverians Inc.
same
2021
Champion
15.19
HPMC Penelope Pitstop HF
Pikko Del Cerro HU
Big Girl
Baroncelli
Lisa Thompson Smith
same
Reserve
15.18
HPMC Behati FDL
Borsalino
Fantasia C
Fuerstenball
Christy Horton
Peggy A. Lansing
2020
Champion
16.16
Rockelle
Rotspon
Wiesling
Wolkentanz I
Angela Mirarchi
same
Reserve
15.64
Doucette GVF
Danciano
Shantilly Lace
Sandro Hit
Rebecca Lewison
same
2019
Champion
16.40
HPMC Lucky Ladybug TF
Livaldon
Feng Popo TF
Fuerst Nymphenburg
Michelle Conrad
Kimberly Davies-Slous
Reserve
16.18
HPMC Wicked Cute
Widmark
Emme
El Bundy
Dee Franz
Meg Williams
2018
Champion
15.85
HPMC Sovereign WS
Sir Gregory
EM Royal Fortune
Romanov Blue Hors
Cynthia Hall
Janice Graham Marquardt, Texas
Reserve
15.53
HPMC Fatal Attraction MRF
Fuerstenball
EM Rousseanna
Rousseau
Maple Run Farm
same
2017
Champion
16.23
HPMC Delacour SGF
Diarado
EM Anaconda G
Acord II
Jody Cattell
Sandy Hunt, Mich.
Reserve
15.78
HPMC Eleanor
Escudo II
Apt To Please xx
Pleasant Tap xx
Max Gerdes
Max Gerdes, Calif.
2016
Champion
16.06
HPMC Wroyal Heir
Widmark
Divinia
Don Frederico
Rebecca Lewison
Meg Williams, Ind.
Reserve
15.67
HPMC Royal Renata MRF
Romanov Blue Hors
Britania
Bordeaux
Maple Run Farm
same
2015
Champion
16.64
EMC Whitney MRF
Wolkenstein II
EM Dacia MRF
Diamond Hit
Maple Run Farm
same
Reserve
15.53
EMC Winola 1
Widmark
Wolkenstina
Wolkenstein II
Lisa Matta
Meg Williams, Ind.
2014
Champion
16.11
EMC Stiletto MRF
Sir Donnerhall I
Britania
Bordeaux
Maple Run Farm
same
Reserve
15.63
EM Bliss SQF
Belissimo M
SPS Rose
Rotspon
Jill Peterson
same
2013
Champion
15.99
EMC Furst Daylight
Furst Impression
Amelia Bedelia
Anhaltiner E
Mary Manning
same
Reserve
15.95
EMC Won Ruby
Widmark
Divinia
Don Frederico
Meg Williams
same
2012
Champion
15.72
EMC Djanga
Dacaprio
Rastella
Regazzoni
Carol Jenkins
same
Reserve
15.44
EMC Laus Deo
Landkoenig
Ghizelle
Graf Top II
Manessa Donovan & Gustavo Rodriguez
Stacie Fenderson
2011
Champion
16.44
EMC Radiance HVH
Rotspon
EM Whitney BH
Welser
High Valley Hanoverians
same
Reserve
15.28
Willow CBF
Widmark
EM Cassie
Cordoba
Christina Heile
Oakwood Farm
2010
Champion
15.94
EMC Pauleah
Paparazzo
Miranda
Maronjo
George Toccalino
Louise Lovett
Reserve
15.88
EMC Lucette
Liberty Gold
EM Aluette
Argentan I
Jo Ann Thomas
same
2009
Champion
16.01
EMC Sassafrass
Scimitar
Walentina
Weltmeyer
Betsy Cawley
same
Reserve
15.94
EMC Ana Isabellah
Autocrat
SPS Indullah
Inschallah x
Janice Graham Marquart
Sherry White
2008
Champion
16.50
EMC Won Tinkerbelle
Widmark
EM Flying Star
Webster
Oakwood Farms
same
2007
Champion
16.10
EMC Wyneth L
Widmark
EM Davigna
Davignon
Maurine Swanson
Pat Limage
2006
Champion
16.25
EMC Roccoca WF
Rienzi
Turteltaubchen
Tin Rocco
Vanessa Carlson
same
2005
Champion
16.50
EMC Fallon SLF
Fabriano
EM Weltlady
Weltruhm
Nona Henderson
same
2004
Champion
16.06
EMC Scarlett WF
Sam Steele
EM Whisper
World Cup IV
William Mulholland
same
2003
(tie)
Co-Champion
16.06
EMC Whimsical R
Wolkenstein II
SPS Dorena
Davignon
Linda Holste
Oakwood Farm
Co-Champion
16.06
EMC Marcellina WF
Magic
EM Frederika
Feiner Stern
William Mulholland
same
2002
(Inagural Year)
Champion
15.90
EM Dew Berry
Davingport
Fashion Alley
Fuerst Gotthard
Angela Barilar
Mo Swanson