This award was originally conceived by Maurine (Mo) and Jim Swanson of Rolling Stone Farm in Slatington, Pa., as a new year-end award for American Hanoverian Society breeders and owners in 2006. The Swanson's commissioned a beautiful painting that hangs in the AHS office in Lexington, Ky. AHS Website Director Sandra Werkheiser continued the sponsorship through 2013 at which time the AHS assumed responsibility, Each year, the names of the three winners are added on small brass plates around the frame and winners receive keepsake trophies with a photo of the painting at the annual meeting banquet.
The FEI and USDF Young Dressage Horse Awards have been generously sponsored by Hilltop Farm for 2020-24
To be eligible for these awards, the horses must be in the AHS Registry (transferred in the case of German-papered horses) and the owner must be a current year member of the AHS (Active, Associate, Junior). Also, we do require that the horse is Lifetime Recorded with USDF, and the owner and rider must be participating members with the USDF for their scores to count and medians to be determined. We strongly encourage that our members have declared the AHS as "their registry of choice" with the USDF so all of the important bases are covered and so the horses are already "set up" for All Breeds. Congratulations to all.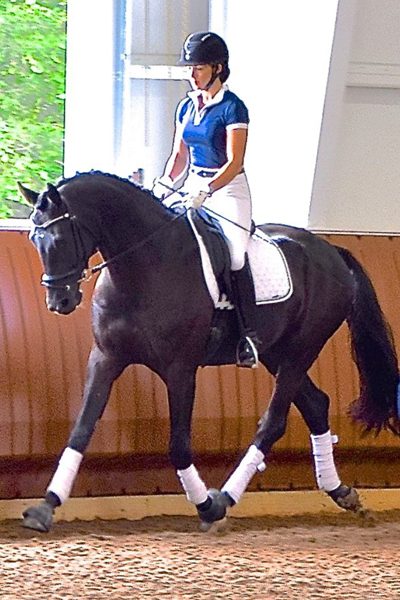 FEI Tests Perpetual Trophy Winners
Year
Rank
Horse
Median Score
Pedigree
Owner
Breeder

2021 AHS/ARS Winners (All divisions combined)

2021
Champion
Don Hannes (Rhineland)
7.98
Don Romanov-Wanderwelfin/Wanderbursch II
Petra Warlimont & Bruce & Maripat Connor
Oliver Wauro
Reserve
Saladine STC
7.84
Sir Gregory-Request/Royal Prince
David Ziegler & Stephen Fulton
Laura Lee Beetle

Honorable Mention:

Damon's Dream
7.73
Damon-Wolda/Wolkenstein II
Carol McPhee
Djuerko Gruben
Milestone St Giles
7.68
Millennium-Hillary/Hohenstein
Holly Taylor
Dinah Countess of Shaftesbury
Wrise Up
7.64
Wake Up-De La Rosa/De Niro
Heather Salden Kurtz
Leslie Waterman
Lovely Leni (Leni K)
7.59
Livaldon-Fia Rouge/Floriscount
Marne Martin-Tucker
Dieter Kreyenhagen
Danity
7.38
Danciano-Desert Princess/Diamont
Kendall Brookhart
same
D'Abord
7.36
De Niro-Samira/Samarant
D'Abord Syndicate LLC
Sascha Luhn
Fiona MRF
7.195
First Ampere-Chenya/Contucci
Kathleen Marsh
Maple Run Farm

2020 AHS/ARS Winners (All divisions combined)

2020
Champion
LOVELY LENI (reg. name Leni K)
7.79
Livaldon-Fia Rouge/Floriscount
Marne Martin-Tucker
Dieter Kreyenhagen
Reserve
FELICITA
7.67
Foundation-Holina/Hotline
Lisa Thompson Smith
Gestuet Lewitz

Honorable Mention:

Frisantos
7.59
Franziskus-Esprina/Espri
Lisa Thompson Smith
Elbe Johans
Believe KS
6.98
Buckingham-Donna Hall MF/Don Principe
Valerie Cutrer
Valerie Cutrer
Rockelle
6.93
Rotspon-Wiesling/Wolkentanz
Angela Mirarchi
Angela Mirarchi

USEF Four-Year-Old Division (2006-2019)

2019
Champion
FUERST WILHELM
7.64
Fantastic-Brentina/Benetton Dream
Yvonne Emerson
Elizabeth & Karl-Heinz Blohm GbR
Reserve
FEENIX KFX
7.62
Finest-EM Senza Parole/Scolari
Melinda Kelly
Tanja Quess
2018
Champion
Solo Mio (Rheinlander)
8.55
Stanford-Donna-Rafaela/Donnerschwee
Leslie Waterman
WG Wencek
Reserve
Daily Show
8.14
Danciano-Schwedeblady/Stockholm
Leslie Waterman
Kurt Gravemeier
2017
Champion
Ronin
8.1
Romanov Blue Hors-EM Something Royal/Sir Donnerhall
Debra Klamen
Marcia Boeing, S.C.
Reserve
Furstenstern
7.89
Fuerstenball-Soraya/San Remo
Sara Love
Wilfried Fiedler, Ger.
2016
Champion
Won Million
8.2
(Widmark-EM Flair/Fidertanz)
Anna Hopla
Meg Williams, Ind.
Reserve
David Bowie MF
7.8
(Don Principe-EM Rotina/Rotspon)
Maryanna Haymon
Maryanna Haymon, N.C.
2015
Champion
Hannigan L
7.8
(Herzendieb-EM Pia Colada/Pik L)
Leatherdale Farms
Leatherdale Farms
Reserve (tie)
Dublin L
7.7
(Damsey-EM Wibranda/Wolkenstein II)
Leatherdale Farms
Leatherdale Farms
Diamond Lady MF
7.7
(Don Principe-Royal Gem/Royal Diamond)
Cackie Vroom
Maryanna Haymon
2014
Co-Champion
Sternlicht Hilltop
7.7
Soliman de Hus-Rhapsody GGF/Rascalino
Hilltop Farm
Rachel Ehrlich
Co-Champion
Finnegan SQF
7.7
Fidertanz-SPS Whitney/Wolkenstein II
Rachel Schilling
Jill Peterson
Co-Champion
Won Ruby
7.7
Widmark-Davinia/Don Frederico
Nicole & Dianne Chiapetti
Meg Williams
2013
Champion
Rebellienne HVH
8.3
Rotspon-EM Whitney BH/Welser
High Valley Hanoverians
same
Reserve
Fabrege MF
8.2
Fidertanz-Diora/De Niro
Alice Tarjan
Maryanna Haymon
2012
Champion (tie)
Ballerina DMV
8.1
(Ballettmeister-Dreaming/Dimaggio)
Leroy Fuller
Dreamcatcher Meadows Ventures
Sir Steinerman
8.1
(Stedinger-SPS Donabella/Don Primero)
Amy Lewis
Marlace Hughes
Reserve
Don Frederic HVH
7.7
(Don Frederico-EM Wruffian Q/Weltbekannt)
High Valley Hanoverians
same
2011
Champion
Balissa HTF
7.8
(Bugatti Hilltop-EM Contesse/Contucci)
Hilltop Farm Inc.
same
Reserve
Weltzarma
7.3
(Windfall C.B.-Prizarmna/Lennard)
Barbara McElnea
same
2010
Champion
Somer Hit
8.1
(Sandro Hit-EM Rhussia/Rotspon)
Alice Tarjan
Maurine Swanson
Reserve
Ana Isabellah
7.6
(Autocrat-Indullah/Inschallah x)
Jan Graham Marquardt
Sherry White
2009
Champion
Bon Chance
8.3
(Belissimo M-SPS Wintersong/Weltmeyer)
Caroline Roffman
Marefield Meadows
Reserve
Brentanus
7.9
(Brentano II-SPS Why Not/Weltmeyer)
Susan Moore
Klaus & Luise Bosse, Ger.
2008
Champion
Selton HW
(Sandro Hit-High Priestess/Hohenstein)
Cadence Farm LLC
Irene Hoeflich-Wiederhold
2007
Champion
Whirlpool
7.7
(Widmark-Glimmer/Grundstein I)
Julia Greifeld
Maurine Swanson
2006
Champion
EMC Solstice
(Sandro Hit-SPS Wintersong/ Weltmeyer)
Marefield Meadows
Marefield Meadows

FEI Five-Year-Old Division (2006-2019)

2019
Champion
DAILY SHOW
8.42
Danciano-Schwedenlady/Stockholm
Leslie Waterman
Kurt Gravemeier
Reserve
SOLE MIO
8.36
Stanford-Donna Rafaela/Donnerschwee
Leslie Waterman
WG Wencek
2018
Champion
Ronin
7.96
Romanov Blue Hors-Something Royal/Sir Donnerhall
Debra Klamen
Marcia Boeing
Reserve
Bretton Beauty
7.5
Bretton Woods-Rosalie/Rotspon
Sandra Holden
Sigefried Pilz
2017
Champion
Sandaro
7.59
Shakespeare RSF-Rhomance/Florencio I
Marilyn Johnson
John McGuire, Ill.
Reserve
Hotstreak CF
7.41
Hotline-EM Rococo OSH/Rotspon
Jaime Dancer
Mary Beth Stanton, Fla.
2016
Champion
Dinah Shore MF
8.1
(Don Principe-EM Rotina/Rotspon)
Maryanna Haymon
Maryanna Haymon, N.C.
Reserve
Sir Amour
7.9
(San Amour-Dorina/DeNiro)
Shari Miller & Schuttler Stables
Mareike Arens
2015
Champion
D'Esprit Joli
7.4
(Dacaprio-Donna Schufro/Don Schufro)
Lisa Grossi
Barbara Schmidt
2014
Champion
Davos MCF
8
Don Frederico-Rosanna K/Roadster
Susan & Thomas Alvey
Peter Broka
2013
Champion
Benefactor RRS
8.3
Bonheur-Heidekleid/Rubinstein I
Melinda Walton and T.L. Smith
same
Reserve
Ballerina DMV
7.9
Ballettmeister-Dreaming/Dimaggio
Leroy Fuller
Dreamcatcher Meadows Ventures
2012
Champion
Radiance HVH
7.6
(Rotspon-Whitney BH/Welser)
High Valley Hanoverians
same
Reserve
Rafaela
7.3
(Rapture R-Wicca/Wallstreet Kid)
Jo Anne Balling
same
2011
Champion
Somer Hit
8.4
(Sandro Hit-EM Rhussia/Rotspon)
Alice Tarjan
Maurine Swanson
Reserve (tie)
San City
8.3
(San Remo-SPS Bounty/Bolero)
Linda Crabtree
Marefield Meadows
Sanceo
8.3
(San Remo-SPS Rivera/Ramiro's Son II)
Alice Womble-Heitmann
Gerhard Dustmann
2010
Champion
Seraphine SF
7.8
(Sir Donnerhall-Great Rubina/Rubinstein I)
Somerset Farms, LLC
Heinrich Giesselmann
Reserve
Dostojewski SF
7.7
(Don Crusador-SPS Wakonda/Werther)
Somerset Farms, LLC
Heinrich Habermann
2009
Champion
Selten HW
8
(Sandro Hit-SPS High Princess/Hohenstein)
Elizabeth Ball
Irene Hoeflich-Wiederhold
Reserve
Hyperion SF
7.7
(His Highness-Wonderlady/Wonderful)
Somerset Farms
Stefan Blanken, Ger.
2008
Champion
River Side Lady
(Royald Diamond-Deja Vu/Donnerhall)
Robbie Rice
BG Shroeder & Hanken
2007
Champion
Cabana Boy
8.3
(Contucci-Britania/Bordeaux)
Hilltop Farm
Maple Run Farm LLC
2006
Champion
Roter Milan
(Rotspon-Melodie/Matcho x)
Dr. Jim Bond
Uew Heinriches

FEI Six-Year-Old Division (2006-2019)

2019
Champion
FONTAINE MF
7.49
Fidertanz-Diora/De Niro
Kim Bartlett
Maryanna Haymon
2018
Champion
Sandeman
8.42
Sir Donnerhall-Flora/Florencio
Julie Cook
Eggerk Groenwold
Reserve
Francis HW
7.97
Fuerst Nymphenburg-Romina/Rotspon
Elizabeth Dean-Norling
Margret Rosmann
2017
No entries
2016
Champion
Flavius MF
8.2
(Fidertanz-Diora/De Niro)
Mary McKenna
Maryanna Haymon, N.C.
Reserve
Sternlicht GGF
8
(Soliman de Hus-EM Rhapsody GGF/Rascalino)
Hilltop Farm
Rachel Ehrlich, Mass.
2015
Champion
Fighting Chance L
7.8
(First Dance-Helia/Hohenstein)
Leatherdale Farms
Leatherdale Farms
Reserve
Fleur de Lis L
7.7
(First Dance-De La Rosa/De Niro)
Leatherdale Farms
Leatherdale Farms
2014
Champion
Doctor Wendell MF
7.8
(Don Principe-Stellar Hit MF/Sandro Hit)
Maryanna Haymon
same
Reserve
Sir Steinerman
7.6
(Stedinger-SPS Donabella/Don Primero)
Amy Lewis
Marlace Hughes
2013
Champion
Boccaccio IOF
7.6
(Bugatti Hilltop-EM Roxette/Rubinstein I)
Marchella Richardson
Hilltop Farm
Reserve
Lola HPF
7.1
(Londonderry-DeLorean HPF/De Niro)
Kimberly Ransdell
Horsepower Farm - Nancy Connolly
2012
Champion
Sanceo
8.2
(San Remo-SPS Rivera/Ramiro's Son II)
Alice Womble
Gerhard Dustmann
Reserve
Highschool SF
7.7
(Hochadel-Ria/Rotspon)
Susan Alvey
Jens & Andrea Stueven
2011
Champion
Bon Chance
8.5
(Belissimo M-SPS Wintersong/Weltmeyer)
Caroline Roffman
Marefield Meadows
Reserve
Dostojewski SF
7.9
(Don Crusador-SPS Wakonda/Werther)
Somerset Farms
Heinrich Habermann
2010
Champion
Selten HW
8.6
(Sandro Hit-High Princess/Hohenstein)
Elizabeth Ball, Cadence, LLC
Irene Hoeflich-Wiederhold
Reserve
Super Crusador
7.5
(Stedinger-SPS Weltgraefin/Weltmeyer)
Ginna Frantz
Herman Meyer
2009
Champion
Pikko Del Cerro HU
7.8
(Pik L-Rohweena/Rohdiamant)
Horses Unlimited
same
Reserve
Contendion
7.7
(Contendro-EM Wandy/Wanderer)
Judy Pappin
same
2008
Champion
Cabana Boy
(Contucci-Britania/Bordeaux)
Hilltop Farm
Maple Run Farm LLC
2007
Champion
Wyoming HS
8.1
(Weltmeyer-Donna Clara/Donnerhall)
Courtney King
Fenna Schulte-Landwehr
2006
Champion
Donarlicht GGF
(De Niro-EM Highlight/Hohenstein)
Suzanne Markham
Hans Henning and Johann Decken