Starting in the 2009 season, the American Hanoverian Society has offered awards for young horses who compete in the Materiale classes in dressage shows and sport horse breed shows. In these classes, the horses are ridden in groups and evaluated and scored for their gaits mainly and for their conformation in a minor way. The classes are divided by age and sex and are for young horses between the ages of three and five years old.
To be eligible for these awards, the horses must be in the AHS Registry (transferred in the case of German-papered horses) and the owner must be a current year member of the AHS (Active, Associate, Junior). Also, we do require that the horse is Lifetime Recorded with USDF, and the owner and rider must be participating members with the USDF for their scores to count and medians to be determined. We strongly encourage that our members have declared the AHS as "their registry of choice" with the USDF so all of the important bases are covered and so the horses are already "set up" for All Breeds. Congratulations to all!
Gallery of Champions and Reserves
Click on one of the thumbnails below to browse through available images of the Champion and Reserve Champion horses from the divisions listed below. Due to space restrictions, only photos of the Champions and Reserve Champions in each division of the AHS Materiale Awards will appear in the Spring Yearbook issue of The American Hanoverian. Please forward your photos (glossy prints or high-resolution digital files, *tif, *eps, *jpg (900 x 1200 pixels minimum on CD, DVD or Zip) to the AHS Office. E-mail single digital files to . All professional photos must include the photographer's name and a release for publication.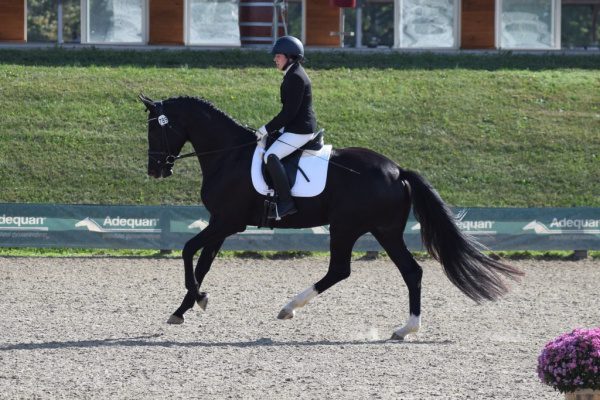 AHS Materiale Awards Winners
Rank
Median
Horse
Pedigree
Owner
Breeder

2022 Materiale Mares and Fillies

Champion
83.70
Don Dessa DEC
Don Juan de Hus-Dunja/Dimaggio
Amanda Graf
Kendra Anshen
Reserve
80.45
Daisy Mae
Diamond Head-Werlinda/Werlindo
Rebecca Klaus
same
Third - tie
78.50
Davina B
Da Caprio-Fancinova/Fabuleux
Svetlana Von Wernich
Dr Barbara Schmidt, DVM
Third - tie
78.50
Fendi
Finest-Séance SQF/Sandro Hit
Lori Barrett
Sandra Heinrichs
Fifth
76.70
Poccet Gypsy HU
Pikko del Cerro HU-Gitana HU/Galant du Serrain
Horses Unlimited
same

Honorable Mention:

76.50
Paris Night HU
Pikko del Cerro HU-Noble Destiny HU/Noble Champion
Horses Unlimited
same
74.125
Dazzianna NHF
Danciano-Fergee/Florestan I
Kari Felton
Barbara Wood
74.00
Falvara ASH
Follow Me-Run Around Gal xx/Sword Dance xx
Samantha Kidd
same
73.90
Belia
Borsalino-Quinterra/Quaterback
Marne Martin-Tucker
Tobias Schult

2022 Materiale Colts and Geldings

Champion
87.30
Splendido
Secret-Remi Demi/For Romance
Victoria Reeder
Dr. Christine Fiechtinger
Reserve
80.50
So Dablinus
Secret-Dablina/De Niro
Merrie Velden
Bernhard Sieverding
Third
78.50
Donarzen GGF
Donarweiss GGF-Rendevous GGF/Rascalino
Jennifer Fowler
Rachel Ehrlich
Fourth
78.40
Schwarzkopf WS
Supremat OLD-Donnacina/Donnerhall
Anna Zhiltsova
Jan Marquardt
Fifth
77.80
Bellisaro HHV
Bliss MF-Whimsical HPF/Widmark
Yellow Pines Farm
Renee Bambach

Honorable Mention:

77.40
Fortino PWD
For Romance-Wapi Yo/Wolkentanz I
Petra Warlimont
Zuchthof S. u.B. Wessel
75.30
Majestic Dancer NHF
Metternich-Wersace/Weltmeyer
Kari Felton
Barbara Wood
74.70
George Lloyd HU
Gallant Reflection Hu-Leonora HU/Leonburg
Horses Unlimited
same

2021 Materiale Mares and Fillies

Champion
83.80
Dante's Princess
Dante Weltino-Wie Liebe/Wokenstein II
Marne Martin-Tucker
Jerry Glynn
Reserve
81.10
Diamonds Are Forever
Diamond Hit-Milli Vanilli/Millennium
Rebecca Blake
Sabine Rubin
Third
80.10
Davida PVF
Don Principe-Grand Amour RSH/Golfball
Ellen Ziemer
same
Fourth
80.05
Daisy Mae
Diamondhead-Werlinda/Werlindo
Rebecca Klaus
same
Fifth
80.00
Fiona MRF
First Ampere-Chenya/Contucci
Kathleen Marsh
Maple Run Farm

Honorable Mention:

79.60
Dancella GGF
Dancier-Rhapsody GGF/Rascalino
Rachel Ehrlich
same
79.25
Dreamcatcher
De Niro-Etched in Black/Gribaldi
Anke Ott-Young
same
77.40
Faraheit SVS
Fuerstenball-SPS Hoheit/Hohenstein
Julia Heacox
Jeanne Schamblin
77.00
Sierra Delta
Sandro Hit-Doreen/Don Gregory
Susan Shiba
Gestut Lewitz
76.50
Hyperbole CWH
Hampton-Dyani FDL/Dacaprio
Carol Hendricks, Clearwater Hanoverians
same
75.70
Rockelle
Rotspon-Wiesling/Wolkentanz I
Angela Mirarchi
same
73.10
Peace Love HU
Pikko del Cerro HU-La Faux Pas HU/Leonberg
Horses Unlimited
same
72.50
Noble Gin HU
Noble Champion-Ginger Ale HU/Galante HU
Horses Unlimited
same

2021 Materiale Colts and Geldings

Champion
78.20
Furst Aquaman SS
Furstenball-Special Donna/Stedinger
Stacy Durham
Dawn Spencer
Reserve
78.00
Watchman FRF
Wake Up-Havanna K/Hochadel
Audrey Narducci
Deborah Davenport
Third
74.95
Dandao De Lys
Dancier-Weltdame/Weltmeyer
Susan Langston
Lynda Tetreault, C Menard
Fourth
73.00
Majestic Dancer NHF
Metternich-Wersace/Weltmeyer
Kari Felton
Barbara Wood

2020 Fillies and Mares Materiale Year End (3-4-5 Year Olds)

Champion
82.8
SERENE HIGHNESS HA
Sir Donnerhall-Halleluja H.A./His Highness 2
Cheryl Johnson
Eric Johnson, Cheryl Johnson
Reserve (tie)
78.8
DAVIDA PVF
Don Principe-Grand Amour RSH/Golfball
Ellen Ziemer
Ellen Ziemer
Reserve (tie)
78.8
VIVA VIVALDI
Vivaldi-SPS Scarlett/Sandro Hit
Diane Nauman
Diane Nauman
Reserve (tie)
78.8
ROCKELLE
Rotspon-Wiesling/Wolkentanz
Angela Mirarchi
Angela Mirarchi

2020 Colts and Geeldings Materiale Year End (3-4-5 Year Olds)

Champion
81.8
Standing Ovation
Scuderia-Fuerstin de Cherry/Furst Nymphenburg
Gwen Blake
Leon Meier
Reserve
80.2
Fahrenheit SVS
Furstenball-Udora/Idocus
Jeanne Schamblin
Jeanne Schamblin
3
78.2
DANDAO DE LYS
Dancier-Weltdame/Weltmeyer
Susan Langston
Lynda Tetreult, C. Menard

2019 Fillies and Mares Materiale Year End (3-4-5 Year Olds)

Champion
81.55
FLYING COLORS
Fuerst Romancier-EM Something Royal/Sir Donnerhall
Brenda Curnin
Marcia Boeing
Reserve
79.2
DAMONA HILL
Damon Hill-SPS Hoheit/Hohenstein
Reiko Weigel
Jeanne Schamblin
3
76.8
DREAMCATCHER
De Niro-Etched In Black/Gribaldi
Anke Ott-Young
Anke Ott-Young
4
76.5
PERFEKT LIKENESS HU
Pik L-Leonora HU/Leonberg
Anne Sparks, Horses Unlimited
Horses Unlimited
5
76.4
WREGINA HA
Waterford-EM Havannah L/His Highness 2
Cheryl Johnson
Eric Johnson, Cheryl Johnson
5
76.4
NYMERIA ASH
Negro-Wisteria Q/Weltbekannt
Samantha Kidd
Samantha Kidd

Honorable Mention:

76.1
VIVA VIVALDI
Vivaldi-SPS Scarlett/Sandro Hit
Diane Nauman
Diane Nauman
76.1
SIRREEANNA
Sir Gregory-Request/Royal Prince
Robin Brueckmann
Michele Levesque
75.9
FABIENNE SWF
Florianus 2-EM La Vienna/Londonderry
Whitney Vess
ÊMary Nuttall
75.6
ZACKLINA
Zack-SPS Flocke/Florestan I
Marne Martin-Tucker
Helmut Schlomer
75.5
BELLASITA SVS
Belissimo M-Be Silvita/Sandro Hit
Jeanne Schamblin
Jeanne Schamblin
70.8
DELIGHTFULLY WICKED
Don Principe-Rememberance R/Rapture R
Elizabeth Schneider
Elizabeth Schneider

2019 Colts and Geeldings Materiale Year End (3-4-5 Year Olds)

Champion
84.7
BRUCE SPRINGSTEEN MF
Belantis-Duet MF/Don Principe
Maryanna Haymon
Maryanna Haymon
Reserve
81.3
FAHRENHEIT
Fuerstenball-Udora/Idocus
Jeanne Schamblin
Jeanne Schamblin
3
79.7
FINNOMENON KFX
Finest-Senza Parole/Scolari
Melinda Kelly
Kevin Kelly, Melinda Kelly
4
79
STANDING OVATION
Scuderia-Furstin de Charry/Furst Nyphenburg
Gwen Blake
Leon Meier
5
77.35
ROLLS ROYCE HPF
Rapture R-SPS Harmonie/Hohenstein
Jennifer Allen
Nancy Marshall-Connolly

Honorable Mention:

75.7
SAPPHEIROS ASH
Schwartzeneggar-Run Around Gal/Sward Dance
Samantha Kidd
Samantha Kidd
75.6
PRIVATE RESERVE HU
Pikko del Cerro HU-EM Rohmanie/Rohdiamant
Anne Sparks, Horses Unlimited
Horses Unlimited
74.05
DON AHLERICH
Don Darius-EM Liberty Girl/Liberty Gold
Emily Hadden-Morris, Janet Hadden
Hilton Farm Inc

2018 Fillies and Mares Materiale Year End (3-4-5 Year Olds)

Champion
77.4
Sanssouci
San Amour-Fatima/De Niro
Diane Ziegler
Diane Ziegler
Reserve
77.25
Francesca SQF
Fidertanz-Bliss SQF/Belissimo M
Jill Peterson
Jill Peterson
3
76.75
Sovereign WS
Sir Gregory-Royal Fortune/Romanov Blue Hors
Cynthia Hall
Jan Marquardt
4
75.5
Sirreeanna
Sir Gregory-Request/Royal Prince
Robin Brueckmann
Michele Levesque
5
75.15
Heirabella
Hotline-Rubina MWF/Rabino
Danielle Sintori & Theresa Martin
Claudia Novick

Honorable Mention:

74.7
Wruby Noon HU
Wild Dance-Noble Destiny HU/Noble Champion
Horses Unlimited
Horses Unlimited
71.425
Diamond Girl
Diamondhead-Werlinda/Werlindo
Rebecca Klaus Young
Rebecca Klaus Young
70.7
Dani Carina
Dauphin-Raphaea/Rienzi
Tata Grossman Perreault
Tata Grossman Perreault

2018 Colts and Geeldings Materiale Year End (3-4-5 Year Olds)

Champion
78.4
Cool Hand Luc
Lissaro-Luciana/Lauries Crusader
Lucinda Striker
Peper Heiko
Reserve
77.9
Santana Hilltop
Sternlicht-Allegra Q/Anhaltiner E
Hilltop Farm
Virginia Tech Foundation
3
77.85
Feenix KFX
Finest-Sensa Parole/Scolari
Melilnda Kelly
Tanja Quass
4
76
Private Reserve HU
Pikko del Cerro HU-Rohmanie/Rohdiamant
Horses Unlimiteed
Horses Unlimited
5
71
L Patron HU
Leonberg-Pikko de la Nube HU/Pik L
Horses Unlimiteed
Horses Unlimited

Honorable Mention:

70.4
Don Ahlerich
Don Darius-Liberty Girl/Liberty Gold
Emily Hadden Morris & Janet Hadden
Hilton Farm

2017 Fillies and Mares Materiale Year End (3-4-5 Year Olds)

Champion
79.80%
Sole Fiore
Scuderia-Francesca/Fidertanz
Melinda Kelly
Ferdinand Mayer, Ger.
Reserve
79.70%
Daisy
Don Marcos-SPS Wonderful /Weltmeyer
Sonia Assemi
Reinhard Hansemann, Ger.
3
79.40%
Lady in Red WS
Liberty Gold-Winessa/De Niro
Janice Graham Marquardt
Janice Graham Marquardt, Texas
4
76.10%
Danae MF
Doctor Wendell MF- EM Rising Star/Rotspon
Maryanna Haymon
Maryanna Haymon, N.C.
5
75.30%
Sovereign WS
Sir Gregory-EM Royal Fortune WS/Romanov Blue Hors
Cynthia Hall
Janice Graham Marquardt, Texas

Honorable Mention:

6
74.85%
Davinia K
Damsey-SPS Donna Dorina/Don Vino
Jessie Borgmeyer
Heinz Kuboth, Ger.
7
74.80%
Believe WS
Bugatti Hilltop-EM Wakaluba/Warkant
Judi De Vore
Janice Graham Marquardt, Texas
8
69.55%
Diamond Girl
Diamondhead-Werlinda/Welindo
Rebecca Klaus
Rebecca Klaus, Idaho

2017 Colts and Geldings Materiale Year End (3-4-5 Year Olds)

Champion
82.15%
Ronin
Romanov Blue Hors-EM Something Royal/Sir Donnerhall
Debra Klamen
Marcia Boeing, S.C.
Reserve
80.25%
Be Niro WS
Benneton Dream-Winessa/De Niro
Erika West-Danque
Janice Graham Marquardt, Texas
3
78.10%
Destino
Dacaprio-Liandra/Linaro
Heather Ferguson, DVM
Barbara Schmidt, DVM, & Frederick Abblett, Ky.
4
77.10%
L Patron HU
Leonburg-EM Pikko de la Nube HU/Pik L
Horses Unlimited
Horses Unlimited, N.M.
5
73.00%
Tanqueray MRF
Totilas-EM Revlon/Rhodiamant
Caryn Vesterman
Maple Run Farm, LLC, Wis.

Honorable Mention:

6
71.65%
Den Marq WS
Dancier-EM Wakaluba/Warkant
Patrick Orlaska
Janice Graham Marquardt, Texas
7
71.30%
Lord Lavol WS
Lagoheider-EM Fly High/Florencio
Jody Lynn & Anthony DeStefanis
Janice Graham Marquardt, Texas

2016 Three Year Olds Materiale

Champion
79.50%
Waldtanz
Wolkentanz II-Colleen/Cotango
Katherine Ratliff
Katherine Ratliff, Tenn.
Reserve
76.70%
Royal Duchess HA
Rotspon-EM Heiress B/His Highness
Cheryl & Eric Johnson
Cheryl & Eric Johnson, Mich.
3
76.50%
HPMC Dolceja HA
De Niro-EM Radunja/Rosentau
Cheryl & Eric Johnson
Cheryl & Eric Johnson, Mich.
4
71.65%
HPMC Qindle HT
Qredit Hilltop-EM Raja HTF/Royal Prince
Hiltop Farm
Hilltop Farm, Md.

2016 Four and Five Year Olds Materiale

Champion
83.80%
Pantsa Fire HU
Pik L-Fee/Fidermark
Horses Unlimited
Horses Unlimited, N.M.
Reserve
80.60%
Equibest Starkozy G
Sarkozy-Denver/Daddy Cool
Jenna Calcaterra
Ina von Estorff, Ger.
3
78.20%
La Reina HU
Leonberg-EM Rohmanie/Rohdiamant
Horses Unlimited
Horses Unlimited, N.M.
4
77.80%
Fahrenheit G
Florestan I-Carara/Calypso II
Kelly Gage and/or Jodi Pearson Keating
Dr. Frederic Buenger, Ger.
5
76.70%
Quintana
Quaterhall-Cascaya/Corelli
Marion Dresel O'Connor
Wildfried Rodich, Ger.

Honorable Mention:

74.6
Rainsong
Richmond HL-Caris/Contucci
Roberta Falk & Patricia Flynn
Roberta Falk, Va.
73.4
Donnerspitze
Dubai Millenium-Santolina/Santorini
Amie Ingold
Royal Canadian Mounted Police
73.2
Sternentaenzerin
Spoercken-SPS Sorina/Don Frederico
Marion Dresel O'Connor
Martin Cordes, Ger.
73.1
Enki HHV
Escudo II-Flirtatous Delight/West Coast
Meghan Kelley
Renee Bambach, Ky.
72.95
Delston
Depardieu-Walessa SLEC/Warkanson
Kari Felton
St. Louis Equestrian Center, Mo.
71
Davinia K
Damsey-SPS Donna Dorina/Don Vino
Jesica Borgmeyer
Heinz Kuboth, Ger.

2015 Colts and Geldings Materiale Year End (3-4-5 Year Olds)

Champion
79.70%
Cha Ching HTF
Contucci-EM Comtesse/Cordoba
Hilltop Farm
same
Reserve
75.90%
De Luka
De Victor-Fein Star/Feinbrand
Patricia Carter
Annette Kenyon
3
75.50%
Rapson
Rapture R-EM Wisteria/Warkanson
Colleen Rull
St Louis Equestrain Center, Inc.
4
75.40%
Royal Tourrmalet SPF
Royal Prince-Adira/Armin
Joanna Gray Randle
Sandpiper Farm,Gina & Andrew Leslie
5 (tie)
75.30%
Poseidon HF
Portofino-EM Lollipop/Letkiss
Emily Hadden Morris
Hilton Farm
5 (tie)
75.30%
Be Niro WS
Benetton Dream-Winessa/De Niro
Erika West Danque
Janice Graham Marquart

Honorable Mention:

75.15%
Dancier's Dream DMV
Dancier-Silver Capitalist/Silver Fox
Leroy Fuller
Dreamcatcher Meadows Ventures, Inc.

2015 Fillies and Mares Materiale Year End (3-4-5 Year Olds)

Champion
82.90%
Amica Nera (Asara)
Alabaster-SPS Bijou/Buenos Aires
Erin Herzog
Anders & Karin Groenborg
Reserve
78.60%
Symphony
Sir Donnerhall-SPS Donabella/Don Primero
Sarah Jacob
Marlace Hughes
3
77.20%
Delovely
Dacaprio-Donnacina/Donnerhall
Lauren Spjut
Judy Kingsford

2014 Colts and Geldings Materiale Year End (3-4-5 Year Olds)

Champion
81.20%
Flavius MF
Fidertanz-Diora/De Niro
Mary McKenna
Maryanna Haymon
Reserve
79.15%
Leopold DMV
Lokomotion-Dreaming/Dimaggio
Dreamcatcher Meadows
Dreamcatcher Meadows
3
78.30%
Lordsley DMV
Lokomotion-Dreaming/Dimaggio
Dreamcatcher Meadows
Dreamcatcher Meadows
4
78.00%
Wredford
Waterford-D'Eclaire/Diamont
Lynn McEnespy
same
5
75.60%
Rocero SVS
Rotspon-SPS Hoheit/Hohenstein
Jeanne Schamblin
same

Honorable Mention:

75.50%
Con Brio HF
Conteur-Weltmeyer's Song/Weltmeyer
Mary Houghton
Diane Nauman
74.40%
Royal Tourmalet SPF
Royal Prince-Adira/Armin
Joanna Gray-Randle
Gina & Andrew Leslie

2014 Fillies and Mares Materiale Year End (3-4-5 Year Olds)

Champion
79.40%
Wyleigh Princess
Weltmeyer-EM Heiress B/His Highness
Ruth Shirkey
Eric & Cheryl Johnson
Reserve
78.20%
Dakesa HM
Dacaprio-SPS Pakesa/Prince Thatch xx
Linda & Jeffrey Mendenhall
same
3
77.00%
Caron OBX
Contucci-SPS Komtess V/Riverman
Doug & Shannon Langer
Don & Dee Kapper
4
75.80%
De Soleil
De Niro-Weltmeyer's Song/Weltmeyer
Catherine Pike
Diane Nauman
5
75.60%
Worthy Aspirations
Worthy Opponent-Dominica V/Don Frederico
Heather Petersen
Genna Gatdula

2013 Colts and Geldings Materiale Year End (3-4-5 Year Olds)

Champion
87.60%
Don Frederic HVH
Don Frederico-EM Wruffian Q/Weltbekannt
High Valley Hanoverians
same
Reserve
83.30%
Rocero SVS
Rotspon-SPS Hoheit/Hohenstein
Jeanne Schamblin
same
3
78.30%
Lordsley DMV
Lokomotion-Dreaming/Dimaggio
Dreamcatcher Meadows Ventures
same
4
75.75%
Weltwist
Weltmeyer-Opus 12/Rubinstein I
Kerri-Lyn Corry
Sandy Johnson
5
74.70%
Lancelot DMV
Locomotion-Daisy Dee Elite/Dream of Glory
Dreamcatcher Meadows Ventures
same

Honorable Mention:

73.70%
Gor-Don-Bleu
Guarantor-Winnetka/Wallstreet Kid
Samantha Brinkman-Berkhofer
Caron Martin
73.20%
Won Chance
Widmark-EM Delorean/Del Piero
Lisa Weis
Meg Williams
71.50%
Longinsel
Locksley-SPS La Lopez/Likoto
Joanna Gray-Randle
Guenther Horstmann

2013 Fillies and Mares Materiale Year End (3-4-5 Year Olds)

Champion
89.00%
Ballerina DMV
Balletmeister-Dreaming/Dimaggio
"Bus" Leroy Fuller
Dreamcatcher Meadows Ventures
Reserve
82.00%
Bellatesse HTF
Bugatti Hilltop-EM Comtesse/Cordoba
Kris Schuler
Hilltop Farm
3
80.80%
Rebellienne HVH
Rotspon-EM Whitney BH/Welser
High Valley Hanoverians
same
4
78.50%
Reminisce HM
Rascalino-EM Day Dream/Don Bosco
Linda & Jeffrey Mendenhall
same
5 (tie)
77.60%
Caron OBX
Contucci-SPS Komtesse V/Riverman
Maple Run Farm LLC
Don & Dee Kapper
5 (tie)
77.60%
Wisperle
Widmark-Arriana/Armin
Cathy Balance
same

Honorable Mention:

77.00%
Doma Delinda LR
Domiro-D'Lilah/Diamont
Cindy Bankie
Lucchetti Ranch
76.10%
De Soleil
De Niro-Weltmeyer's Song/Weltmeyer
Catherine Pike
Diane Nauman
73.60%
Shalimar GGF
Schroeder-SPS Walkuere/Wolkenstein II
Rachel Ehrlich
same
73.00%
Lady ofthe Dance
Lokomotion-Daisy Dee Elite/Dream of Glory
Dreamcatcher Meadows Ventures
Dreamcatcher Meadows Ventures

2012 Colts and Geldings Materiale Year End (3-4-5 Year Olds)

Champion
84.4
San Dante
Sandro Hit- Weltmeyer's Song/ Weltmeyer
Diane Nauman
same
Reserve
81.5
Don Frederic HVH
Don Frederico-EM Wruffian Q/ Weltbekannt
High Valley Hanoverians
same
3
81.4
Won Chance
Widmark-EM Delorean/ Del Piero
Lisa Weis
Meg Williams
4
78.5
Widget
Weltmeyer-Miss Miller xx/ H.E. Miller xx
Janice Graham Marquardt
same
5
77.8
Solja Boy
Sinatra Song-Davinnia/ Davignport
High Point Hanoverians
same

Honorable Mention:

76.225
Royal Ramiro
Royal Prince-EM Ramona/ Ramiro's Son II
Sally Hanson
Berend and Carla Friehe
76.2
Gor-Don-Bleu
Guarantor-Winnetka/ Wallstreet Kid
Samantha Brinkman-Berkofer
Caron Martin
74.9
Rembrandt SVS
Rotspon-SPS Hoheit/ Hohenstein
Jeanne Schamblin
same

2012 Fillies and Mares Materiale Year End (3-4-5 Year Olds)

Champion
88.5
Ballerina DMV
Ballettmeister-Dreaming/ Dimaggio
Dreamcatcher Meadows Ventures
same
Reserve
81.5
Rebellienne HVH
Rotspon-EM Whitney BH/ Welser
High Valley Hanoverians
same
3
81.4
Doma Delinda LR
Domiro-D'Lilah/ Diamont
Cindy Bankie
Lucchetti Ranch
4
80.5
Duet MF
Don Principe-EM Rotina/ Rotspon
Maryanna Haymon
same
5
79.1
Radiance HVH
Rotspon-EM Whitney BH/ Welser
High Valley Hanoverians
same

Honorable Mention:

77.9
Reminisce HM
Rascalino-EM Day Dream/ Don Bosco
Linda & Jeffery Mendenhall
same
76.4
Bella Notte
Bugatti Hilltop-Tenacity/ Ulft
Peggy Lansing
same
76.3
Whisper EFSH
Winterprinz-EM Davinia/ Davignon
Phoebe Devoe-Moore
Diane & Jack Vickery
75.7
Lady ofthe Dance DMV
Lokomotion-Daisy Dee Elite/ Dream of Glory
Dreamcatcher Meadows Ventures
same
75.3
Rockette R
Rousseau-EM Damaris/ Donnerhall
Roberta Falk & Patricia Flynn
same
75
Diva MCF
De Laurentis-Well-Born de Bonce/ Weltmeyer
Susan Alvey
same
75
Desire WF
Donar Weiss GGF-Roxsand VA/ Rosentau
Cathi Jensen
same

2011 Colts and Geldings Materiale Year End (3-4-5 Year Olds)

Champion
77.70%
Doctor Wendell MF
Don Principe-Stellar Hit MF/Sandro Hit
Maryanna Haymon
same
Reserve
77.45%
Ripley HTF
Royal Prince-SPS Komtess V/Riverman
Hilltop Farm Inc.
same
3
77.40%
Dynamic MF
Don Principe-Ultrarubin/Rubinstein I
Leslie Lytton
Maryanna Haymon
4
76.20%
Royal Ramiro
Royal Prince-EM Ramona/RamiroÌÎ_Ì´åÇs Son II
Sally Hanson
Berend & Carla Friehe
5
75.00%
Dean Martin CR
Don Frederico-SPS Wilhelmine/Weltmeyer
Christine Bergeron
Albert Roskamm

2011 Fillies and Mares Materiale Year End (3-4-5 Year Olds)

Champion
85.30%
Ballerina DMV
Balletmeister-Dreaming/Dimaggio
Dreamcatcher Meadows Ventures
same
Reserve
82.60%
EMC Don Felina
Don Frederico-EM Flair/Wendekreis
Deanna & Shawn Kacer
same
3
79.10%
EMC Donna Fatale
Domiro-D'Lilah/Diamont
Lucchetti Ranch
same
4
77.10%
EMC Risque MFM
Rienzi-EM Kachina/Kalypso
Marefield Meadows
same
5
76.85%
EMC Radiance HVH
Rotspon-EM Whitney BH/Welser
High Valley Hanoverians
same

2010 Colts and Geldings Materiale Year End (3-4-5 Year Olds)

Champion
80.20%
Winter Zest [Reg name: What About Me]
Winterprinz-EM Duette/Diamont
Anne McCutcheon
same
Reserve
78.50%
San Dante
Sandro Hit-Weltmeyer's Song/Weltmeyer
Diane Nauman
same
3
77.80%
Flamboyant KH
Florencio I-EM Diva/Donnerhall
Thomas & Eileen Beckman
Kareen Heineking-Schuette
4
75.80%
Foley
Fabuleux-Romance/Puritano
Amanda Johnson
Barbara Putnam
5
75.60%
Habanero MRF
Hotline-Britania/Bordeaux
Shelly Reichart
Maple Run Farm

2010 Fillies and Mares Materiale Year End (3-4-5 Year Olds)

Champion
83.00%
EMC Ana Isabellah
Autocrat-SPS Indullah/Inschallah x
Janice Graham Marquardt
Sherry White
Reserve
79.60%
EMC Lucette
Liberty Gold-EM Aluette/Argantan I
Jo Ann Thomas
same
3
78.50%
EMC Rohannah
Rienzi-EM Daalny/Donerhall
Marefield Meadows
Marefield Meadows
4
77.80%
Dameera
Domiro-Begorra/Bordeaux
Starr Vaughn Equestrian Center
same
5 (tie)
77.50%
EMC Constanza DRC
Cabalito-EM Roma I/Rubinstein I
Cathy Tucker-Slaterbeck
same
5 (tie)
77.50%
Radiance HVH
Rotspon-EM Whitney BH/Welser
High Valley Hanoverians
same