The Brooklea Farm Horse of the Year Award for Eventing.
A very generous member and supporter of the sport approached us about sponsoring an award for the Overall Eventing Horse of the Year, for our AHS members who compete in the sport of Eventing.
Beginning in 2019, after we determine our Champions and Reserve Champions at the seven levels of Eventing, we will, using a "difficulty factor", determine our Evening Horse of the Year. The champion at each successive level going up from Beginner Novice through Advanced will be assigned a percentage factor that reflects the increasing difficulty of the levels in the sport. The horse with the most points after the difficulty factor has been added will be named the Eventing Horse of the Year.
We already have an Overall Dressage Horse of the Year award at the FEI and National Levels, and we have an Overall Hunter Horse of the Year award; now we are thrilled to add this Overall Eventing Horse of the Year award.
Each year, the owner of the winning horse will receive a beautiful etched trophy to keep; and their horse's name and breed information will go on a plate each year on the Brooklea Farm Eventing Horse of the Year Perpetual Plaque that will be hung in our national office in Kentucky.
2019 and 2020 Winner: DANITO owner: Ruth Bley
We are very pleased to announce that Danito ( Dancier-Wie Musik/Wolkenstein II) imported and owned by Ruth Bley of California, and ridden by Tamra Smith, is our inaugural 2019 and 2020 winner of this prestigious new award! Danito was bred in Germany by Herbert Schuett.
The AHS congratulates Ruth Bley and Tammy Smith and of course, Danito, for stellar competition years in 2019 and 2020; and we thank the wonderful generosity of our sponsor, Brooklea Farm, for helping to create the special new award for Eventing.
Gallery of Champions and Reserves
Click on one of the thumbnails below (when available) to browse through available images of the Champion and Reserve Champion horses from the divisions listed below. Due to space restrictions, only photos of the Champions and Reserve Champions in each division of the USEA Hanoverian Awards Winners will appear in the Spring Yearbook issue of The American Hanoverian. Please forward your photos (high-resolution digital files, *tif, *eps, *jpg, 900 x 1200 pixels minimum) to the AHS Publications Editor. E-mail single digital files to (will forward to both the magazine and web editors). Photos must be received by 2/20. All professional photos must include the photographer's name and a release for publication.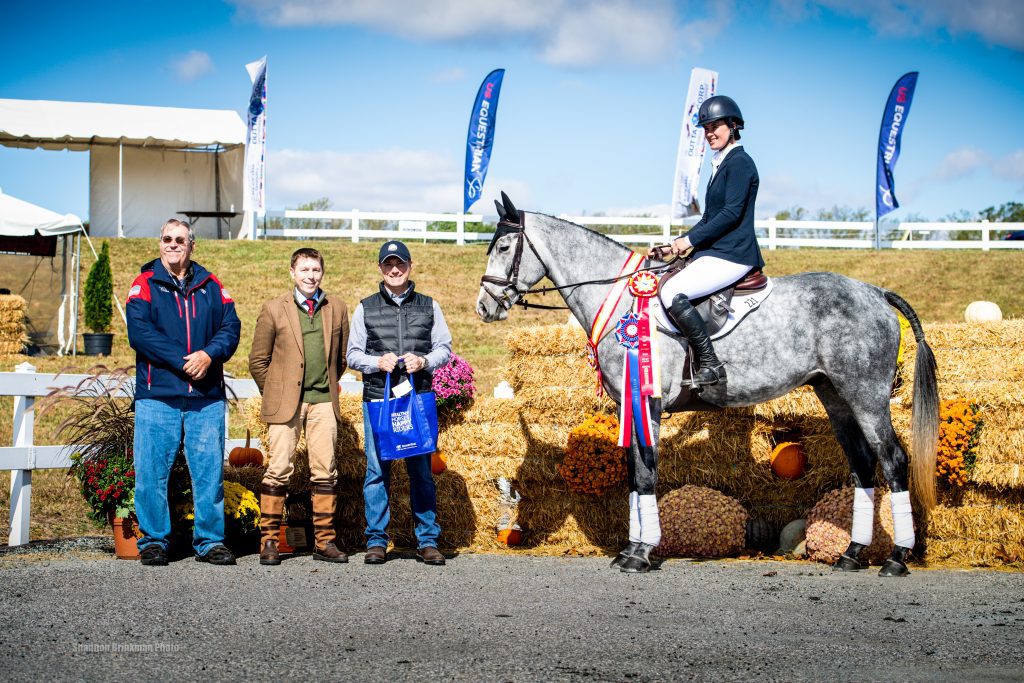 2021 USEA Hanoverian Awards winners
Rank
Points
Horse
Pedigree
Owner
Breeder
Rider

Advanced

Champion
95
Danito
Dancier-Wie Musik/Wolkenstein II
Ruth Bley
Herbert Schuette, Ger
Tamra Smith
Reserve Champion
89
En Vogue
Earl-Laurena/Lauries Crusador xx
Ruth Bley
Heinz Katt, Ger
Tamra Smith

Honorable Mention:

26
Early Review C
Earl-Lois Lane/Le Primeur
Laurie Cameron, DVM
Laurie Cameron, DVM
Sydney Solomon

Preliminary

Champion
62
Double Diamond C
Diacontinus-Lois Lane CBF/Le Primeur
Laurie Cameron, DVM
Laurie Cameron, DVM
Maya Black
Reserve Champion
8
Lanthan Lights C
Lanthan-Winter Morning/Ramiro's Bube
Laurie Cameron, DVM
Laurie Cameron, DVM
Maya Black

Honorable Mention:

5
Luftmann MWF
Landfriese II-Karrena/Kalypso
Meredith Michelfelder
Meredith Michelfelder
Jessica Shull
3
Calysta MWF
Contucci-Karrena/Kalypso
Meredith Michelfelder
Meredith Michelfelder
Betsy Ball

Modified

Champion-Tie
7
Double Diamond C
Diacontinus-Lois Lane CBF/Le Primeur
Laurie Cameron, DVM
Laurie Cameron, DVM
Maya Black
Champion-Tie
7
Lanthan Lights C
Lanthan-Winter Morning/Ramiro's Bube
Laurie Cameron, DVM
Laurie Cameron, DVM
Maya Black
Reserve Champion
5
Galapagos ( G'Man)
Graf Top II-Kamet/Hail Bold King
Anna Botsworth
David Bruce Smith
Anna Botsworth

Training

Champion
18
Little Miss Tennessee (Sue C Sunshine Q)
Soleil-Alandra Q /Anhaltiner E
Scott Keating
Suzanne Quarles
Casey Balloch Johnsey
Reserve Champion
7
Frankfurt
For Edition-Charen/Chasser I
Ruth Bley
Georg Gerken, Ger
Ruth Bley

Honorable Mention:

6
Calysta MWF
Contucci-Karrena/Kalypso
Meredith Michelfelder
Meredith Michelfelder
Betsy Ball
6
Arden Casino ( Vegas)
Valentino-Count Your Pennies xx/Aptitude xx
Anita Antenucci
Anita Antenucci
Sharon White, Woods Baughman
5
Galapagos ( G'Man)
Graf Top II-Kamet/Hail Bold King
Anna Botsworth
David Bruce Smith
Anna Botsworth
5
Luftmann MWF
Landfriese II-Karrena/Kalypso
Meredith Michelfelder
Meredith Michelfelder
Jessica Shull

Novice

Champion
53
Drummer Boy
Don Principe-Winterzauber/Winterprinz
Madeline Bletzacker
Diane & Jack Vickery
Madeline Bletzacker
Reserve Champion
23
Diamonds Forever
Donar Weiss GGF-Whizzo/White Magic
Kai Bradley
Melissa Stubenberg
Kai Bradley

Honorable Mention:

21
Rumer MWF
Harmony's Rousseau-Karrena/Kalypso
Betsy Ball
Meredith Michelfelder
Katie Beninati
18
Elegance
Escudo II-Fuerst Flight R/Fuerst Gotthard
Viviana Dunlap
Cindy Bellis-Jones
Viviana Dunlap
9
Arden Casino ( Vegas)
Valentino-Count Your Pennies xx/Aptitude xx
Anita Antenucci
Anita Antenucci
Sharon White, Woods Baughman
6
Sonata GWF
Sir Gregory-Welteje/Welt Klasse
Mary Hanson
Elizabeth Jenner
Barb Crabo, Mary Hanson
6
Cadillac Boy (Rhineland papered)
Cristalallo II-Cayenne S/Coronados Boy
Sandra Holden
ZG Schraets, Ger
Sandra Holden

Beginner Novice

Champion
14
Wonder Ella
Widmark-Merlot/Abdullah
Dorie Vlatten-Schmitz
Dorie Vlatten-Schmitz
Taylor Lindsten
Reserve Champion
6
Sonata GWF
Sir Gregory-Welteje/Welt Klasse
Mary Hanson
Melissa Steubenberg
Barb Crabo, Mary Hanson

Honorable Mention:

4
Rumer MWF
Harmony's Rousseau-Karrena/Kalypso
Betsy Ball
Meredith Michelfelder
Katie Beninati