The American Hanoverian Society offers many advertising opportunties to reach the AHS membership, horse enthusiasts and equine businesses. 
The American Hanoverian Society's website offers an excellent opportunity for those with a current year membership and board-approved equestrian businesses to reach thousands of Hanoverian and Rhineland horse enthusiasts monthly.  As users access web pages across the site, your business's banner advertisement is presented to them in specified locations. Click below to see pricing for various banner ad sizes and monthly options.
The American Hanoverian Society's Annual Stallion Directory and Awards Magazine publications are extremely effective advertising venues with a press run of over 1,300 copies. Both publications are professionaly produced in full-color and are great sources of information about the Hanoverian and Rhineland registry's breeding, sport and award programs. Our publications provide excellent opportunities to reach a dedicated, affluent sport horse market in a format that is retained by its recipients and referred to time and time again. Plan now to advertise in the Stallion Directory and Annual Awards Magazine!  Click below for more information.
Stallion Directory Advertising Form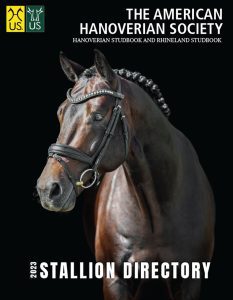 Awards Magazine Advertising Form