In addition to the trophies that are awarded annually by AHS through its comprehensive awards program, AHS is also associated with one of the most coveted trophies awarded each September at Dressage at Devon. Based at the show grounds in Devon, Pennsylvania, Dressage at Devon, or "DAD" as it is fondly known, has grown in stature each year since its inception in 1975. Incorporating three days of breed classes in conjunction with one of this nation's premier dressage events, DAD presents the largest breed show in the western hemisphere.
Each year, breeders large and small from all corners of North America descend upon Devon's showgrounds for three days of exciting and intense breed competition. In 1990, Priscilla Hanford, then AHS vice president, generously commissioned a beautiful bronze of a Hanoverian mare accompanied by an equally exquisite foal to be presented as a perpetual trophy at Devon. This unique work of art created by artist Karin Natsch Leary is entitled "American Hanoverians" and was first awarded in 1992.
The Dressage at Devon American Hanoverian Society trophy is awarded to the highest placing eligible Hanoverian horse in the open breed classes. An eligible Hanoverian is one that has been either registered by AHS or is a foreign Hanoverian that has been recorded by AHS. In addition, the owner of the horse must be a current-year AHS member. The trophy is not necessarily awarded to the Hanoverian horse that attains the highest percentage score during the show, but rather it is awarded to the horse that advances furthest through the Championship rounds.
The breed classes are initially divided by age and gender. The winners and reserves of the young horse classes then advance to either the Filly Championship or the Colt Championship which results in the naming of the Champion and Reserve Young Horse Champion of the show. Concurrently the older horses compete for entry to either the Mare Championship or the Stallion Championship. In head to head competition, a team of judges chooses the Champion and Reserve Mature Horse Champion who then compete directly against the two winners from the Young Horse Championship. In a culminating event, these four horses (not necessarily Hanoverians) compete against each other for the undisputed title of Grand Champion at Dressage at Devon, the most prestigious honor of its kind.
The following list of annual winners includes some of the most prominent names in the modern American Hanoverian breed, including four--SPS Wintersong, EM Berlina, EM Capricia and Liberty Gold--that were named Dressage at Devon Grand Champion.
Gallery of Champions
Click on one of the thumbnails below to browse through available images of the previous winners listed below. Please forward your photos (glossy prints or high-resolution digital files, *tif, *eps, *jpg (900 x 1200 pixels minimum on CD, DVD or Zip) to the AHS Office. E-mail single digital files to . All professional photos must include the photographer's name and a release for publication.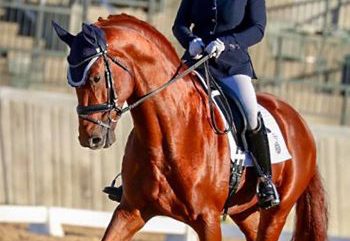 Dressage at Devon Perpetual Trophy Recipients
Year
Horse
Sire
Dam
Damsire
Owner
Breeder(s)
2022
Frida Kahlo QC
Franklin
Rhosemary
Rosentanz
Jonathan Clark & Quintenn Alston
same
2021
Davina B
Dacaprio
Fancinova
Fabuleux
Raisa Volkova & Svetlana Von Wernich
Barb A. Schmidt & Frederick J. Abbett
2019
Scantolina
Scolari
Warina
Weltmeyer
Jonathan Clark & Quintenn Alston
Jan-Peter Hartlef
2018
Bingotti
Bugatti
Wolkenfee
Krack C
Don and Kathleen Swalwell,
Three Fillies Farm
Don and Kathleen Swalwell, Three Fillies Farm
2017
Danae MF
Doctor Wendell MF
EM Rising Star MF
Rotspon
Maryanna Haymon
Maryanna Haymon
2016
Royal Celeste FH
Royal Classic
D'Lorienne
Diamond Hit
Eliza Rutherford (Quintann Alston lessee)
Eliza Rutherford
2015
Danae MF
Don Principe
EM Rising Star
Rotspon
Maryanna Haymon
Maryanna Haymon
2014
Dansuse MF
Don Principe
EM Fuerst Dancer MF
Fuerst Heinrich
Maryanna Haymon
Maryanna Haymon
2013
Duet MF
Don Principe
EM Rotina
Rotspon
Maryanna Haymon
Maryanna Haymon
2012
David Bowie MF
Don Principe
EM Rotina
Rotspon
Maryanna Haymon
Maryanna Haymon
2011
EM Rheporter
Royal Prince
EM Whispre
Weltmeyer
Maurine Swanson
Maurine Swanson
2010
Conturri HTF
Contucci
Komtess V
Riverman
Hilltop Farm
Hilltop Farm
2009
Pikko del Cerro HU
Pik L
Rohweena
Rohdiamant
Horses Unlimited
Horses Unlimited
2008
Cha Cha
[Reg. name EM Comtesse]
Cordoba
Wunderschone
Hilltop Farm
Heinrich Bolte
2007
EMC Wrazzle Dazzle
Widmark
Dazzle Me
Domingo
Deborah Gyulay
Oakwood Farms
2006
Selten HW
Sandro Hit
SPS High Princess
Hohenstein
Irene Hoeflich-Wiederhold
Irene Hoeflich-Wiederhold
2005
ES Liberty Gold
Londonderry
Walida
Weltmeyer
Hilton Farm_
Regine Soekeland
2004
Cabana Boy
Contucci
Britania
Bordeaux
Hilltop Farm
Maple Run Farm
2003
EMC Audrey
A Jungle Prince
SPS Faye
Forrest xx
Betsy LaBelle
Barbara Dzaack, Ger.
2002
Contigo
Contucci
EM Babe
Banter
Hilltop Farm
Middlefield Farm
2001
EM Capricia
Caprimond
Laureen
Lungau
Hilltop Farm_
Klaus Storbeck
2000
EM Wolkendame
Wolkenstein II
Bajan Breeze xx
Tumble Wind xx
Angela Barilar
Adolf Ahrens
1999
EM Wolkenrose
Wolkenstein II
Daisy
Dressman
Sandra L. Werner
Rudolf Kamps
1998
EM Berlina
Brentano II
Hilly
Hill Hawk xx
Suzanne Quarles
Helmut Guide
1997
SPS Rumpelstilzchen
Raphael
SPS Ballerina
Bolero
Kathryn and Jeffery Nesbitt
Hans Mahler
1996
EM Bo Peep
Banter
EM Lisher
Lessing
Dr. Rebecca Yount
Middlefield Farm
1995
ES West Coast
Westminster
Cardinale
Cardinal xx
Judy Arnold
Gerhard Thele
1994
EM Papagena
Pablo
SPS Samantha
Saloniki
Marefield Meadows
Marefield Meadows
1993
SPS Wintersong
Weltmeyer
EM Moira
Matcho x
Marefield Meadows
Marefield Meadows
1992
Gesandtier
Gesandt
Dionaca
Dachs
Sherra Kosch
Rill Stover