Congratulations to the following USDF Hanoverian All-Breeds Awards winners! This year's show season proved to be exceptional as AHS members and their horses topped the winner's list in many divisions! The top five placings in each division are recognized by the AHS Awards Program.
2021 Overall High Score Dressage Winners
National Levels: RONIN (Romanov Blue Hors-Something Royal) at Third Level, bred by Marcia Boeing and owned by Kathryn Fleming-Kuhn and Martin Kuhn, and ridden by Martin Kuhn.
FEI Levels: SANCEO (San Remo-Rivera) at Grand Prix Level, bred by Gerhard Dustmann, owned by Alice Womble, and ridden by Sabine Schut-Kerry

Special thanks to Louise Leatherdale and Leatherdale Farms for sponsoring the Overall High Score Dressage awards. The award consists of a perpetual trophy that will reside at the AHS office in Kentucky as well as "keeper" trophies that will be sent to each winner.
Gallery of Champions and Reserves
The AHS would love to feature a picture of all champions and reserve champions both here and in the AHS awards magazine. Please forward your photos (high-resolution digital files, *tif, *eps, *jpg, 900 x 1200 pixels minimum) to the AHS Publications Editor. E-mail single digital files to (will forward to both the magazine and web editors). All professional photos must include the photographer's name and a release for publication.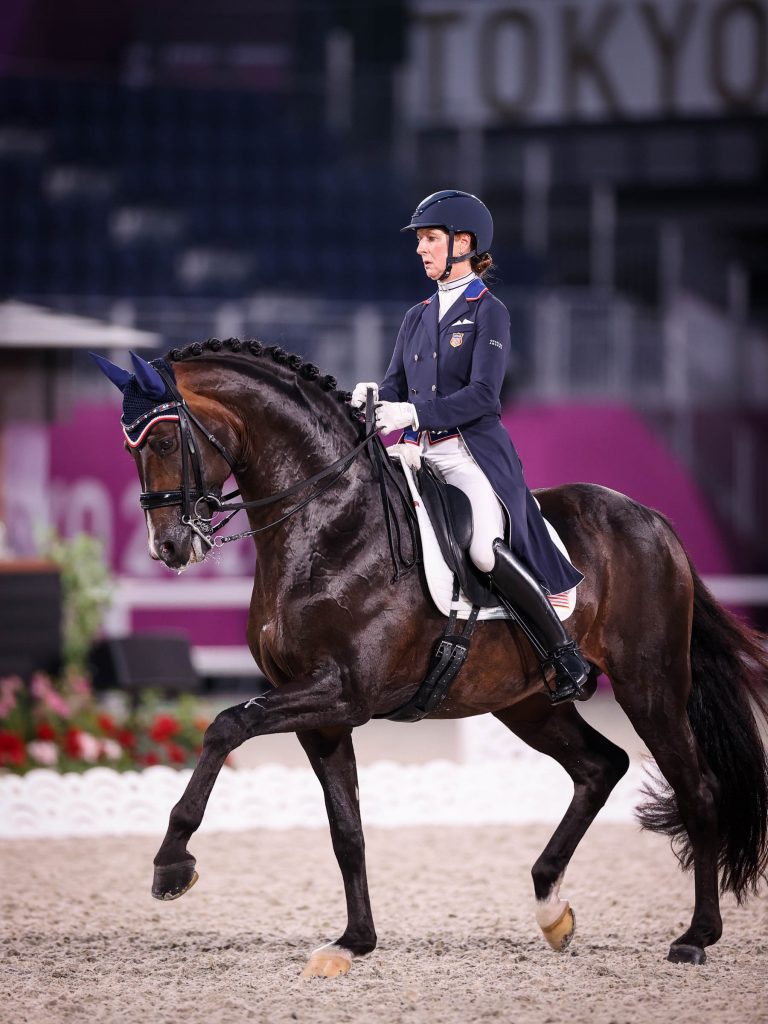 2021 USDF Hanoverian All-Breeds Awards Winners
Rank
Score
Horse
Sire
Dam
Owner
Breeder
Rider

FEI Level Horse of the Year

SANCEO
San Remo
Rivera
Alice Womble
Gerhard Dustmann
Sabine Schut-Kery

USEF Level Horse of the Year

RONIN
Romanov Blue Hors
Something Royal
Kathryn Fleming-Kuhn, Martin Kuhn
Marcia Boeing
Martin Kuhn

Training Level - Open

1
74.828
SUPERGIRL KS
Sinatra Song
Nisha KS
Suzanne Cotter
Karan Schwencer, Tom Schwencer
Suzanne Cotter
2
73.879
RAPHAEL DM
Rubinero
Farina
Amy Hertel
Dan Coffey, Michaela Zint
Carrie Wilson
3
72.832
LOUISVILLE HTF
Lord Leatherdale
Unicum-D
Hilltop Farm Inc.
Hilltop Farm Inc.
Michael Bragdell
4
72.789
DON'S DEBUTANTE
Don Hill
Wolkentessa
Diane Richey
Diane Richey
Gail Abele
5
72.500
HOPE'S DIAMOND
Hotline
Won Hope Diamond
Cindy Kidd
Meg Williams
Cindy Kidd

Honorable Mention:

6
72.328
BARN DANCE
Benetton Dream
Rambling Rose
Janelle Williams
Susan Field
Janelle Williams
7
72.069
DIAMONDS ARE FOREVER
Diamond Hit
Milli Vanilli
Rebecca Blake
Sabine Rubin
Rebecca Blake
8
71.552
DANDAO DE LYS
Dancier
Weltdame
Susan Langston
C. Menard, Lynda Tetreault
Gabrielle Callahan
9
71.121
SZARA SCS
Sir Gregory
Buena Vida
Julie Unvert
Julie Unvert
Mallory Schneider, Julie Unvert
10
70.949
DON PAVOREÕ
Don Principe
Mayhey
Kimberly Cederlund
Kimberly Cederlund, Tim Cederlund
Kimberly Cederlund, Heather McCarthy
11
70.172
CHRISTOS STRENGTH
Christ
Penelope
Kimberley Culp
Raimund Vorwerk
Alissa Frye
12
69.311
PENELOPE PITSTOP HF
Pikko del Cerro HU
Big Girl
Lisa Thompson Smith
Lisa Thompson Smith
Katie Terrell
13
68.922
DON DARRIAN BC
Don Principe
Adella
Amanda Harper
Angela Stanaway
Amanda Harper
14
68.077
MAJESTIC DANCER NHF
Metternich
Wersace
Kari Felton
Barbara Wood
Kari Felton
15
67.692
ELI'S COMING BHF
Escudo II
Branch Point
Janice Snyder
Paula Byrum
Janice Snyder
16
63.836
BREEZER
Belstaff
Laguna II
Gary Getz
Birgitte Juul, Leo Anderson, Stutteri Harrysminde
Gary Getz

First Level - Open

1
76.250
QUINTESSA RLF
Quaterback
Feather MLW
Kristina Harrison-Antell
Ryan Martin
Kristina Harrison-Antell
2
73.611
FIONA MRF
First Ampere
Chenya
Kathleen Marsh
Maple Run Farm LLC
Maureen Dunn
3
73.419
DANITY
Danciano
Desert Princess
Kendall Brookhart
Kendall Brookhart, Sharee Brookhart
Taylor Lindsten
4
73.286
COPERNIKUS
Coal Diamond
Donna Hit
Dana Fiore
Hans-Heinrich Bruning
Dana Fiore
5
72.708
QADENCE
Quaterback
Ariel
Emme Johnston
Denise Williams
Emme Johnston

Honorable Mention:

6
72.345
WON LIRA
Widmark
Drama Queen
Cindy Kidd
Meg Williams
Cindy Kidd
7
71.667
REINA AF
Richmond HL
Genoveva
Torrey Wilkinson
Torrey Wilkinson
Torrey Wilkinson
8
70.645
CONTESSA ROSE SWF
Connery
Rozijn
Mary Hardberger
Deborah Corff
John Mason
9
70.345
PENELOPE PITSTOP HF
Pikko del Cerro HU
Big Girl
Lisa Thompson Smith
Lisa Thompson Smith
Katie Terrell
10
70.000
STANDING OVATION
Scuderia
Furstin de Charry
Gwen Blake, Kaili Lawrence
Leon Meier
Kaili Lawrence
11
69.931
LUCKY LADYBUG TF
Livaldon
Feng Popo TF
Michelle Conrad
Kimberly Davies Slous
Judy Kelly
12
69.444
ROCKELLE
Rotspon
Wiesling
Angela Mirarchi
Angela Mirarchi
Susan Hopkins
13
69.286
SUPERGIRL KS
Sinatra Song
Nisha KS
Suzanne Cotter
Karan Schwencer, Tom Schwencer
Suzanne Cotter
14
68.736
SERGENT FS
Sinatra Song
Delightfull
Kelli Diener
Marty Hunt
Kelli Diener
15
67.414
BIANCA M
Belissimo M
Diva
Kari Clark
Martha Caldwell
Kari Clark
16
67.361
BARN DANCE
Benetton Dream
Rambling Rose
Janelle Williams
Susan Field
Janelle Williams
17
66.500
VIVE VICTORY
Viva Voltaire
Akli
Barbra Reis
David Bockus, Leslie Bockus
Barbra Reis
18
65.921
GOR DON BLEU
Guarantor
Winnetka
Samantha Brinkman-Berkhofer
Caron Martin
Ella Berkhofer
19
65.694
DESTINY P
De Niro
Soliloquy MLW
Pam Conklin
Andrea Hayden
Pam Conklin
20
65.268
DON DARRIAN BC
Don Principe
Adella
Amanda Harper
Angela Stanaway
Amanda Harper
21
65.070
DOMINGO
Donar Weiss GGF
Manon
Lisa Parker
Andrea Phillips
Lisa Parker
22
63.889
ROTADON'S RIVER DANCER
Rotspon
Donatella
Sharon Vadas
Arnold Busch
Sharon Vadas
23
63.472
DAMASCUS
Donar Weiss GGF
Rosalinda
Susan Kessler
Anne Schafer, Whirlwind Farm
Susan Kessler
24
60.833
FIREFOX
Franziskus
Laconia
Stacey Bachar
Isabel Clasen, Jorg Clasen
Stacey Bachar

Second Level - Open

1
71.786
STANDING OVATION
Scuderia
Furstin de Charry
Gwen Blake, Kaili Lawrence
Leon Meier
Kaili Lawrence
2
70.257
FIANA
Furst Romancier
Pretty Flower
Maureen Lamb
Emma Bird, Sally Galloway
Maureen Lamb, Sandy Savage
3
68.929
TANQUERAY MRF
Totilas
Revlon
Caryn Vesperman
Douglas Langer, Maple Run Farm LLC, Shannon Langer
Caryn Vesperman
4
68.314
WILLIT VF
Wild Dance
Ghia
Barbara Breen-Gurley
Thomas Murray
Barbara Breen-Gurley
5
67.906
FAIR PLAY
Feuerspiel
Dana
Johanne Marcoux
Christina Westermann
Johanne Marcoux

Honorable Mention:

6
67.878
HAVANNA
Heinrich Heine
Werra
Alain Ducharme, Triin Ducharme
Wilhelm Heyer
Triin Ducharme
7
66.626
GOR DON BLEU
Guarantor
Winnetka
Samantha Brinkman-Berkhofer
Caron Martin
Ella Berkhofer
8
66.273
VIVA VIVALDI
Vivaldi
SPS Scarlett
Diane Nauman
Diane Nauman
Charell Garcia
9
66.191
VIVALDINO
Vivaldi
Wildflower
Abigail Hardy
Jorgen Nedergaard, Vicki Nedergaard
Abigail Hardy
10
65.714
SERGENT FS
Sinatra Song
Delightfull
Kelli Diener
Marty Hunt
Kelli Diener
11
65.515
DIXIE ROSE
DeLaurentis
Cindy
Laura Adriaanse
Nancy Murray
Laura Adriaanse
12
64.939
VAN HALEN
Now Or Never M
Lorana
Kiara Lutzen
Jost Klindwort
Kiara Lutzen
13
62.679
DREXEL
Dancier
Winnifer
Cassandra Soule
Jo Ann Thomas
Cassandra Soule
14
62.635
VIVE VICTORY
Viva Voltaire
Akli
Barbra Reis
David Bockus, Leslie Bockus
Barbra Reis
15
62.162
DON DENALI
Don Frederico
Bergfee Bo
Lesya Ukrainchuk, Uliana Ukrainchuk
Gina Fisk
Uliana Ukrainchuk

Third Level - Open

1
74.125
LADY IN RED WS
Liberty Gold
Winessa
Janice Marquardt
Janice Marquardt
Heather McCarthy
2
70.608
GALAXY QUEST
Graf Galen
Don a'Diamond
Laura Tillman
Sigrun Wiesner-Timme
Wendy Riddell
3
69.938
SIMBA
Stedinger
Hofdame
Jacklyn Celano
Victoria Holstein-Childress
Brittany Burson
4
69.875
LIVING THE DREAM MRF
Lemony's Nicket
Dahlcinae
Jacqueline Zimmermann
Douglas Langer, Maple Run Farm LLC, Shannon Langer
Jacqueline Zimmermann
5
69.865
DEL MAGICA
Dimaggio
Fevetia II
Danielle Gavriluk
Stephan Hermann
Danielle Gavriluk

Honorable Mention:

6
67.938
TIAMO'S BRYNHILD
Tiamo Trocadero
Chatham
Sarah Berg
Lisa Mioduszewski, Robert Mioduszewski
Sarah Berg
7
66.063
DESTINO
Dacaprio
Liandra
Heather Ferguson
Barbara Schmidt
Heather Ferguson
8
65.738
NTEC DOM BENEDICTINE
Dannebrog
Waikita
Kai Handt
Brigitte Engelhard
Julia Handt
9
65.588
BREANNA
Brentano II
World Queen
David Wightman, Jennifer Mason, Kathleen Raine
Walter Rauen
Josephine Hinnemann
10
65.532
ROYAL PIPPA FLF
Royal Prince
Jumanji
Susan Carlsgaard
Linda Sommers
Tracey Olsen, King Santacruz, Susan Carlsgaard
11
65.453
DUCATI
Dancier
Li La Lu
Brenda Curnin
Edda Kroner, Frederich Kroner
Paige Zimmerman
12
65.063
QUATERHALLS LIGHTNING
Quaterhall
World Lady
Rylee Pumphrey, Valentine Pumphrey
Sabrina Redelmann
Rylee Pumphrey, Eva Oldenbroek-Tabor
13
64.865
DESTINY BC
Dancier
Rivalin BC
Robin Mattson
Cord Badenhoop-Clausen
Robin Mattson, Andreanna Patzwald
14
64.427
WVODKA
Weltmeyer
Grandma Colleen
Rylee Pumphrey, Valentine Pumphrey
Shelly Williams
Rylee Pumphrey
15
64.375
BALLANTINE
Benetton Dream
Weekend Feeling
Lauren Simon
Danielle Gavriluk
Lauren Simon
16
64.000
FOXEY LADY L
First Dance
Weltbekanna L
Leatherdale Farms, Louise Leatherdale
Douglas Leatherdale, Louise Leatherdale
Mike Suchanek
17
63.676
SP…RKY DE LUXE
Sporcken
Belissima
Trinity Schatzel
Walter Rauen
Trinity Schatzel
18
62.335
WIND PHAERIE HU
Wild Dance
Pikk Diva HU
Dawn Frazer
Horses Unlimited, Inc.
Dawn Frazer
19
61.142
FLYING COLORS
Fuerst Romancier
Something Royal
Brenda Curnin
Marcia Boeing
Olivia Steidle

Fourth Level - Open

1
72.661
RONIN
Romanov Blue Hors
Something Royal
Kathryn Fleming-Kuhn, Martin Kuhn
Marcia Boeing
Martin Kuhn
2
71.154
FLEUR NOIR WSHS
Furstenball
Wakanova WSHS
Genay Vaughn, Michele Vaughn
Janet Jones, Lawrence Jones
Genay Vaughn
3
69.231
BEAUJOLAIS 75
Bugatti Hilltop
Conflora
Emily Donaldson
Doug Beacham
Emily Donaldson
4
67.778
STILETTO MRF
Sir Donnerhall
Britania
Maple Run Farm LLC, Shannon Langer
Douglas Langer, Maple Run Farm LLC, Shannon Langer
Shannon Langer
5
67.049
SCHNUCKI 47
Sir Calypso
Romy
Susan Franz
Wilfried Hohle
Jennifer Ault

Honorable Mention:

6
66.598
DE LA NUIT
Dr. Doolittle
Weisser Stern
Ann Gray-Trufant
Klaus Holle
Ann Gray-Trufant
7
66.528
FINNEGAN SQF
Fidertanz
SPS Withney
Rachel Pennington
Jill Peterson
Rachel Pennington
8
66.148
DIAMOND DUREZA
Diamond Hit
Salope
Caryn Vesperman
Caryn Vesperman
Caryn Vesperman
9
64.391
NTEC DOM BENEDICTINE
Dannebrog
Waikita
Kai Handt
Brigitte Engelhard
Julia Handt
10
63.289
LINKIN
Lullaby
Welthana
Joan Iannacone
Joan Iannacone
Joan Iannacone

Prix St. Georges - Open

1
70.699
FLASH GORDON HF
Falsterbo
Big Girl
Lisa Thompson Smith
Lisa Thompson Smith
Katie Terrell
2
70.294
RONIN
Romanov Blue Hors
Something Royal
Kathryn Fleming-Kuhn, Martin Kuhn
Marcia Boeing
Martin Kuhn
3
69.971
HEMMINGWAY
Hendrix
Mauricia
Christina Holtzheuser Morgan
Bjarne Berling
Christian Simonson
4
69.926
BELL ANGELO
Belissimo M
Donna Daniella
Caroline Garren, Charles Garren, Michele Garren
Meise Reinhold
Caroline Garren
5
69.486
FARLEY 4
Fabriano
Wonja Z
Chloe Fullar
Barbara Zeitler
Chloe Fullar

Honorable Mention:

6
69.412
BROOKLYN GCF
Bonheur
Greta Garbo
Barrett Barksdale
Sharon Garner
Barrett Barksdale
7
68.676
DUCHESSE DU PRE
Dauphin
Wranis
Jennifer Huber
Marefield Meadows Inc.
Jennifer Huber
8
68.456
QI GONG TF
Quaterback
Royal Carribean
Tillie Jones, Tish Gade-Jones
Anne Sargent
Tillie Jones
9
68.358
QUINZY HTF
Qredit Hilltop
Comtesse
Hilltop Farm Inc.
Hilltop Farm Inc.
Jessica Fay, Michael Bragdell
10
67.574
HOTSTREAK CF
Hotline
Rococo OSH
Jaime Dancer
Mary Stanton
Jaime Dancer
11
67.563
MILLI VANILLI
Millennium
Senorita
Three Oaks Farm LLC
Heinrich Ramsbrock
Nicole Harrington
12
66.985
DIVINE FH
Dacaprio
Helene K
Victoria Sher
Eliza Rutherford
Stephan Cheret, Maia Barnes
13
66.324
BAHAI
Harmony's Baroncelli
Rose
Nora Batchelder
Otto Fuchs
Jillian Sheppard
14
66.177
SUMMER SOLSTICE
Sunlight
Dina
Sharon Jerdeman
Otto Fuchs
Sharon Jerdeman
15
66.059
LOU HEART
Londonderry
Darjeeling
Eliana Schmidt
Nicole Nemitz
Bianca Schmidt
16
65.294
SONNENSCHEIN ROA
Sonntagskind
Francesca B
Anne Tursky
Anne Tursky
Anne Tursky
17
65.000
DANTE'S DREAM
Desperados
Seide
Andrea Mitchell
Jens Wilting
Andrea Mitchell
17
65.000
HANNIGAN L
Herzensdieb
Pia Colada
Leatherdale Farms, Louise Leatherdale
Douglas Leatherdale, Louise Leatherdale
Mike Suchanek
19
64.508
BE NIRO WS
Benetton Dream
Winessa
Erika-West Nece
Janice Marquardt
Erika-West Nece
20
64.314
WSF KRUGERRAND
First Gotthard
Peony
Dan Mendell, Lisa Mendell, Springit LLC
Norma Hough
Lisa Mendell
21
63.824
DUCATTI MF
Don Principe
Ultrarubin
Carol Conner
Maryanna Haymon
Carol Conner
22
63.008
SCHNUCKI 47
Sir Calypso
Romy
Susan Franz
Wilfried Hohle
Jennifer Ault
23
62.941
QUANTUM MRF
Quaterback
Revlon
Nicole Helland
Douglas Langer, Maple Run Farm LLC, Shannon Langer
July Hugen
24
62.684
WORTHY ASPIRATIONS
Worthy Opponent
Dominica V
Heather Petersen
Genna Gatdula
Heather Petersen
25
61.912
LIMELIGHT AF
Londontime
Wave Dance
Christopher Grosso
Dietrich Fiddelke
Molly Maloney, Kristin Grosso
26
61.655
R. D'ARSEY MCF
Royal Blend
Winona
Susan Alvey, Thomas Alvey
Ernst Bielstein
Jessica Reigel
27
60.956
BELLA YMAS
Bon Bravour
Dora
Isabella Thorpe
Reinhard Wilms GbR
Isabella Thorpe
28
60.147
HABANERO
Hotline
Windrose
Stefanie Poole
Thomas Flint
Stefanie Poole

Intermediaire I - Open

1
70.809
FARLEY 4
Fabriano
Wonja Z
Chloe Fullar
Barbara Zeitler
Chloe Fullar
2
69.780
BINGOTTI
Bugatti Hilltop
Wolkenfee
Kathleen Swalwell
Kathleen Swalwell
Carrie Wilson
3
69.706
DAVOS MCF
Don Frederico
Rosanna K.
Susan Alvey, Thomas Alvey
Peter Broka
Petra Warlimont
4
68.824
FLASH GORDON HF
Falsterbo
Big Girl
Lisa Thompson Smith
Lisa Thompson Smith
Katie Terrell
5
68.456
DIVINE FH
Dacaprio
Helene K
Victoria Sher
Eliza Rutherford
Stephan Cheret

Honorable Mention:

6
67.794
BROOKLYN GCF
Bonheur
Greta Garbo
Barrett Barksdale
Sharon Garner
Barrett Barksdale
7
66.765
DREAM WORKS
Danone I
Hollywood
Stephen Ruggiero
Kathrin Gericke, Mareile Gericke
Stephen Ruggiero
8
66.250
DUCHESSE DU PRE
Dauphin
Wranis
Jennifer Huber
Marefield Meadows Inc.
Jennifer Huber
9
65.441
SUMMER SOLSTICE
Sunlight
Dina
Sharon Jerdeman
Otto Fuchs
Sharon Jerdeman
10
65.368
WSF KRUGERRAND
First Gotthard
Peony
Dan Mendell, Lisa Mendell, Springit LLC
Norma Hough
Lisa Mendell
11
65.000
RENDEZVOUS HTF
Regazzoni
Primavera
Jodi Pearson-Keating
Hilltop Farm Inc.
Jodi Pearson-Keating
12
64.853
QUINZY HTF
Qredit Hilltop
Comtesse
Hilltop Farm Inc.
Hilltop Farm Inc.
Michael Bragdell
13
64.706
SOLANA
Soliman de Hus
Bungee B
Susan Sullivan
Susanna Borchers
Susan Sullivan
14
64.339
DANTE'S DREAM
Desperados
Seide
Andrea Mitchell
Jens Wilting
Andrea Mitchell
15
62.941
RITELLO
Rotspon
Platine
Maureen Lamb
Herbert Schuett
Patrice Palmaer
16
62.677
DIESEL VT
Dante Alighieri
Flambeau
Lynn Jendrowski
Haydn Wadley, Patience Wadley
Lynn Jendrowski
17
61.875
RARITY
Rubinstein
Luisa
Martha Detering
Karen Stratton, Randy Stratton
Martha Detering

Intermediaire II - Open

1
67.990
LAMBADA 224
Light and Easy
Wendy
Jennifer Scarpino, Nicole Scarpino
Michael Schenk
Nicole Scarpino
2
66.897
FLEUR DE LIS L
First Dance
De La Rosa
Leatherdale Farms, Louise Leatherdale
Douglas Leatherdale, Louise Leatherdale
Vanessa Creech-Terauds
3
66.397
DUCHESS L
Damsey
De La Rosa
Leatherdale Farms, Louise Leatherdale
Douglas Leatherdale, Louise Leatherdale
Mike Suchanek
4
65.385
SUNSHINE 504
Sir Donnerhall
Arantscha B
Susan Alvey
Theo Berkemeier
Jackson Gillespie
5
65.147
WYLEIGH PRINCESS
Weltmeyer
Heiress B
Ruth Shirkey
Cheryl Johnson, Eric Johnson
Ruth Shirkey

Honorable Mention:

6
64.927
LOLA HPF
Londonderry
De Lorean HPF
Kimberly Ransdell
Nancy Marshall-Connolly
Regina Agren
7
64.706
DIAMOND HEAD
Diamond Hit
Heidefee
Jessica Wisdom
Hans-Guenter Berner
Jessica Wisdom
8
64.542
RAMORA CF
Royal Prince
Daniella
Kimberly Kobryn-Callaway
Kimberly Kobryn-Callaway
Kimberly Kobryn-Callaway
9
64.192
DEMETRIUS
De Niro
Decente
Rebecca Lord
Hermann Rump, Lotte Rump
Rebecca Lord
10
63.934
BULGARI CF
Bugatti Hilltop
Academy Award
Kimberly Kobryn-Callaway
Kimberly Kobryn-Callaway
Kimberly Kobryn-Callaway
11
63.382
RAVANTI C
Rubinstein I
Decala
Anke Ott-Young
Caroline van Zele
Jannike Gray
12
62.647
DON VINO
Don Vino
Toscana
Kristen Becker
Gerd Luehr
Kristen Becker
13
61.838
RICHTHOFEN 7
Royal Blend
Wonne
Judy Ethell
Fritz-Harald Strodthoff-Schneider
Judy Ethell

Grand Prix - Open

1
75.341
SANCEO
San Remo
Rivera
Alice Womble
Gerhard Dustmann
Sabine Schut-Kery
2
69.674
FARO SQF
Fidertanz
Rose
Andrea Whitcomb, Nora Batchelder
Jill Peterson
Nora Batchelder
3
66.936
WIZARD OF OZ
Weltmeyer
Vadella
Carman Wakefield, Three Oaks Farm LLC
Heinrich Ramsbrock
Nicole Harrington
4
65.598
BULGARI CF
Bugatti Hilltop
Academy Award
Kimberly Kobryn-Callaway
Kimberly Kobryn-Callaway
Kimberly Kobryn-Callaway
5
65.380
RUBICO
Rotspon
Wiebella
Patti Blackmore
Carla Beckmann Ihnen
Shannon Warner

Honorable Mention:

6
65.326
FABREGAS
Florencio I
Dschinn
Meg Williams
Albrecht Rendigs
Meg Williams
7
65.055
DONATELLA CF
Donarweiss GGF
Tiadora
Kimberly Kobryn-Callaway
Kimberly Kobryn-Callaway
Kimberly Kobryn-Callaway
8
64.239
SANFORD
Stedinger
Daalny
Jaralyn Gibson
Marefield Meadows Inc.
Jaralyn Gibson
8
64.239
DON VINO
Don Vino
Toscana
Kristen Becker
Gerd Luehr
Kristen Becker
10
63.995
HOT DATE
Hotline
Finalee
Hot Date Syndicate LLC
Darlene Ganong
Kymberly Pullen
11
62.826
WYLEIGH PRINCESS
Weltmeyer
Heiress B
Ruth Shirkey
Cheryl Johnson, Eric Johnson
Ruth Shirkey
12
62.392
DOW JONES 1
Desperados
Enya
Christopher Palabe
Wilfried Otten
Christopher Palabe
13
60.978
WICKET
Wolkenstein II
Alure
Kathy Viele
Maurine Swanson
Kathy Viele
14
60.082
HHOT TAMALE
Hotline
Chee Chee
Kimberley Dougherty
Maurine Swanson
Kimberley Dougherty

First Level - Musical Freestyle

1
78.533
FIONA MRF
First Ampere
Chenya
Kathleen Marsh
Maple Run Farm LLC
Maureen Dunn
2
74.600
REINA AF
Richmond HL
Genoveva
Torrey Wilkinson
Torrey Wilkinson
Torrey Wilkinson
3
73.833
SUPERGIRL KS
Sinatra Song
Nisha KS
Suzanne Cotter
Karan Schwencer, Tom Schwencer
Suzanne Cotter
4
72.900
WORTHINGTON
Wittinger
Laurine
Megan Kelleghan
Johann-Peter Frank
Taylor Allen
5
68.867
SERGENT FS
Sinatra Song
Delightfull
Kelli Diener
Marty Hunt
Kelli Diener

Honorable Mention:

6
68.233
VIVE VICTORY
Viva Voltaire
Akli
Barbra Reis
David Bockus, Leslie Bockus
Barbra Reis

Second Level - Musical Freestyle

1
71.883
DANITY
Danciano
Desert Princess
Kendall Brookhart
Kendall Brookhart, Sharee Brookhart
Taylor Lindsten
2
68.233
LORD BURBERRY CCSH
Londonderry
Hochkarat
Lauren Wade
Marion Dresel-Nelson
Lauren Wade
3
67.833
SERGENT FS
Sinatra Song
Delightfull
Kelli Diener
Marty Hunt
Kelli Diener
4
67.300
CAPPUCINE
Contucci
Odette
Susanne Branson
Susanne Branson
Sara Branson, Susanne Branson
5
64.000
ROYAL WID
Rubignon
Windayla
Susan Heiken
Meg Williams
Susan Heiken

Third Level - Musical Freestyle

1
71.400
LADY IN RED WS
Liberty Gold
Winessa
Janice Marquardt
Janice Marquardt
Heather McCarthy
2
70.283
SIMBA
Stedinger
Hofdame
Jacklyn Celano
Victoria Holstein-Childress
Brittany Burson
3
63.400
DORFPRINZ
Dauphin
Acciaccatura
Angelyn Gunn
Cornelia Telker
Angelyn Gunn

Fourth Level - Musical Freestyle

1
65.450
HALLELUJAH HVH
Hotline
Wruffian Q
Caroline Morgan-Sullivan
High Valley Hanoverians
Caroline Morgan-Sullivan

Intermediaire I - Musical Freestyle

1
72.600
FARLEY 4
Fabriano
Wonja Z
Chloe Fullar
Barbara Zeitler
Chloe Fullar
2
71.575
DREAM WORKS
Danone I
Hollywood
Stephen Ruggiero
Kathrin Gericke, Mareile Gericke
Stephen Ruggiero
3
71.175
DIESEL VT
Dante Alighieri
Flambeau
Lynn Jendrowski
Haydn Wadley, Patience Wadley
Lynn Jendrowski
4
70.725
DANTE'S DREAM
Desperados
Seide
Andrea Mitchell
Jens Wilting
Andrea Mitchell
5
70.075
BROOKLYN GCF
Bonheur
Greta Garbo
Barrett Barksdale
Sharon Garner
Barrett Barksdale

Honorable Mention:

6
68.175
SUNSHINE
Souvenir
World Dame
Lea Mccullough
Klaus-Heinrich Augustin
Lea Mccullough
7
66.875
BEL FAST
Belissimo M
Lambada
Schneiders Sporthorses
Jan Ahrenshop
Leslie Ann McGowan
8
66.375
RITELLO
Rotspon
Platine
Maureen Lamb
Herbert Schuett
Patrice Palmaer

Grand Prix - Musical Freestyle

1
73.475
SPARTAKUS
Schwarzenegger
Fifty Fifty
Carrie O'Neill, Ken O'Neill
Wilhelm Harling
Carrie O'Neill
2
71.413
RUBICO
Rotspon
Wiebella
Patti Blackmore
Carla Beckmann Ihnen
Shannon Warner
3
69.500
WIZARD OF OZ
Weltmeyer
Vadella
Carman Wakefield, Three Oaks Farm LLC
Heinrich Ramsbrock
Nicole Harrington
4
67.938
HOT DATE
Hotline
Finalee
Hot Date Syndicate LLC
Darlene Ganong
Kymberly Pullen
5
67.425
DONATELLA CF
Donarweiss GGF
Tiadora
Kimberly Kobryn-Callaway
Kimberly Kobryn-Callaway
Kimberly Kobryn-Callaway

First Level - Junior/Young Rider

1
65.921
GOR DON BLEU
Guarantor
Winnetka
Samantha Brinkman-Berkhofer
Caron Martin
Ella Berkhofer

Second Level - Junior/Young Rider

1
66.626
GOR DON BLEU
Guarantor
Winnetka
Samantha Brinkman-Berkhofer
Caron Martin
Ella Berkhofer
2
64.939
VAN HALEN
Now Or Never M
Lorana
Kiara Lutzen
Jost Klindwort
Kiara Lutzen
3
62.162
DON DENALI
Don Frederico
Bergfee Bo
Lesya Ukrainchuk, Uliana Ukrainchuk
Gina Fisk
Uliana Ukrainchuk

Third Level - Junior/Young Rider

1
65.588
BREANNA
Brentano II
World Queen
David Wightman, Jennifer Mason, Kathleen Raine
Walter Rauen
Josephine Hinnemann
2
65.453
DUCATI
Dancier
Li La Lu
Brenda Curnin
Edda Kroner, Frederich Kroner
Paige Zimmerman
3
64.427
WVODKA
Weltmeyer
Grandma Colleen
Rylee Pumphrey, Valentine Pumphrey
Shelly Williams
Rylee Pumphrey
4
63.676
SP…RKY DE LUXE
Sporcken
Belissima
Trinity Schatzel
Walter Rauen
Trinity Schatzel

Prix St. Georges - Junior/Young Rider

1
69.971
HEMMINGWAY
Hendrix
Mauricia
Christina Holtzheuser Morgan
Bjarne Berling
Christian Simonson
2
69.926
BELL ANGELO
Belissimo M
Donna Daniella
Caroline Garren, Charles Garren, Michele Garren
Meise Reinhold
Caroline Garren
3
68.456
QI GONG TF
Quaterback
Royal Carribean
Tillie Jones, Tish Gade-Jones
Anne Sargent
Tillie Jones
4
66.324
BAHAI
Harmony's Baroncelli
Rose
Nora Batchelder
Otto Fuchs
Jillian Sheppard
5
66.059
LOU HEART
Londonderry
Darjeeling
Eliana Schmidt
Nicole Nemitz
Bianca Schmidt

Honorable Mention:

6
60.956
BELLA YMAS
Bon Bravour
Dora
Isabella Thorpe
Reinhard Wilms GbR
Isabella Thorpe

Intermediaire II - Junior/Young Rider

1
66.897
FLEUR DE LIS L
First Dance
De La Rosa
Leatherdale Farms, Louise Leatherdale
Douglas Leatherdale, Louise Leatherdale
Vanessa Creech-Terauds

Training Level - Adult Amateur

1
74.828
SUPERGIRL KS
Sinatra Song
Nisha KS
Suzanne Cotter
Karan Schwencer, Tom Schwencer
Suzanne Cotter
2
72.500
HOPE'S DIAMOND
Hotline
Won Hope Diamond
Cindy Kidd
Meg Williams
Cindy Kidd
3
72.069
DIAMONDS ARE FOREVER
Diamond Hit
Milli Vanilli
Rebecca Blake
Sabine Rubin
Rebecca Blake
4
70.010
SZARA SCS
Sir Gregory
Buena Vida
Julie Unvert
Julie Unvert
Julie Unvert
5
68.922
DON DARRIAN BC
Don Principe
Adella
Amanda Harper
Angela Stanaway
Amanda Harper

Honorable Mention:

6
67.692
ELI'S COMING BHF
Escudo II
Branch Point
Janice Snyder
Paula Byrum
Janice Snyder
7
63.836
BREEZER
Belstaff
Laguna II
Gary Getz
Birgitte Juul, Leo Anderson, Stutteri Harrysminde
Gary Getz

First Level - Adult Amateur

1
72.345
WON LIRA
Widmark
Drama Queen
Cindy Kidd
Meg Williams
Cindy Kidd
2
69.286
SUPERGIRL KS
Sinatra Song
Nisha KS
Suzanne Cotter
Karan Schwencer, Tom Schwencer
Suzanne Cotter
3
68.736
SERGENT FS
Sinatra Song
Delightfull
Kelli Diener
Marty Hunt
Kelli Diener
4
67.414
BIANCA M
Belissimo M
Diva
Kari Clark
Martha Caldwell
Kari Clark
5
65.694
DESTINY P
De Niro
Soliloquy MLW
Pam Conklin
Andrea Hayden
Pam Conklin

Honorable Mention:

6
65.268
DON DARRIAN BC
Don Principe
Adella
Amanda Harper
Angela Stanaway
Amanda Harper
7
63.889
ROTADON'S RIVER DANCER
Rotspon
Donatella
Sharon Vadas
Arnold Busch
Sharon Vadas
8
63.472
DAMASCUS
Donar Weiss GGF
Rosalinda
Susan Kessler
Anne Schafer, Whirlwind Farm
Susan Kessler
9
60.833
FIREFOX
Franziskus
Laconia
Stacey Bachar
Isabel Clasen, Jorg Clasen
Stacey Bachar

Second Level - Adult Amateur

1
69.286
FIANA
Furst Romancier
Pretty Flower
Maureen Lamb
Emma Bird, Sally Galloway
Maureen Lamb
2
68.929
TANQUERAY MRF
Totilas
Revlon
Caryn Vesperman
Douglas Langer, Maple Run Farm LLC, Shannon Langer
Caryn Vesperman
3
67.906
FAIR PLAY
Feuerspiel
Dana
Johanne Marcoux
Christina Westermann
Johanne Marcoux
4
67.878
HAVANNA
Heinrich Heine
Werra
Alain Ducharme, Triin Ducharme
Wilhelm Heyer
Triin Ducharme
5
66.191
VIVALDINO
Vivaldi
Wildflower
Abigail Hardy
Jorgen Nedergaard, Vicki Nedergaard
Abigail Hardy

Honorable Mention:

6
65.714
SERGENT FS
Sinatra Song
Delightfull
Kelli Diener
Marty Hunt
Kelli Diener
7
65.515
DIXIE ROSE
DeLaurentis
Cindy
Laura Adriaanse
Nancy Murray
Laura Adriaanse

Third Level - Adult Amateur

1
65.738
NTEC DOM BENEDICTINE
Dannebrog
Waikita
Kai Handt
Brigitte Engelhard
Julia Handt
2
64.500
ROYAL PIPPA FLF
Royal Prince
Jumanji
Susan Carlsgaard
Linda Sommers
Susan Carlsgaard
3
64.375
BALLANTINE
Benetton Dream
Weekend Feeling
Lauren Simon
Danielle Gavriluk
Lauren Simon

Fourth Level - Adult Amateur

1
67.778
STILETTO MRF
Sir Donnerhall
Britania
Maple Run Farm LLC, Shannon Langer
Douglas Langer, Maple Run Farm LLC, Shannon Langer
Shannon Langer
2
66.598
DE LA NUIT
Dr. Doolittle
Weisser Stern
Ann Gray-Trufant
Klaus Holle
Ann Gray-Trufant
3
66.528
FINNEGAN SQF
Fidertanz
SPS Withney
Rachel Pennington
Jill Peterson
Rachel Pennington
4
66.148
DIAMOND DUREZA
Diamond Hit
Salope
Caryn Vesperman
Caryn Vesperman
Caryn Vesperman
5
64.391
NTEC DOM BENEDICTINE
Dannebrog
Waikita
Kai Handt
Brigitte Engelhard
Julia Handt

Prix St. Georges - Adult Amateur

1
69.412
BROOKLYN GCF
Bonheur
Greta Garbo
Barrett Barksdale
Sharon Garner
Barrett Barksdale
2
68.676
DUCHESSE DU PRE
Dauphin
Wranis
Jennifer Huber
Marefield Meadows Inc.
Jennifer Huber
3
65.294
SONNENSCHEIN ROA
Sonntagskind
Francesca B
Anne Tursky
Anne Tursky
Anne Tursky
4
65.000
DANTE'S DREAM
Desperados
Seide
Andrea Mitchell
Jens Wilting
Andrea Mitchell
5
62.941
QUANTUM MRF
Quaterback
Revlon
Nicole Helland
Douglas Langer, Maple Run Farm LLC, Shannon Langer
July Hugen

Honorable Mention:

6
62.684
WORTHY ASPIRATIONS
Worthy Opponent
Dominica V
Heather Petersen
Genna Gatdula
Heather Petersen
7
61.655
R. D'ARSEY MCF
Royal Blend
Winona
Susan Alvey, Thomas Alvey
Ernst Bielstein
Jessica Reigel
8
60.147
HABANERO
Hotline
Windrose
Stefanie Poole
Thomas Flint
Stefanie Poole

Intermediaire I - Adult Amateur

1
67.794
BROOKLYN GCF
Bonheur
Greta Garbo
Barrett Barksdale
Sharon Garner
Barrett Barksdale
2
66.765
DREAM WORKS
Danone I
Hollywood
Stephen Ruggiero
Kathrin Gericke, Mareile Gericke
Stephen Ruggiero
3
66.250
DUCHESSE DU PRE
Dauphin
Wranis
Jennifer Huber
Marefield Meadows Inc.
Jennifer Huber
4
64.706
SOLANA
Soliman de Hus
Bungee B
Susan Sullivan
Susanna Borchers
Susan Sullivan
5
64.339
DANTE'S DREAM
Desperados
Seide
Andrea Mitchell
Jens Wilting
Andrea Mitchell

Honorable Mention:

6
62.941
RITELLO
Rotspon
Platine
Maureen Lamb
Herbert Schuett
Patrice Palmaer
7
61.875
RARITY
Rubinstein
Luisa
Martha Detering
Karen Stratton, Randy Stratton
Martha Detering

Intermediaire II - Adult Amateur

1
65.147
WYLEIGH PRINCESS
Weltmeyer
Heiress B
Ruth Shirkey
Cheryl Johnson, Eric Johnson
Ruth Shirkey
2
64.192
DEMETRIUS
De Niro
Decente
Rebecca Lord
Hermann Rump, Lotte Rump
Rebecca Lord
3
61.838
RICHTHOFEN 7
Royal Blend
Wonne
Judy Ethell
Fritz-Harald Strodthoff-Schneider
Judy Ethell

Grand Prix - Adult Amateur

1
62.826
WYLEIGH PRINCESS
Weltmeyer
Heiress B
Ruth Shirkey
Cheryl Johnson, Eric Johnson
Ruth Shirkey
2
62.392
DOW JONES 1
Desperados
Enya
Christopher Palabe
Wilfried Otten
Christopher Palabe
3
60.978
WICKET
Wolkenstein II
Alure
Kathy Viele
Maurine Swanson
Kathy Viele
---
2021 USDF Rhineland All-Breeds Awards Winners
Rank
Score
Horse
Sire
Dam
Owner
Breeder
Rider

First Level - Open

1
72.917
ELEMENTAL
Escolar
Fiderblute
Meaghan Newhouse
Bernd Hickert
Kathryn Southam

Second Level - Open

1
69.286
ELEMENTAL
Escolar
Fiderblute
Meaghan Newhouse
Bernd Hickert
Kathryn Southam

Third Level - Open

1
68.378
EMPIRE HW
Escolar
Cassila
Tracy Cook
Carolin Langhorst
Nadine Schwartsman
2
66.869
ROWER BE
Rubioso N
Apanatschi
Elizabeth Keadle
Ingrid Berger
Nicole Ellsworth

Fourth Level - Open

1
65.729
FEELING HW
Feedback
Finesse
Carol McPhee
Ursula Thiebes
Carol McPhee

Third Level - Junior/Young Rider

1
66.869
ROWER BE
Rubioso N
Apanatschi
Elizabeth Keadle
Ingrid Berger
Nicole Ellsworth

Fourth Level - Adult Amateur

1
65.729
FEELING HW
Feedback
Finesse
Carol McPhee
Ursula Thiebes
Carol McPhee