2017 winner HPMC Pentheselia Photo credit: © 3rd Shutter
Donated by a generous AHS member who wishes to remain anonymous, The Benchmark Farm Trophy recognizes mares that show exceptional jumping ability during their Mare Performance Test (MPT). This award is presented to the mare that achieves the highest combined score on the jumping part of the MPT in a calendar year.
Mares are awarded a score for "technique" and a score for "ability" during the free jumping part of the Hanoverian MPT. "Technique" refers to the form – the use of the body – the mare shows as she goes over the fences, especially the large oxer at the end of the chute. "Ability" refers to the innate talent and willingness of a mare to jump a fence of good size height and width. These two scores will be used to determine the winner(s).
I hope that each year's winning mare sets a new benchmark of excellence in her jumping, which is such an important attribute of our wonderful Hanoverian breed.

Annonymous Benchmark Donor
The winning mare(s) may have been born in any country, and does not have to be Hanoverian—Thoroughbreds, Arabians, or any of the other Warmblood mares that are taking our testing are eligible. Also, there is no age limitation. Because it is likely that more than one mare may achieve the same high score in any calendar year, the prize will be awarded to all mares that tie for the highest score in a given year.
The details of the MPT High Score Jumping Award are as follows:
The MPT combined scores for "technique" and "ability" will be used to determine the winner(s).
Mares eligible for this award can be been born in any country, and do not have to be registered as Hanoverian—Thoroughbreds, Arabians, Anglo-Arabs and any of the other Warmblood mares entered in the testing are also qualified.
There are no age restrictions or considerations.
Setting the "Benchmark"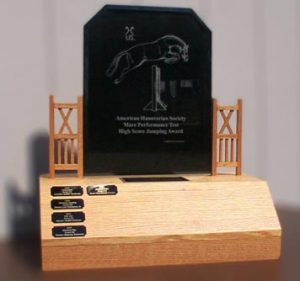 For this award, on behalf of our generous sponsor, a beautiful glass piece was commissioned that will reside in the AHS office, with the winners' names to be engraved on plaques that will be placed on the base each year. On the glass is etched a lovely mare jumping a fence in beautiful form.
In honor of the award designer Phyllis Hamilton of Benchmark Farm Studio, the new award is known as the Benchmark Perpetual Trophy.
The AHS Board of Directors thanks our generous member for proposing and sponsoring this award, and congratulates the winning mares that showed such exceptional jumping ability in their performance tests!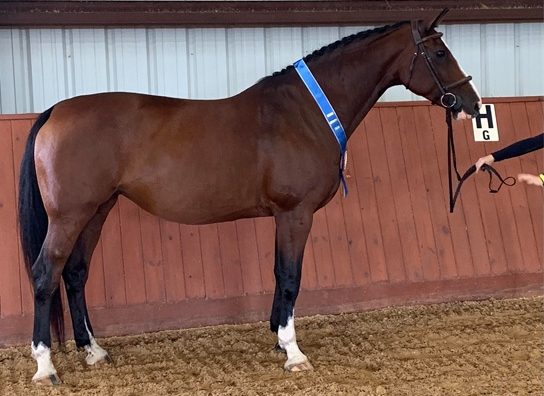 MPT "Benchmark" High Score Jumping Award Winners
| Year | Horse | Pedigree | MPT Combined Jumping Score | Technique | Ability | Owner | Breeder |
| --- | --- | --- | --- | --- | --- | --- | --- |
| 2022 | Grey C Top | Grey Top-Delightful/Drosselklang II | 10 | 10 | 10 | Carlos & Gabriela Fernandez | same |
| 2021 | License to Kill OTJ | Indoctro-Kimberly/Landjonker | 9.25 | 9 | 9.5 | Fox Lair Sporthorses, LLC | Christy Bond |
| 2020 | Prima Noche HU | Pikko Del Cerro HU -Noble Destiny HU/Noble Champion | 8.75 | 8.5 | 9 | Horses Unlimited | same |
| 2019 | Bond Girl DSF | Bon Balou-Reflection/Rio Grande | 9.5 | 9 | 10 | Valerie Fox | Jennifer & Armin Arnoldt |
| 2018 | Ondina/Holst. | (Cassini I-Utina III/Caretino) | 9.25 | 9 | 9.5 | Fall Creek Farm, LLC | |
| 2017 | HPMC Penthesilia | (Pablo-EM Grand Lady's Design/Gesandt) | 9 | 9 | 9 | Lois Brady | same |
| 2016 (tie) | HPMC Brianka SGF | (Baroncelli-EM Anaconda G/Acord II) | 9 | 9 | 9 | Liz Adrian Krug | Sandra Hunt |
| | HPMC Donafaella OBX | (Don Principe-HPM Rafaella OBX/Rousseau) | 9 | 9 | 9 | Don & Joy Chapin | Outer Banks Farm, Ohio |
| 2015 (tie) | EMC Anna-Karina | (Antibes-Raphaea/Rienzi) | 8.75 | 8.5 | 9 | Francesca Brittain | Marefield Meadows, Va. |
| | EMC Francezka BPF | (Fabuleux-Rexona/Rubinstein I) | 8.75 | 8.5 | 9 | Jennifer Wiggins | Sean Brennan, Texas |
| 2014 | EMC Balou Moon BHF | (Balou du Rouet-EM Coquette BHF/Coconut Grove xx) | 9.5 | 9.5 | 10 | Rick Toering | same |
| 2013 | EMC Landollure | (Landkoenig-Fourdollar xx/Exact Duplicate xx) | 9 | 9 | 9 | Gina Gregory | same |
| 2012 | EMC Laus Deo | (Landkoenig-Ghizelle/Graf Top II) | 9.5 | 9.5 | 9.5 | Manessa Donovan and Gustavo Rodriguez | Stacie Fenderson, Calif. |
| 2011 | EMC Radiance HVH | (Rotspon-EM Whitney BH/Welser) | 10 | 10 | 10 | High Valley Hanoverians | same |
| 2010 | EMC Rubina HVH | (Rubinero-SPS Fabel/Fabriano) | 9.25 | 9.5 | 9 | High Valley Hanoverians | Werner Wieckenberg |
| 2009 (tie) | EMC Enjoy | (Escudo I-Cherrybomb/Calypso II) | 9.5 | 9 | 10 | Evelynn Major | Gabriele Schliffka, Ger. |
| | EMC Finesse C | (First Gotthard-Karissa/Kalypso) | 9.5 | 9 | 10 | Cassandra & William Majeski | Sandy Campbell, Calif. |
| 2008 | EMC First Class M | (Fabriano-SPS Wega/Wendekreis) | 9.5 | 9 | 10 | Michaela Zint | Horst Erxleben, Ger. |
| 2007 | EMC Wildfire | (Wigwam-EM Elvira/Einstand) | 9 | 9 | 9 | Nongae Johnson | Dr. & Mrs. Maioriello, Ohio |
| 2006 | EMC Arabella RGS | (Acord II-Watina/Wendelin I) | 9.5 | 9 | 10 | Dr. Terry Schrubb and Family | Erwin Zimmermann |
| 2005 (tie) | Fair Lily | (First Gotthard-Pia Blanca/Pik Solo) | 9 | 9 | 9 | Judy Hedreen | same |
| | EMC Ghamma Ray | (Gold Luck-Anike/Archipel) | 9 | 9 | 9 | Maurine Swanson | same |
| 2004 (tie) | Francesca | (Wanderer-Pia Blanca/Pik Solo) | 9.5 | 10 | 9 | Judy Hedreen | same |
| | Penelope Destiny | (Portofino-SPS Diepholz/Don Carlos) | 9.5 | 10 | 9 | Lou Thompson, Jr. | Edward Gamble, Va. |