Congratulations to the following AHS Sport Horse Breeding Awards winners! This year's show season proved to be exceptional as AHS members and their horses topped the winners' list in many divisions!
Gallery of Champions and Reserves
Click on one of the thumbnails below to browse through available images of the Champion and Reserve Champion horses from the divisions listed below. Due to space restrictions, only photos of the Champions and Reserve Champions in each division of the AHS Sport Horse Breeding Awards Winners will appear in the Spring Yearbook issue of The American Hanoverian. Please forward your photos (high-resolution digital files, *tif, *eps, *jpg, 900 x 1200 pixels minimum) to the AHS Publications Editor. E-mail single digital files to (will forward to both the magazine and web editors). Photos must be received by 2/20. All professional photos must include the photographer's name and a release for publication.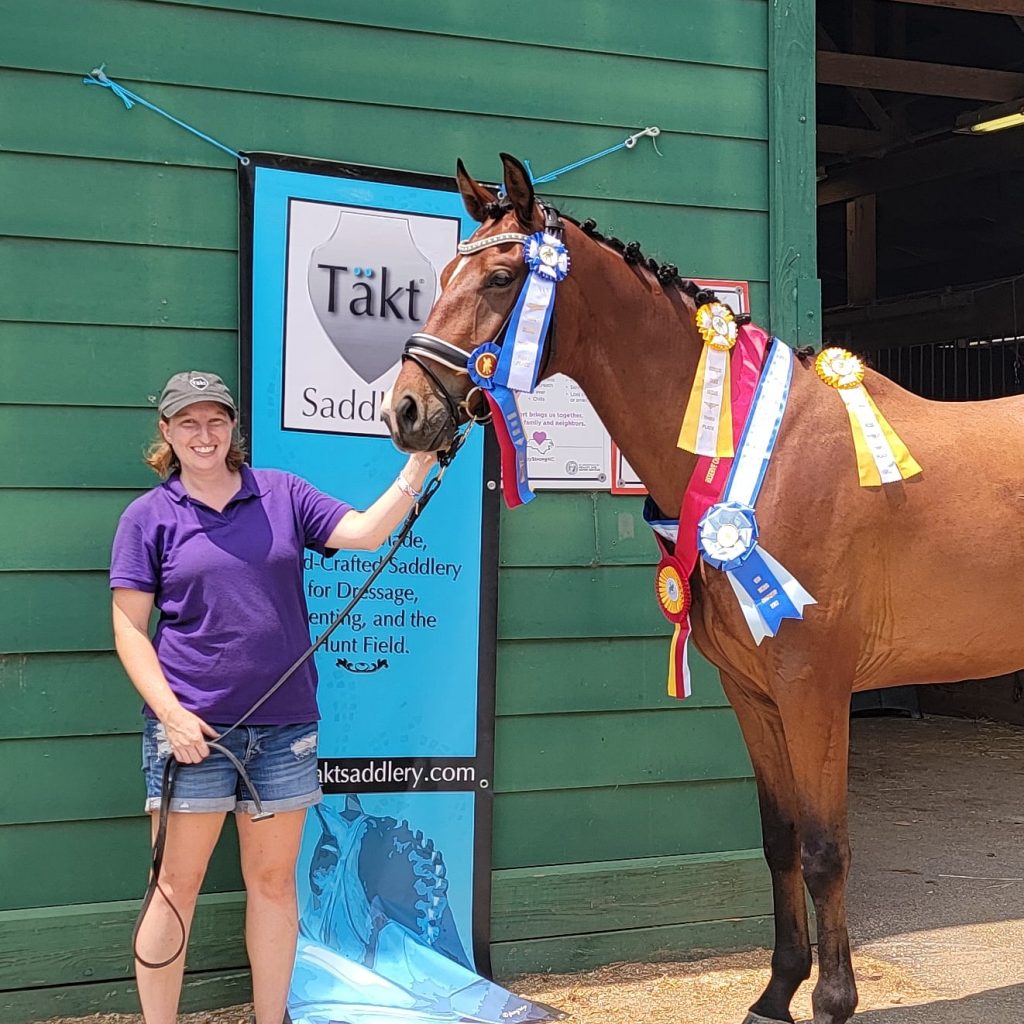 2021 AHS Sport Horse Breeding Awards Winners
Rank
Score
Horse
Pedigree
Owner(s)
Breeder(s)

Younger Fillies - Weanlings & Yearlings

Champion
81.163
Baby Doll
Bon Coeur-Donna Florencia/Don Romantic
Anke Ott-Young
Anke Ott-Young
Reserve
80.650
Lady Sioux WS
Lingh-Dakota WS/Dancier
Natalie and Lynn Masin
Jan Marquardt
Third
79.825
Wyndsor WS
Wynton-HPM Sovereign WS/Sir Gregory
Cynthia Hall
Jan Marquardt
Fourth
79.700
Eurythmic WS
Everdale-EESaskiah Ws/Supremat OLD
Simone van der Schalk
Jan Marquardt
Fifth
79.325
Feinheit WS
Fuerst Romancier-Darva/Rousseau
Christina Talley
Jan Marquardt

Honorable Mention:

78.950
Boudicca ASH
Bernay-Lucia/Laudabilis
Samantha Kidd
Samantha Kidd
75.250
Rinessah WS
Rascalino-Winessa/De Niro
Jan Marquardt
Jan Marquardt
75.207
Ribannah AVF
Rubinero-Donna del Lago/Don Schufro
Anke Ott-Young
Anke Ott-Young

Younger Colts & Geldings - Weanlings & Yearlings

Champion
82.400
Valentini ASH--RHINELAND
Vitalis-Kashmir R/De Niro
Victoria Barr
Samantha Kidd
Reserve
81.025
Lord Louie SDSF--RHINELAND
Louisville HTF-Qrystal Cadence /Qredit Hilltop
Natalie and Lynn Masin
Natalie and Lynn Masin
Third
78.950
Vermilion ASH
Vasari-Diamond Girl/Diamond Hit
Samantha Kidd
Smanatha Kidd
Fourth
78.500
Wrembrandt WS
Wynton-Fabrice WS/Florencio
Nicole Rothell
Jan Marquardt
Fifth
77.075
Roosewelt
Rotspon-Wiesling/Wokentanz I
Angela Mirarchi
Angela Mirarchi

Honorable Mention:

77.025
Vida La Vida
Vasari-Wonderful Wind/Wonderful
Angela Mirarchi
Angela Mirarchi
76.663
Lucky Pick BHF
Louisville HTF-Picco de la Noche HU/Pikko Del Cerro HU
Erin Bell-Altman
Erin Bell-Altman
76.275
Rammstein HH
Rascalino-Scarlett/Sandro Hit
Heather Peterson
Olga Iglikova
71.300
Poderoso Guapo HU
Pikko Del Cerro HU-Golden Darling HU/Glorioso Noir
Horses Unlimited
Horses Unlimited

Older Fillies - Two- & Three-Year-Olds

Champion
81.163
Daisy Mae
Diamondhead-Werlinda/Werlindo
Rebecca Klaus
Rebecca Klaus
Reserve
80.713
Falvara ASH
Follow Me-Run Around Gal xx/Sword Dance xx
Samantha Kidd
Samantha Kidd
Third
78.950
Beatrix WS
Benicio-Fly High/Florencio I
Jamie Roberts
Jan Marquartd
Fourth
78.775
Royse
Rotspon-Wiesling/Wolkentanz I
Jill Starcevich
Angela Mirarchi
Fifth
77.525
Dazziana NHF
Danciano-Fergee/Florestan I
Kari Felton
Barbara Wood

Honorable Mention:

76.888
Rejoice R
Rapture R-SPS Whoopy/Weltmeyer
Roberta & Ken Falk
Marilyn Fawley
76.575
Roshea NHF
Rotspon-Wersace/Weltmeyer
Kari Felton
Barbara Wood
76.575
Designer Made WS
Don Martillo-Fotogenic WS/Floriscount
Sara Stone
Jan Marquartd
75.950
Poccet Gypsy HU
Pikko Del Cerro HU-Gitana HU/Galant du Serein
Horses Unlimited
Horses Unlimited
75.700
Flying High
Fabregas-Free To Be/Fidertanz
Natalie and Lynn Masin
Shannon Brooks

Older Colts & Geldings - Two- & Three-Year-Olds

Champion
76.500
Honor Guard WS
Harvard-Donnacina/Donnerhall
Ziba Minavi
Jan Marquardt
Reserve
76.325
Expresso
Expression-Dora W/Don Index
Courtney Vesel
Janze Jun Hun

Mature Mares - Maiden/Yeld

Champion
82.800
Diamonds Are Forever
Diamond Hit-Milli Vanilla/Millennium
Rebecca Blake
Sabine Rueben
Reserve Champion
81.250
Heirabella
Hotline-Rubina MWF/Rabino
Danelle Sintori
Claudia Novick
Third
79.850
Dreamcatcher
De Niro-Etched in Black/Gribaldi
Anke Ott-Young
Anke Ott-Young
Fourth
79.100
Glorious Rohse HU
Glorioso Noir-Rohmanie/Rohdiamant
Horses Unlimited
Horses Unlimited
Fifth
77.950
Rockelle
Rotspon-Wiesling/Wolkentanz I
Angela Mirarchi
Angela Mirachi

Honorable Mention:

76.900
Splash
Schroeder-Charlevoix FCF/Cabalito
Sheila Murphy
Stephen & Kerry Toney
75.650
Noble Gin HU
Noble Champion-Ginger Ale HU/Galante HU
Horses Unlimited
Horses Unlimited

Stallions (must be licensed)

Champion
83.8
Diamondhead
Diamond Hit-SPS Heidefee/Hohenstein
Jessica Wisdom
Hans Geunther Berner
Reserve Champion
82.45
Furst Gribaldi
Fuerstenball-Etched In Black/Gribaldi
Anke Ott-Young
Anke Ott-Young