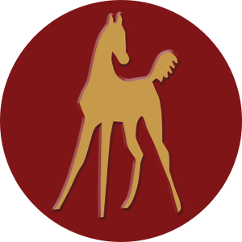 The AHS is pleased to announce the final standings of the tenth annual $3,000 AHS YEARLING AND TWO-YEAR-OLD FUTURITY held during the 2022 inspection tour. The Futurity is open to AHS-registered, HV-registered, ARS-registered, RV-registered, and AHS Certificate of Pedigree yearling colts/geldings and fillies and two-year-old colts/geldings and fillies (four classes total). It is judged using a scale from 1-10 with three categories: Conformation/Type, Movement, and Foundation/Legs. Scores will be announced following each horse's presentation. A certificate, including scores, will be sent to each participant from the AHS Office. Champion and Reserve Champion ribbons are awarded in each of the four classes. Horses are shown on the triangle; yearlings are shown in a halter, while two-year-olds are shown in a bridle. They may not be turned loose, but a second round is permitted if necessary.
Scores will be tabulated from every Futurity class and $3,000 will be split between the top five yearlings and top five two-year-olds in the country. Warmblood Stallions of North America is our generous sponsor for the 2022 AHS Yearling & Two-Year Old National Futurity.  Thank you WSNA!  
Gallery of 2022 Futurity Top 5 Placings for Each Division
Click on one of the thumbnails below to browse through available images of the Champion and Reserve Champion horses from the divisions listed below. Due to space restrictions, only photos of the Champions and Reserve Champions in each division will appear in the Spring Yearbook issue of The American Hanoverian. Please forward your photos (glossy prints or high-resolution digital files, *tif, *eps, *jpg (900 x 1200 pixels minimum on CD, DVD or Zip) to the AHS Office. E-mail single digital files to . All professional photos must include the photographer's name and a release for publication.
2022 Final Futurity Results – Yearlings
The top 5 places are noted for each age group with the top 10 in each division displayed.
RANK
HORSE NAME
FINAL SCORE
PEDIGREE
GENDER
OWNER
BREEDER
First
Bremen CHL
8.10
Bon Courage-Sandreo
colt/gelding
Rebecca L. Langwost-Barlow & Family
W.M. Gestut
Second
Fayzon
7.60
For Romance I-Fuerstenball
colt/gelding
Starr Vaughn Equestrian, Inc.
same
Third
Vermilion ASH
7.55
Vasari-Diamond Hit
colt/gelding
Rose Aschenbrenner
Samantha M. Kidd
Fourth - tie
London HTF
7.50
Louisville HTF-Anhaltiner E
filly
Laura Cannillo
Hilltop Farm, Inc.
Fourth - tie
WOHLGETAN UH
7.50
Widmark-San Brasil
colt/gelding
Audrey and Nikolas Popoff
same
Fourth - tie
Devant
7.50
Donarweiss GGF-Domiro
colt/gelding
Melissa Mattei
same
Fourth - tie
DOCI DO
7.50
Dubarry-Pointmaker
filly
Rhonda Wiler
same
Fourth - tie
B`Enoit LBV
7.50
Bon Couer-Winterprinz
colt/gelding
Liz Julian-Tuggle
Heather Beaudry

Honorable Mention:

Divine Knight
7.45
Diesel CF-Wallstreet Kid
colt/gelding
Grace K Roberts DVM
same
Fandango SQF
7.45
FInest-Soliman de Hus
colt/gelding
Jill E. Peterson
same
Kaliente EMF
7.45
Kjento-Sir Gregory
filly
Kristine Schuler
same
Roosewelt
7.45
Rotspon-Wolkentanz I
colt/gelding
Angela Mirarchi
same
2022 Final Futurity Results – Two-Year-Olds
The top 5 places are noted for each age group with the top 10 in each division displayed.
RANK
HORSE NAME
FINAL SCORE
PEDIGREE
GENDER
OWNER
BREEDER
First
Devine Darkness AR
7.80
Dark Sensation-Caruso
filly
Christina & Matt Haferman
same
Second
Hespera ASH
7.75
Hohenstein-Weltmeyer
filly
Samantha M. Kidd
same
Third
Romeo Romeo GVF
7.70
Revolution-Widmark
colt
Rebecca Lewison
same
Fourth
Tessa Temptation
7.60
Tailormade Temptation-Damsey
filly
Valerie A. Ahl
same
Fifth
Royal Prinzess SCF
7.55
Royal Prinz-Sandro Hit
filly
Willard & Teresa Simmons
same

Honorable Mention:

Dunnigan WSS
7.45
Dubarry-Fuerstenreich
colt/gelding
Hillary Spry
Keila Golden
Dolce SVE
7.40
Donarweiss GGF-Sinatra Song
filly
Starr Vaughn Equestrian, Inc.
same
RainDance
7.35
Rubinero-Sir Gregory
filly
Robin Wulf
same
Dianne Jane
7.30
Dacaprio-Welfenschatz
filly
Andrea B. Schinsing
same
Sirtified KZ
7.30
Sir Wanabi-Lintas
colt/gelding
Kate Tatum
Kathy Farley