Congratulations to the following AHS Hunter/Jumper Awards winners! This year's show season proved to be exceptional as AHS members and their horses topped the winner's list in many divisions!
The Premonition BHF Award - overall Champion Hunter of the Year
Bent Hickory Farm and the Toering Family have generously sponsored the Premonition BHF award to be given to the overall Champion Hunter of the Year for the Hanoverian horse who placed the highest in the standings of their respective USEF Hunter Division that year.
2022 Overall Champion: Vintage Black (reg. Zalina) (Zack-Homepage/Hochadel)
owner: Megan Precopio   breeder:  Erika Buenger   
Gallery of Champions and Reserves
Click on one of the thumbnails below to browse through available images of the Champion and Reserve Champion horses from the divisions listed below. Due to space restrictions, only photos of the Champions and Reserve Champions in each division of the AHS Materiale Awards will appear in the Spring Yearbook issue of The American Hanoverian. Please forward your photos (glossy prints or high-resolution digital files, *tif, *eps, *jpg (900 x 1200 pixels minimum on CD, DVD or Zip) to the AHS Office. E-mail single digital files to . All professional photos must include the photographer's name and a release for publication.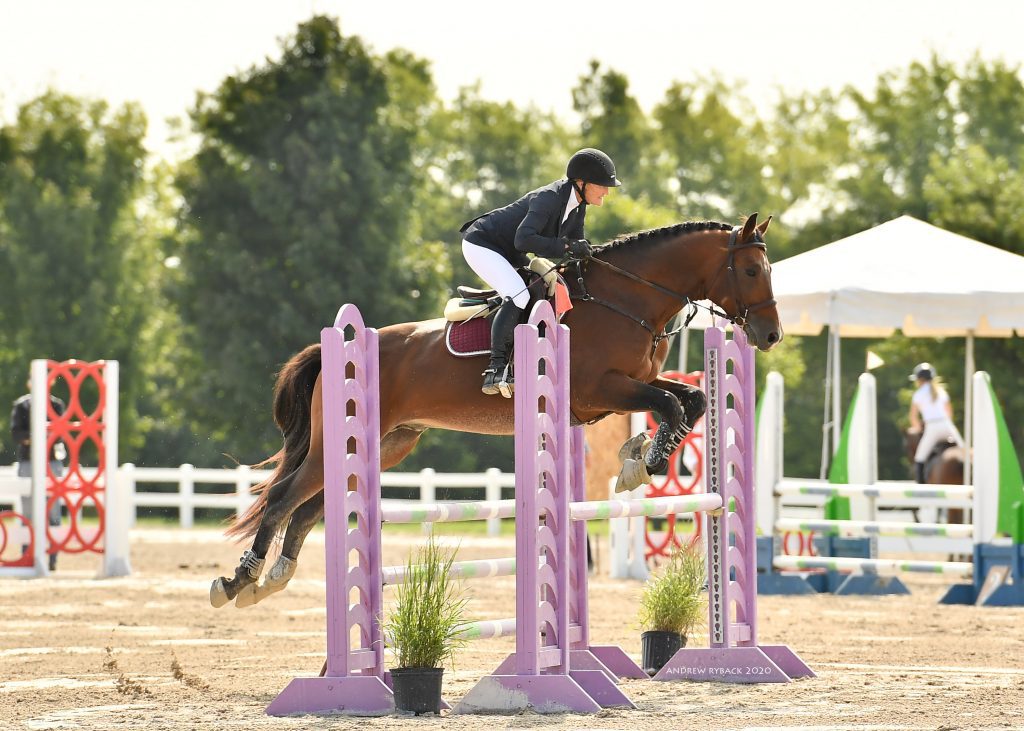 2022 AHS Jumper Division Winners
Rank
Points
Horse
Pedigree
Owner
Breeder

Adult Amateur Jumper--High

Champion
173
Escot 6
Escudo I-Leca/Le Primeur
Charlotte Powers
Friedhelm Mohlfeld, Ger.
2022 AHS Hunter Division Winners
Rank
Points
Horse
Pedigree
Owner
Breeder

Green Hunter 3'0"

Champion
1350.80
Baloujoie
Bon Balou/Wynita/Wonderland
Happy Dance Farm
Chris & Tara Lambie, Can

Green Hunter, 3'3"

Champion
46
Vintage Black (reg. Zalina)
Zack-Homepage/Hochadel
Megan Precopio
Erika Bunger, Ger

Green Hunter, 3'6"

Champion
1879.60
Vintage Black (reg. Zalina)
Zack-Homepage/Hochadel
Megan Precopio
Erika Bunger, Ger
Reserve
1134.60
Curiositas (reg. Ben Riach)
Benneton Dream-Windsor CA/Warkanson
Lauren LaPoint
Susen Shumaker

Green Hunter, 3'9"

Champion
15
Curiositas (reg. Ben Riach)
Benneton Dream-Windsor CA/Warkanson
Lauren LaPoint
Susen Shumaker

Performance Hunter, 3'

Champion
32
Vintage Black (reg. Zalina)
Zack-Homepage/Hochadel
Megan Precopio
Erika Bunger, Ger

Small Hunter

Champion
149.60
Veyron
Valentino-Enni/Espri
Niki Zarcades
Karsten & Brigitte Harrje, Ger

Adult Amateur Hunter, rider 36-49 years

Champion
366.53
Goodfellow (reg. Skye)
Sinatra Song-ES Special/Eminenzn
Kendra Ward
Anne Schafer
Reserve
278.73
Veyron
Valentino-Enni/Espri
Niki Zarcades
Karsten & Bigitte Harrje, Ger

Honorable Mention:

245
Curiositas (reg. Ben Riach)
Benneton Dream-Windsor CA/Warkanson
Lauren LaPoint
Susen Shumaker

Adult Amateur Hunter, rider 50+ years

Champion
291.10
Fanci That (reg. Fanciful Lady)
Fabuleaux-Mon Amour/Matcho x
Connie Fry
Barbara Schmidt, DVM
Reserve
65.75
Baloujoie
Bon Balou/Wynita/Wonderland
Happy Dance Farm
Chris & Tara Lambie, Can

Children's Hunter Horse, rider 15-17 years

Champion
850.37
Vintage Black ( Zalina)
Zack-Homepage/Hochadel
Megan Precopio
Erika Bunger, Ger

Low Adult Amateur Hunter

Champion
211.90
Montego Bay WF
Magic-Wellgunde/World Cup IV
Sharon Angell
Windswept Farm, Can
Reserve
129
Goodfellow ( Skye)
Sinatra Song -Es-Special/Eminenz
Kendra Ward
Anne Schafer

Honorable Mention:

59
Silver Lining
Sir Caletto-Minnietta/Minneapple
Kim Davis
Marcy Tremblay
22.50
Formula One
For Romance I-Contessa/Contendro I
Sara Roeser
Kathleen Richardson

USHJA Hunter 2'0"

Champion
258
Folklore (reg. Fortuitous I)
Franziskus-Dramatic/Donatelli
Stacey Belcher
Signature Sport Horses, LLC
Reserve
38.5
Puissance R
Pablo-Fastenyourseatbelt R/Fuerst Gotthard
Lisa Hanken
Rainbow Equus Meadows

Honorable Mention:

18
Formula One
For Romance I-Contessa/Contendro I
Sara Roeser
Kathleen Richardson

USHJA Hunter 2'3"

Reserve
167
Puissance R
Pablo-Fastenyourseatbelt R/Fuerst Gotthard
Lisa Hanken
Rainbow Equus Meadows
118
Silver Lining
Sir Caletto-Minnietta/Minneapple
Kim Davis
Marcy Tremblay

Honorable Mention:

90
Lot's of Gold
Liberty Gold-Forever A Memory/Wummestern
Melissa Burhenne
Kathy Hawkins Campbell
75.50
Formula One
For Romance I-Contessa/Contendro I
Sara Roeser
Kathleen Richardson
50
Fanci That ( Fanciful Lady)
Fabuleaux-Mon Amour/Matcho x
Connie Fry
Barbara Schmidt, DVM

USHJA Hunter 2'6"

Champion
511.50
Montego Bay WF
Magic-Wellgunde/World Cup IV
Sharon Angell
Windswept Farm, Can
Reserve
238
Lot's of Gold
Liberty Gold-Forever A Memory/Wummestern
Melissa Burhenne
Kathy Hawkins Campbell

Honorable Mention:

99.50
Formula One
For Romance I-Contessa/Contendro I
Sara Roeser
Kathleen Richardson
32
Puissance R
Pablo-Fastenyourseatbelt R/Fuerst Gotthard
Lisa Hanken
Rainbow Equus Meadows

USHJA Hunter 2'9"

Champion
72
Montego Bay WF
Magic-Wellgunde/World Cup IV
Sharon Angell
Windswept Farm, Can

USHJA Hunter 3'0"

Champion
242
Montego Bay WF
Magic-Wellgunde/World Cup IV
Sharon Angell
Windswept Farm, Can
Champion
171
Fanci That ( Fanciful Lady)
Fabuleaux-Mon Amour/Matcho x
Connie Fry
Barbara Schmidt, DVM

Honorable Mention:

50
Goodfellow (reg Skye)
Sinatra Song-Es-Special/Eminenz
Kendra Ward
Anne Schafer
2022 AHS Hunter Breeding Division Winners
Rank
Points
Horse
Pedigree
Owner
Breeder

AHS Hunter Breeding Division Winners

Champion
44
Balou Belle
Bliss MF-For Sure/For Play
Sally Culhane
same
Reserve
28
Carbone
Carbardino-For Sure/For Play
Sally Culhane
same

Honorable Mention:

26
Gaelen Grand
Grand Cru-Splash/Schroeder
Sheila & Shirley Murphy
same
26
Sirtified KZ
Sir Wanabi-A La Mode/Lintas
Katie Tatum Zuzelo
Kathy Farley
22
Beychevelle
Bliss MF-Astoria S/Antibes
Kristen Pruitt
same
17
Check Yourself NHF
Checkmate-Vallyria NHF/Vallado
Margaret Neider
same