Dear Hanoverian and Rhineland breeders,
in Germany, we are currently gaining initial experience of how horse breeding events can be carried out under the Corona regulations. A first mare performance test took place in Verden yesterday, today is the final day of the 14-day test for young stallions in Adelheidsdorf. In the Niedersachsenhalle Verden, the riding horses are prepared for the online auction on May 30th and are available for trying out until then. The signs are pointing to relaxation and so we hope that we will be able to hold the scheduled dates in many other countries as well and welcome you as our Hanoverian and Rhineland breeders. A complete schedule will be online soon. Please check www.hannoveraner.com for this.
Anne Kollberg Dr. Ludwig Christmann
President Director department
Hannoveraner International breeding in foreign countries
DER HANNOVERANER
Current-year members can download the pdf-file of the latest issue of the English version of our members' magazine DER HANNOVERANER at the following link.
HV's "The Hanoverian" – 05|2020
---
Studbook inspection by video
The board of the Hannoveraner Verband has decided that a studbook inspection of mares as a basis for registration in the Hannoveraner or Rhenish Stud Book is also possible by video. Only an overall score will be given, the awarding of a candidature for the Hanoverian premium is not possible. However, this possibility is only considered in justified exceptional cases, if official dates cannot be kept and a visit to the farm is not possible. Especially in the field of tension of the current corona pandemic, this is a reasonable addition to the offer of the Hannoveraner Verband. The Hanoverian Verband will soon produce a sample video showing how a mare should be presented in the video.
Registration trip in Austria
This year again two central dates are planned for the Austrian Hannoveraner and Rheinländer breeders. Fixed date for the Hanoverian Day at the Equestrian Centre Austria in Gerasdorf near Vienna is August 15th. This is how it should be also this year. A mare performance test is planned as well as foal and mare show with the possibility of awarding premiums. Also again in the programme is a further training seminar of the Austrian Equestrian Federation on the subject of judging riding horses. Dr. Ulf Möller was won as a speaker for this seminar.
The second central date is planned for Friday, August 21, at the Bachinger Gut riding stable in Salzburg. It is planned to hold a mare and foal show with studbook entry and foal registration.
Equi League
The Hannoveraner Verband takes part in online tournaments. The digitalization of life does not stop at equestrian sports. The Equi League platform has developed a concept for how tournaments can now be held online. The Hannoveraner Verband considers this to be a very interesting concept and offers dressage and show jumping riders on Hanoverian and Rhineland horses to compete across national borders. Especially in the current situation, where only a few tournaments can take place, this is an interesting alternative. Currently, preparations are underway for a very short-term pilot project, which is to run from 30 May to 1 June. You can find more information on www.equi-league.de.
Verden Auction Online - Foals - May 13 to 16
The first foals of the year 2020 were auctioned online from May 13 to 16. Most expensive foal was So One by So Unique/Diamond Hit (b.: Willem Klausing GbR, Diepholz/GER; exh.: A. Hartley, Moscow/RUS). The foal was auctioned off for 51,000 Euros to a buyer from the USA. Hannoveraner International in the spirit of Russian/American friendship. [More]
---
Verden Auction  Online – Riding Horses - May 30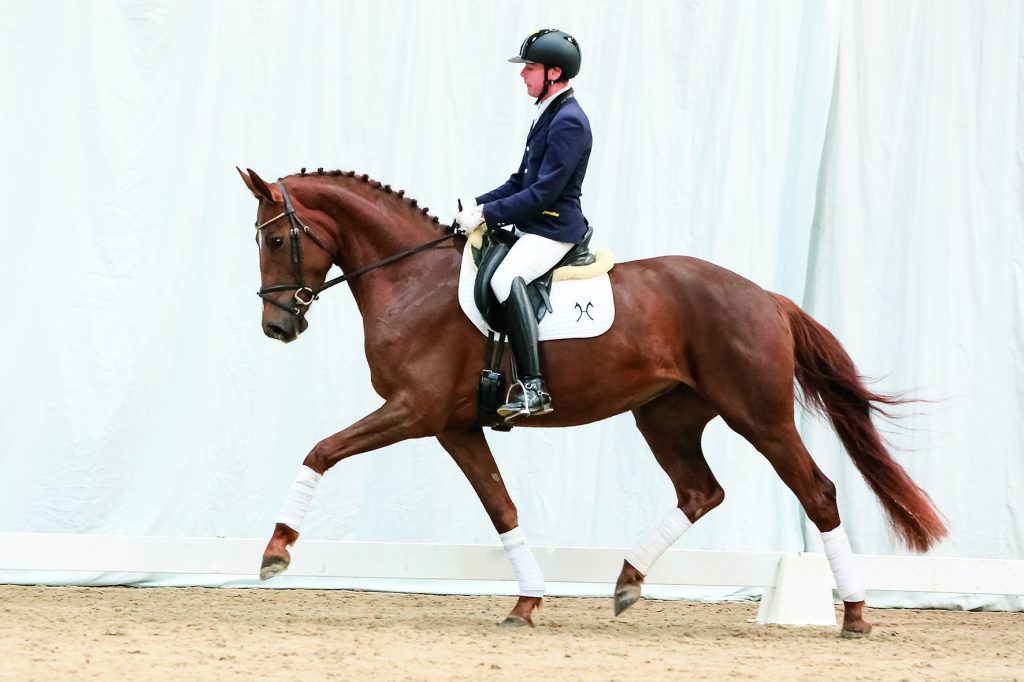 73 excellent riding horses are waiting for new owners. Interested parties can watch and try out their desired candidates in their daily work after prior arrangement and in compliance with the official requirements. On Saturday, 30 May, the dream horse can then be bid for from the comfort of your own home from 2.00 pm CET.
Visiting the training and trying out the horses is only possible after making an appointment by telephone with the customer advisors of the Hannoveraner Verband in order to keep the number of persons on the facility low. The special presentations can be viewed live on the screen. On Friday, May 22nd and Wednesday, May 27th - dressage from 9 am and jumping from 1 pm - the auction horses will be shown in the live stream.
The online auction of the dressage horses will take place on Saturday, May 30th, starting at 2 pm CET. From 6.00 pm CET on it will be the jumping horses' turn. Bidding is already possible from 9 am on Sunday, 24 May. If you have any questions concerning the Verden auction, please do not hesitate to contact the team of the auction office and the customer advisors. Registration and bidding is possible on the website www.verdener-auktion-online.com.
If you do not get a chance to buy a riding horse, you will not have to wait long: From June 3rd to 6th you can become the owner of a quality foal at another Verden online auction. In the online auction series further foal auctions will follow from June 10th to 13th and from July 1st to 4th. [More]
---
Notification of birth and covering certificates via MeinHannoveraner
Many breeders already use MeinHannoveraner as a new service of the Hannoveraner Verband. MeinHannoveraner gives you the opportunity to check your personal data and the data of your horses, which are registered with the Hannoveraner Verband, and in some cases even to maintain them.
You can access MeinHannoveraner via the homepage www.hannoveraner.com. MeinHannoveraner currently offers you the following options:
You can report the birth of your foals
View the coverings of your broodmares
Printing and/or emailing of covering certificates for your broodmares
You will get an overview of all mares and foals registered for you.
The registration of your broodmares
You can register horses for certain events
You will receive studbook excerpts of your registered horses as well as linear profiles, if any have been created for your horses.
You get access to our portal Dam Line
Further functions will be added continuously.
With the possibilities offered by this new portal, it is no longer necessary for us to send you forms to report the birth of the foals you expect in 2019 by post. You can check yourself in MeinHannoveraner which coverings or inseminations have been reported to us and you can report the births of your foals via MeinHannoveraner.
Please do not hesitate to contact Tanja Coors at if you have any questions.
Has your premium mare candidate met all the requirements?
Every breeder is delighted if his/her mare is awarded the title of state premium candidate. However, please keep in mind that certain conditions are attached to this award, i.e. the passing of a mare performance test, the veterinary examination for roaring and the use for breeding. After meeting all of these requirements within set time limits, an annual premium will be paid for a fixed period of time. Here too, please do not hesitate to contact our office.
Hannoveraner Yearbook of Stallions 2020
There are innovations in the Hanoverian Yearbook of Stallions. The new breeding value of the German Equestrian Federation, "Highest level achieved", will be published for all breeding valued stallions. In addition, there are several current and much sought-after stallions for which breeding values were calculated for the first time. Examples: Bon Coeur, For Romance, Finest or Millennium.

The Hanoverian Yearbook of Stallions 2020 can be ordered at a price of 25.00 Euro plus postage from the Hannoveraner Verband, Mrs. Mindermann, .