Dear Hanoverian and Rhineland breeders,
The Verden auctions for riding horses and foals started the spring with good results. International breeders contributed significantly to the good result of the riding horse auction, two of the top horses were Hanoverians from Austria and from Finland. This confirmed what we see year after year during our registration trips, that excellent Hanoverians and Rhinelanders are bred outside of Germany. Please find details in this newsletter.
Anne Kollberg
President Hannoveraner International
& the team of Hannoveraner Verband
Dr. Ludwig Christmann
Director department
breeding in foreign countries
---
DER HANNOVERANER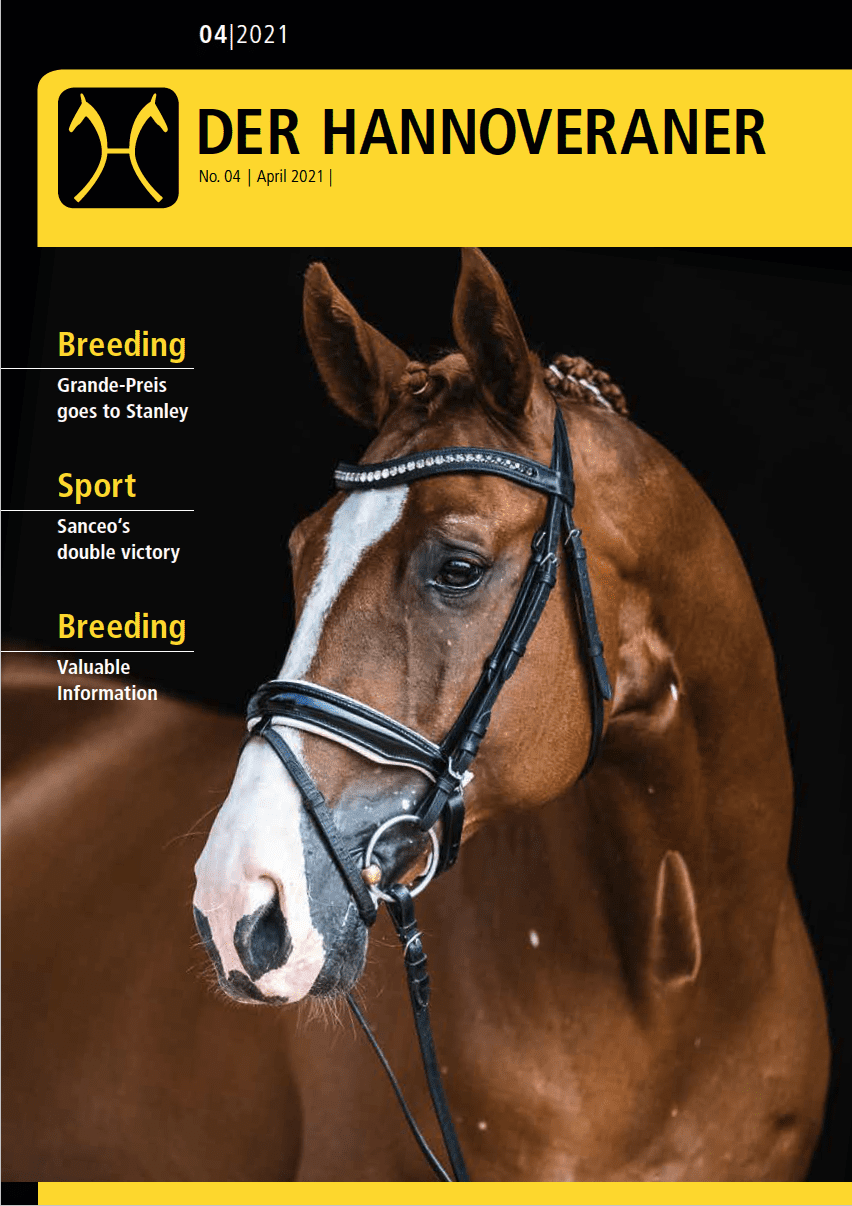 Current-year members can download the pdf file of the latest issue of the English version of our members' magazine DER HANNOVERANER at the following link.
HV's "The Hanoverian" – 04|2021





---
Find covering certificates for your mares in MeinHannoveraner
Many breeders already use MeinHannovearner as a service of the Hannoveraner Verband. MeinHannoveraner gives you the opportunity to check your personal data and the data of your horses, which are registered with the Hannoveraner Verband, and in some cases even to maintain them.
You can access MeinHannoveraner via the homepage www.hannoveraner.com. MeinHannoveraner currently offers you the following options:
-         You can report the birth of your foals
-         View the coverings of your broodmares
-         Download covering certificates with the details of your active mares
-         You will get an overview of all mares and foals registered for you
-         Register and deregister your broodmares
-         Download studbook excerpts of your registered horses as well as linear profiles, if any have been created for your horses.
-         You get access to our portal Dam Line
You can check yourself in MeinHannoveraner which coverings or inseminations have been reported to us and you can report the births of your foals via MeinHannoveraner.
Please do not hesitate to contact Tanja Coors at  if you have any questions.
---
Attention Hanoverian breeders in Great Britain 
Very recently we received the message that after the Brexit we can still operate and register foals in England until June 30, 2021. In the coming days there will be a letter to all our active members in England about this.
---
Digital General Meeting in Canada
The April 24 annual general meeting of the Canadian Hanoverian Society was held via videoconference. The advantage to this format is that members from all parts of this vast country were able to participate. In addition, Chair Marjorie Haus welcomed numerous representatives from the German Hannoveraner Verband, including Chair Hinni Lührs-Behnke and Breeding Director Uli Hahne. Dr. Ludwig Christmann reported on the development in the Hannoveraner Verband during the past year. Louise Masek (Ontario) and Linda Reinbold (Alberta) will represent Canada in the committee for the Hannoveraner Show Jumping Program North America in the future. Both are passionate and successful breeders of show jumpers. This year's registration trip in Canada is scheduled to begin September 1.
---
Mike Boyd receives golden pin of honor 
Mike Boyd received a special award at the members' meeting of the Canadian Hanoverian Society: he was awarded the golden pin of honor of the Hannoveraner Verband. This was in recognition of his great commitment and services to Hanoverian breeding in Canada. Already in 1995, when the Hannoveraner Breeders' Club for Eastern Canada was founded, Mike Boyd belonged to its board of directors. In 2008 the Canadian Hanoverian Society was founded, representing all parts of the country and representing Hannoveraner breeders to the Ministry of Agriculture in Ottawa. From the beginning until 2020, when he did not run for re-election, Mike Boyd was the chairman and played a major role in the positive development and stability of the Hanoverian breed in this great country.
---
Registration trips 2021
We remain optimistic and hopeful. A first draft of a schedule for registration trips to some countries, which will hopefully be possible this year, has been prepared. The dates for the first trips have already been set: Denmark June 11 and 12, France and Poland from mid-July. The current schedule can be found on https://en.hannoveraner.com/hanoverian-breeding/
---
Breeding events Denmark
The first major event abroad will be held in Denmark in June.
1st date:
Friday, June 11, 2021 from 10 a.m. in Lynge at the Stutteri G.of Helene Geervliet.
2nd date:
Saturday, June 12, 2021 from 10 a.m. at Grindsted Rideklub.
We offer the following services on both dates:
Foal registration
Foal selection for the online foal auction on August 06/07, 2021 orSeptember 16, 2021
Studbook inspection
Mare performance test (if there are enough registrations) with the possibility of a premium award
Selection of riding horses for the Verden Riding Horse Auction in October or November 2021
For further information as well as registration please contact Tanja Coors, e-mail .
---
Registration trips 2021
We remain optimistic and hopeful. A first draft of a schedule for registration trips to some countries, which will hopefully be possible this year, has been prepared. The following trips are planned up to and including July: Denmark: June 11/12, Belgium, France and Poland: mid-July each.
---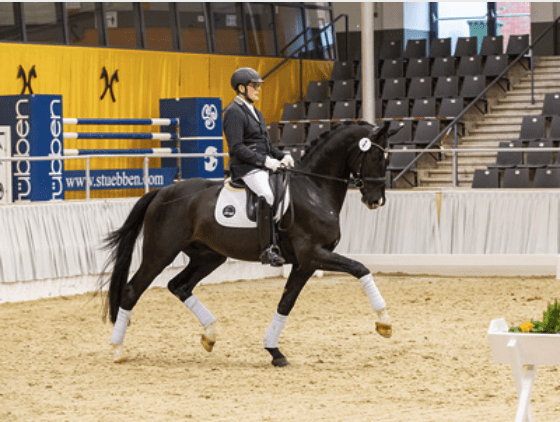 Verden Auction Online Riding Horses April
The Verden auction in April turned out to be a lively marketplace. The 67 talented riding horses sold for an average of 25,634 Euros. Head number one immediately led the statistics.
105 bids were placed before the Secret/Don Crusador son Sympatico found a new owner in Hesse for 105,000 euros. The sympathetic horse is an international success story: Raised in Austria by Dr. Elke Standeker, Stübing, the paint-black three-year-old later moved to Sweden to Carsten Johansen, Bastad, who exhibited him at the auction.
Sir Arthur Carrus by San Amour/Davignon II (breeder and exhibitor: Helena and Jukka Niiranen MTY, Ypäjä/FIN) found a new owner in France for 73,500 euros.
---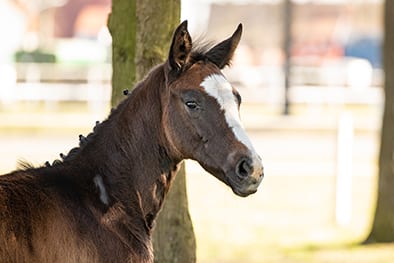 Verden Auction Online Foals
The top seller at the opening auction of the Verden Foal Spring was none other than the full brother of Michael Jung's top horse fischerChipmunk FRH. Born on February 5, Charly was auctioned online for 40,000 euros to an eventing enthusiast from the Rhineland.
The Contendro/Heraldik xx son Charly (breeder and exhibitor: Wolfgang Lutz, Völkersen) was bred for eventing. His full brother fischerChipmunk FRH, born in 2008, is one of the best eventing horses in the world with double Olympic champion Michael Jung. Charly is already the fourth Contendro offspring of the mare Havanna, Hanoverian Mare of the Year 2019, to be sold into champion hands via a Verden auction.
The international interest was especially great, exactly half (14) of the collection ended up in foreign ownership. Four foals will travel to Great Britain. Four colts were sold to a well-known breeding farm in Ukraine. Two each found new owners in France and Mexico.
---
Auction series for foals
The foal auction on April 24 was the start of a real auction series. Four more auctions will follow in a fixed rhythm of two weeks until June 17. On August 6, the second half of the year will continue with further foal auctions. Please follow the current events on www.hannoveraner.com.
---
Sundance horse of the year 
In Australia, Sundance PJ was awarded "Horse of the Year". The Stolzenberg/Escudo daughter (breeder: Pferdezucht Dr. Jacobs GbR, Bierbergen) and her owner and rider Olivia Hamood are among the most successful young show jumpers on the fifth continent. In five starts, the chestnut mare, born in 2011 and fifth in the free jumping competition in Verden at the time, celebrated three victories. No fewer than four of her siblings have top placings in advanced level jumping.
---
Performance mare Beluga
Hann.Pr.St. Beluga by Belissimo M/Wolkenstein II is only eight years old and has already achieved everything that a mare of this age can achieve. In 2016 she was awarded with the Hanoverian Premium in Sandbostel. In the same year she passed her mare test with honors, was inseminated and gave birth to a filly by San Amour eleven months later. With placings in tests for young riding horses, Beluga (breeder: Johann-Klaus Brunkhorst, Selsingen) found her way to the Netherlands, where she is now competing at advanced level. The elegant chestnut mare is owned by Arthur van Gemert, Heel/NED.
---
Sport test jumping
In the middle of April the sport test jumping took place in the Niedersachsenhalle in Verden without any spectators. The highest weighted jumping final score mong the four-year-olds of 8.55 was achieved by Cero Blue TN by Chacoon Blue/Balou du Rouet. The bay stallion from Team Nijhof, Netherlands, was licensed for the Hannoveraner Verband during the sport test. Also among the Top10 were Quundo Bö by Qualito/Embassy (breeder and owner: Helmut Böttcher, Rehlingen), Clas Winningmood by Chacoon Blue/Winningmood (breeder: Bernhard Rensen, Werlte) from Sprehe Stud and an unnamed stallion by Van Gogh/Silvio I (breeder: Jörn Döscher, Cuxhaven).
---
Homepage for Damsey
Damsey FRH moves from the dressage arenas of this world to the Word Wide Web. The Dressage Royal/Ritual son bred by Hengsthaltung Kothe, Steinfeld, and owned by Louise Leatherdale, Minnesota, introduces himself, from pedigree to sport successes to information on semen procurement. In his honor, all the highlights of his career are also documented once again at www.damsey.de. In February, the 19-year-old stallion made his last grand appearance in Doha and was ceremoniously retired from the sport. "Since 2017 until today, Damsey FRH has been the best stallion in the FEI Dressage World Ranking," said Helen Langehanenberg. Damsey FRH, who among other things won European Team Gold in Gothenburg/ SWE and finished third at the World Cup Final, is now at home at the stallion stud Meyer at the Altendeich in Dorum. In his competitive retirement, he continues to be available to breeders. "He looks with pleasure out of the window in his newly built stallion stable towards the dike. We are happy that he has retired fit and fresh," says Jens Meyer.
---
Harvard no longer alive
At the age of 25 years the Hohenstein/Cardinal xx son Harvard (breeder: Heinrich Lahmeyer, Bassum) passed away peacefully in his stable, announced Pangaea Farms, Ontario. His first years the dark bay stallion was bred with Ludwig Kathmann, Holtrup, before he was sold to Canada in 2004. There he not only proved his talent for international dressage, but also showed talent in jumping. His offspring are not only to be found in the dressage arena, but are also successful hunters in North America.
---
Farewell Fohlenhof's Rock'n Rose and Brentina
In a tragic incident at the Pforzheim Dressage Days, Dorothee Schneider lost her Hanoverian mare Fohlenhof's Rock'n Rose by Rubin-Royal/Feiner Stern. At the Elite Riding Horse Auction in spring 2009, the then five-year-old (breeder: Heinrich Lahmeyer, Bassum) found a new home in Luxembourg. Since 2013, Fohlenhof's Rock'n Rose had been in training with Dorothee Schneider. Together they celebrated many successes at Grand Prix level. Dorothee Schneider thinks back especially to the good times: "Rosi was a special horse. She trusted me more and more over the years and was always on my side. We will all miss her very much."
 
For over a decade they were the stars of dressage in the USA: Debbie McDonald and Brentina. Now the Hanoverian mare had to be euthanized at the age of 30. Through the Elite Riding Horse Auction in the fall of 1994, Brentina found her new home with Peggy Thomas in the USA. There she became the new successful pair with Debbie McDonald, who was known more as a hunter rider until then. Their greatest successes include team silver at the 2002 World Equestrian Games in Jerez de la Frontera, victory at the 2003 World Cup in Gothenburg, team bronze at the 2004 Olympic Games in Athens and at the 2006 World Equestrian Games in Aachen.
McDonald about her successful horse: "This horse has been everything to me. With the support of the Thomas family and training from my mentor Klaus Balkenhol, she became my partner. Brentina really made my dressage career."
---
Linear Profiles now online 
Linear profiles of numerous well-known stallions can now be viewed online in MeinHannoveraner. These are based on the linear descriptions of the offspring at studbook inspections and mare performance tests. Available are the profiles in the German version of MeinHannoveraner, the English version will follow soon.
---
WebSeminars in German and English
The WebSeminars of the Hannoveraner Verband are going into the next round. In two parts, Dr. Ludwig Christmann presents the important stallion lines in Hanoverian breeding. Influential line founders and their descendants will be presented in detail and vividly in an approx. two-hour WebSeminar. The 1st part will take place on May 12 and the 2nd part on May 19, both dates are in German. Registration details can be found on https://www.hannoveraner.com/hannoveraner-service/lehrgaenge-und-seminare/verdener-pferde-seminare-webseminar/.
Our first English WebSeminar will take place on May 20. Under the topic "I want to breed a foal - What do I have to do?" Maren Schlender and Isabell Bäßmann will answer all questions about the first steps of a breeder. To register, visit https://en.hannoveraner.com/hanoverian-breeding/news/artikel/?tx_ttnews%5Btt_news%5D=1443&cHash=93c63ddfea4c818d4f9cd4e765909b99.
---
Dr. Jochen Wilkens 80th birthday
On April 25, Dr. Wilkens celebrated his 80th birthday. . From 1982 to 2006, the graduate farmer was breeding manager of the Hanoverian Verband. His term of office included numerous trend-setting decisions such as the introduction of a new form of mare performance test, the founding of the Verein zur Förderung des Reitsports auf Hannoveraner Pferden (FRH) (Association for the Promotion of Equestrian Sports on Hanoverian Horses), the change in the breeding objective separated according to jumping and dressage, the Hanoverian Show Jumping Championships and the organization of the Hanoverian daughter societies and horse breeding clubs all over the world as well as the expansion of the Verband's territory to Hesse and Saxony-Anhalt. Dr. Wilkens enjoyed great trust among the breeders because of his competence and sense of duty as well as his adherence to principles and decisions. Dr. Jochen Wilkens was awarded the Golden Pin of Honor of the Hannoveraner Verband and the Gustav Rau Medal of the FN. To this day, Dr. Wilkens does not miss the opportunity to attend all Hannoveraner events.
---
Breed Orientation Course 2021
One has to be optimistic these days. Therefore, pending on the development of the Covid 19 pandemic we plan for a  Breed Orientation Course in 2021. We have scheduled it from October 30 until November 6 in connection with the stallion licensing for dressage stallions. This course has become iconic. It is an in-depth learning experience, offering lectures on bloodlines in Hanover and on the Hanoverian breeding programme. It includes the practical judging of horses, visits to the State Stud at Celle, to the stallion performance testing station at Adelheidsdorf and to other studs and breeders' farms. A very special highlight is the Hanoverian stallion licensing on the final three days of the course.
As the number of participants is limited, applications will be accepted on a first come basis.
For more information please contact Tanja Coors by August 30, e-mail: , ph.: +49-4231-673719, fax: +49-4231-673712
---
Hannoveraner Yearbook of Stallions 2021
Also this year there are innovations in the Hannoveraner Yearbook of Stallions. In the progeny information of a stallion, the test class S is shown in a more differentiated way. So you can see which show jumpers are successful in 1.40 meter or 1.60 meter tests, whether dressage offspring are successful in S* or at Grand Prix level. The number of offspring of a stallion is divided into three age classes This makes it easier to interpret offspring performance in sport, among other things. In the breeding value estimation section, another breeding value is added, namely that for height. After all, the question of how tall the offspring of a stallion is is important for every mating decision.
The Hannoveraner Yearbook of Stallions 2021 was published a few days ago and can be ordered at the price of 25 Euro plus postage from the Hanoverian Verband, Mrs. Mindermann, .