Dear Hanoverian and Rhineland breeders,
in many countries, also in Germany, the situation is still serious because of the Corona Pandemic. The lockdown affects schools and large parts of the economy, in the headquarters of the Hannoveraner Verband many employees work in their home offices. We are currently in the process of making an annual plan for 2021. We know that much is uncertain, that it is possible that plans will be scrapped again during the year. Nevertheless, we think it is right that we have a structure for what the year may look like. We hope that at least in the second half of the year we will be able to carry out registration trips and visit you, our international breeders, in your home countries again. We are therefore in exchange with our representatives in the different countries and hope to be able to present you the results in our next newsletter. We wish you, your families and your horses the best, stay healthy.
Anne Kollberg
President Hannoveraner International
& the team of Hannoveraner Verband
Dr. Ludwig Christmann
Director department
breeding in foreign countries
---
DER HANNOVERANER
Current-year members can download the pdf-file of the latest issue of the English version of our members' magazine DER HANNOVERANER at the following link.
HV's "The Hanoverian" – 01|2021
---
Cancellation of broodmares and/or membership
Please do not forget to cancel mares, which you have either sold or which will no longer be used for breeding purposes either on our online platform MeinHannoveraner or in written form either by letter, fax (+49-42 31-67 37 12) or e-mail () with the following information:
- registration number of the mare
- name of the mare
- reason for the cancellation (sold, no longer used for breeding purposes, sport/riding horse, death)
- your first name and family name
- your address
- your membership number
Please send us your cancellation before the end of December. Without this cancellation, your invoice for 2021 will include all the mares currently registered under your name.
If you wish to cancel your membership of the Hannoveraner Verband, please do so in writing before the end of December, too.
---
Invoice for membership fees,  covering certificates and notification of birth, via MeinHannoveraner
Many breeders already use MeinHannovearner as a service of the Hannoveraner Verband. MeinHannoveraner gives you the opportunity to check your personal data and the data of your horses, which are registered with the Hannoveraner Verband, and in some cases even to maintain them.
You can access MeinHannoveraner via the homepage www.hannoveraner.com. MeinHannoveraner currently offers you the following options:
-         You can report the birth of your foals
-         View the coverings of your broodmares
-         Download covering certificates with the details of your active mares
-         You will get an overview of all mares and foals registered for you
-         Register and deregister your broodmares
-         Download studbook excerpts of your registered horses as well as linear profiles, if any have been created for your horses.
-         You get access to our portal Dam Line
As of this year, users of MeinHannoveraner will only receive the invoice for membership fees via MeinHannoveraner. The invoice is available in the mailbox. There will be no additional postal delivery of the invoice.
You can check yourself in MeinHannoveraner which coverings or inseminations have been reported to us and you can report the births of your foals via MeinHannoveraner.
Please do not hesitate to contact Tanja Coors at  if you have any questions.
---
Covering certificate (Deckschein)
Together with your invoice, we sent covering certificates (Deckschein) to our active breeders, who have not yet registered for MeinHannoveraner (see above). The Deckschein is a very important document for the studbook keeping of each breed association. If a mare is covered / inseminated, the Deckschein has to be filled in and returned to the Verband's office by September 30th of the respective year. The stallion keeper or – if frozen or shipped semen was used – the veterinarian who inseminated the mare must sign and stamp it. Please make sure that our studbook department receives the Deckschein either from you or from the stallion keeper.
---
Brexit - and now?
Even after the Brexit, the Hannoveraner Verband wants to be allowed to serve its members in Great Britain. For this, it is necessary that we continue to be recognized as a breeding association in Great Britain. An application to this effect has been submitted to the responsible authority in England via the Lower Saxony Chamber of Agriculture. As soon as we have a feedback in this regard, we will communicate this.
---
Debra Symes passed away
It is with great dismay that we received the news that our long-time Canadian member Debra Symes passed away unexpectedly on Saturday, January 23. Debra, along with Heather Smith, formed the breeding partnership Thelma and Louise Sporthorses in Taber, which over the last few years has developed to one of the biggest Hannoveraner breeding farms in Alberta." They travelled to Germany to research stallions, attended breed orientations and of course, tried a glass (or two) of wine.  The two of them were working to improve the Hanoverian breed here in Alberta.  They brought laughter and enthusiasm to any venue. She will be dearly missed.," writes George von Platen, president of the Hanoverian Breeders Club of Western Canada in an email to his members.
---
World Championships for Young Dressage Horses to take place in Verden in 2021
Good news for Verden: After the FEI WBFSH World Championships for Young Dressage Horses 2020 had to be cancelled due to the Corona pandemic, the FEI World Equestrian Federation has now decided that this year's championships will take place in the equestrian city from August 25 to 29. Originally, Ermelo in the Netherlands was to be the venue for the 2021 World Championships. However, the organizers have agreed to hand over the Championships to Verden this year in exchange for hosting the WCYDH in 2024.
Soenke Lauterbach, General Secretary of the German Equestrian Federation (FN), thanked the organizing committee in Ermelo and the FEI Board for this decision. "It is a sign of true partnership in these challenging times."
Verden Show Director Wilken Treu, Managing Director of the Hannoveraner Verband, said, "We received this news shortly before Christmas with great joy and are grateful that we will get the chance to put on a great WCYDH after all."
---
Young stallion licensing: Time for change
Licensing in Verden. An always sold-out Niedersachsenhalle with horse breeding enthusiasts from all over the world continues to provide an extraordinary atmosphere for breeders and customers. In addition to the breeding aspect, this grown event also serves the much appreciated stallion sales. Can the licensing of the Hannoveraner Verband take on a different face? And why should an event that has become an institution be changed?
Over the past months, the various committees have critically examined these questions and the consequences. It seems to be time for innovations. This was also triggered by the discussion about the start of training for young horses and the associated animal welfare issues. In addition, there were the experiences of the discipline-specific licensings 2020. As a result, the honorary and full-time responsible persons of the Hannoveraner Verband have found the courage for a newly thought system.
The licensing of dressage and jumping stallions will be further separated and the previous joint licensing divided into two sections - in November for the dressage stallions and in December for the jumping stallions.
Breeding and sport aspects should be brought together. For example, the licensing of show jumping stallions will be combined with the "Hanoverian Show Jumping Masters" from 2021. A show for four- to seven-year-old Hanoverians and Rhinelanders.
The dates of the Verden Stallion Licensings and Stallion Sales 2021 are:
Licensing and stallion market dressage stallions: 4 to 6 November 2021
- Thursday: Free jumping
-  Friday: Triangular track and lunging
 - Saturday: Free jumping with licensing decision, stallion sales
Licensing and stallion market jumping stallions: 2 to 4 December, 2021 
 - Thursday: Pavement sampling and free jumping
-  Friday: Final qualifications "Hanoverian Show Jumping Masters
-  Saturday: Free jumping with licensing decision, finals "Hanoverian Show Jumping Masters", stallion market
---
Verden Auction Online - Riding horses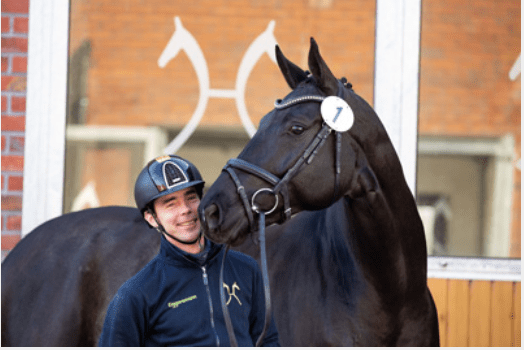 The Verden online auction in January impressively demonstrated Verden's importance as an international hub for sport horses.
The top price of 81,500 € was achieved by the six-year-old Friedrich Schiller by Finest/Desperados (breeder: Henning Schulze, Tiddische, exhibitor: Aldrie Consultants AB, Sweden). As a foal the powerful black stallion was sold via a Verden auction to Sweden. Six years later and with success in tests for young dressage horses, the gelding returned to Verden and was auctioned off to a regular customer from France who had already purchased numerous top horses in Verden that later caused a stir in the international arena.
Another six auction candidates had exhibitors from Italy (2 horses), the Netherlands, Finland, Kyrgyzstan and the USA. Internationality therefore both on the part of the previous owners as well as on the part of the buyers. The 53 horses achieved an average price of 19519 €. 28 of them (i.e. considerably more than half) will leave Germany, they changed to buyers in 13 other countries. The largest contingents went to France (7), Russia and the USA (5 each). Among the horses sold to the USA was one of the two top priced show jumpers. This was for 35000 € the Lord Pizarro/Callistus son Lucky Luke (breeder Hans Ahlers, Twist, exhibitor Eckhard Witthake, Recke).The same price was achieved by Cornet XL by Cornet Obolensky/Lex Lugar (breeder and exhibitor Pferdezucht Dr. Rowold, Haselünne), a half brother of the Celle state stud Colougar by Codex One. He found his new home in Germany. [More]
---
Verden Horse Seminars and online seminars
The Corona crisis currently makes it almost impossible to hold face-to-face seminars.
We plan to be able to offer face-to-face seminars with our core topics on breeding, rearing and feeding again, probably starting in the 2nd half of 2021, and will inform you about this via our media.
Until then, some selected topics will be available to you in German language in the form of web seminars. Currently, three online seminars are planned on the topics "I want to breed a foal - What do I have to do?" and "Which stallion suits my mare?", with more topics to follow. The first online seminar has already taken place and was very well received. [More]
---
Hannoveraner Yearbook of Stallions 2021
Also this year there are innovations in the Hannoveraner Yearbook of Stallions. In the progeny information of a stallion, the test class S is shown in a more differentiated way. So you can see which show jumpers are successful in 1.40 meter or 1.60 meter tests, whether dressage offspring are successful in S* or at Grand Prix level. The number of offspring of a stallion is divided into three age classes This makes it easier to interpret offspring performance in sport, among other things. In the breeding value estimation section, another breeding value is added, namely that for height. After all, the question of how tall the offspring of a stallion is is important for every mating decision.
The Hannoveraner Yearbook of Stallions 2021 was published a few days ago and can be ordered at the price of 25 Euro plus postage from the Hanoverian Verband, Mrs. Mindermann, .