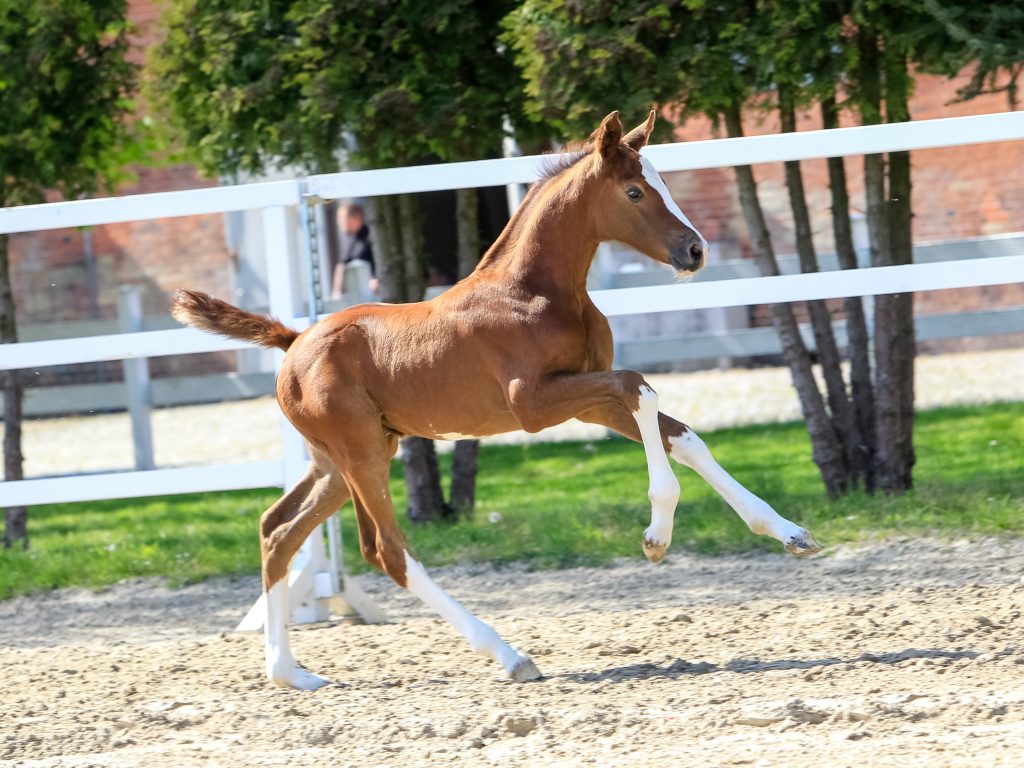 Verden. Going once, going twice, going three: For the third time this year the Hannoveraner Verband presents an exquisite foal collection on the Internet. Tomorrow, 23 promising foals with the most up-to-date jumper pedigrees will find new owners at the Verden Auction Online.
The top-class representatives of the 2020 vintage will combine international genes of top-class sires of show jumpers with the valuable and well-bred Hannoveraner dam lines. The young stallion For Treasure VDL convinces with his first foal crop. Promising jumper sires such as Grandorado TN or Grand Slam VDL can be found as well as proven sires such as Nartago or C-Indoctro.
On Saturday, June 13th, the first foal will enter the final bidding duel at 6.00 pm CET. In the so-called bid-up, the bidding period is extended by three minutes for each additional bid. The second foal starts at 6.03 pm, the third at 6.06 pm and so on.
The Hannoveraner or Rhineland registered foals are presented on the Verden online auction platform www.verdener-auktion-online.com. In addition to general information about pedigree, sire line and dam line, the auction candidates are represented by an expressive photo and video gallery as well as a veterinary protocol, offering the buyer the highest possible transparency.
For bidding at the Verden online auctions, customers only have to register at www.verdener-auktion-online.com and off you go. If you have any questions, please do not hesitate to contact the team at the sales office of Hannoveraner Verband.
After the auction is before the auction – in three weeks another collection of highly interesting dressage foals will be waiting for new owners at the fourth Verden Auction Online from July 1st to 4th. Three days later 48 dressage and 17 jumping horses will move to their boxes in the training and sales centre. They can be tried out at any time by arrangement with the customer advisors. Carefully selected and prepared, Hannoveraner Verband presents the collection at the Verden auction on July 18th.
Further information: www.verdener-auktion-online.com