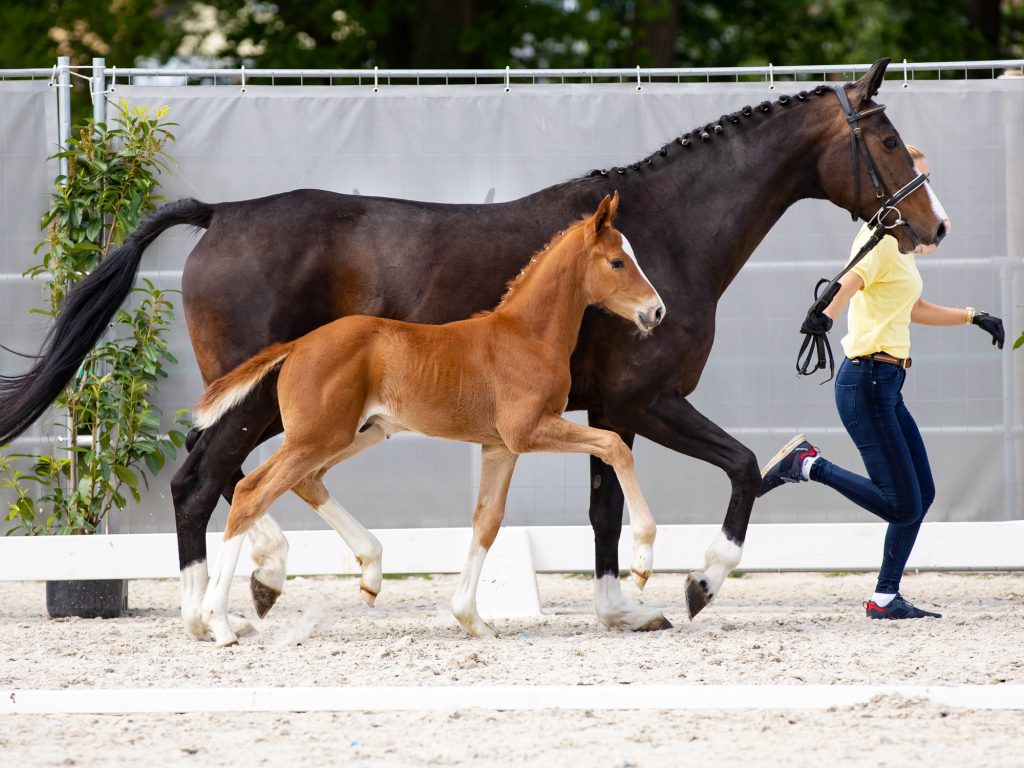 Verden. Right from the start, Status Quo II by Secret/Sandro Hit advanced to the top price of the third auction of the Verden Foal Spring. The expressive colt changed hands for 40,500 Euros. In total, the 29 talented youngsters achieved an average price of 9,259 Euros. 
The typey chestnut foal Status Quo II out of a Sandro Hit dam achieved a top price of 40,500 Euros after 56 bids. The high level of interest in the long-legged and strong-moving stallion became apparent early on. Customers from Canada showed the most perseverance.
Foals bred by Willi Sauerland from Rhade, who sadly passed away much too early last year, are no strangers to the Verden auction stage. Already in 2019, he sired the full brother Status Quo by Secret (breeder and exhibitor: the same) with the Sandro Hit mare Sound of Magic, which was auctioned for 25,000 euros.
With his first foal year, the celebrated premium stallion Rom also presented his first foal at a Verden auction. Head No. 71 Rio by Rom/Stedinger (breeder and exhibitor: Holger Wilms GbR, Hinte) convinced a renowned dressage trainer from Hessen and will start his journey into sponsoring hands for 14,000 Euros.
Explosion by Etoulon/Baloubet du Rouet (breeder and exhibitor: ZG Eisberg, Dörpen) was the most expensive jumping foal to leave the Verden auction. Equipped with a top-class jumper pedigree, the impressive colt convinced customers from America. As the clock ticked down, the virtual hammer fell at 10,000 euros.
On average, interested persons had to invest 9,259 euros for a foal. 12 foals were secured by international customers from Canada, America, Spain, Finland, Argentina, Croatia,
Denmark, France and Austria, while 17 Hanoverian youngsters continue to grow up in Germany.
The next opportunity to purchase an excellent Hanoverian foal directly from the source in Verden will be on June 9. The last online auction of the Verden Foal Spring will take place on June 23.
Results and further information: www.hannoveraner.com.