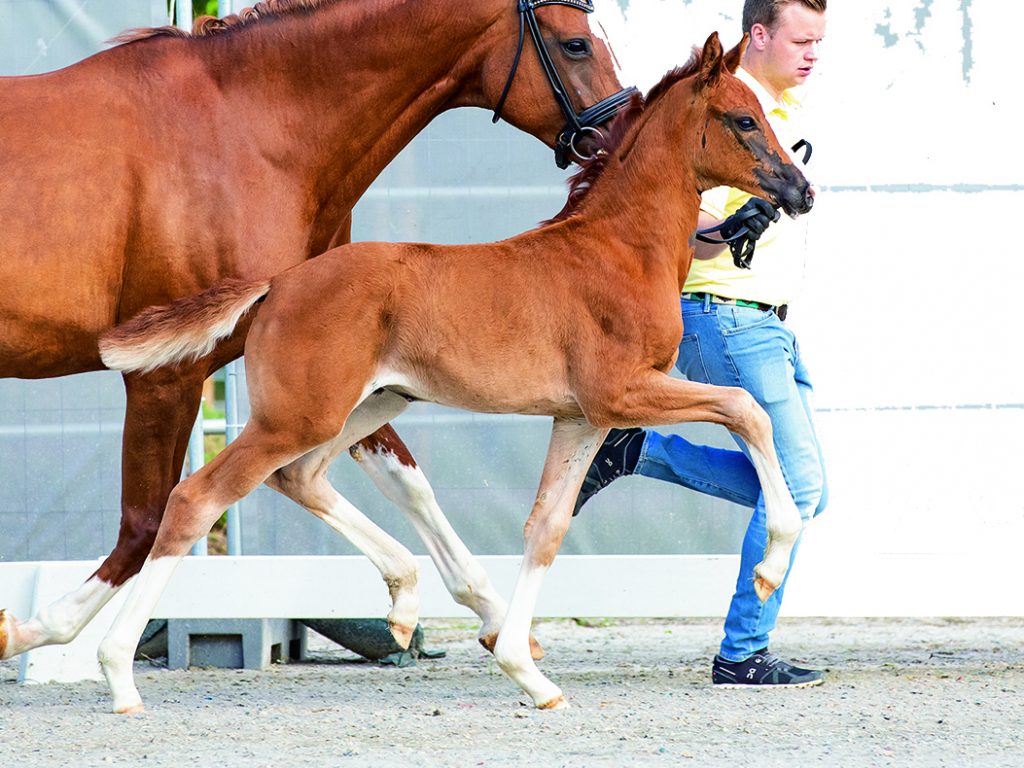 ---
Verden. For the first time in two years, a foal auction took place in the Niedersachsenhalle. Driven by the positive mood of the numerous visitors, Belle Amie trotted to the top price of 41,500 Euros. For the 100 representatives of the 2022 vintage, an average of 11,085 Euros had to be invested in the hybrid auction.
The pre-bid for Belle Amie by Bonds/Quaterback (breeder: Dirk van der Lieth, Geestland, exhibitor: Kristiina Piironen, Breddorf), which was placed via internet, was already at a pleasing 40,000 Euros. The liver chestnut mare also attracted attention at the presentation, which took place after the Hannoveraner Show Jumping Championships in the For Pleasure Arena. The auctioneer Bernd Hickert's hammer then fell at 41,500 Euros. The strong moving filly out of the mare line of Athene will grow up with a new customer from Bavaria. The Despacito/Millennium son Dark Passion (breeder and exhibitor: Ulrich Heitmann, Hagenah), who was sold for 41,000 Euros to a master hand. He will not move alone into a new box at a stud in Ammerland. He will be accompanied by Fendi by Fürst Toto/Daddy Cool (breeder and exhibitor: Gisela Jansen, Aurich), who sold for 40,000 Euros, and Vasco by Valverde/Don Schufro (breeder and exhibitor: Hermann Peters, Barum), who cost 24,500 Euros.
The best paid future hope, equipped with an excellent jumper pedigree, was the Kannan/Cornet Obolensky son Kairo (breeder and exhibitor: Rudolf Drünert, Ahrensbök). The dark bay colt from the Walzerkönig dam line of Pille was sold to Dr. Fritz Winzer. The successful breeder from Braunschweig secured himself with Countdown GH by Comme il faut NRW/Nabab de Reve (breeder and exhibitor: Volker Heidmeyer, Marl) and Chapter One by Chacfly PS/Balou du Rouet (breeder: Thomas Wendelken, Schwanewede). Only a few hours before, he had had good reason to be happy. Six years ago, Dr. Winzer had discovered the Messenger son Moonraker at the same place, who finished third in the Hannoveraner Show Jumping Championships that morning with rider Oliver Klüsener. Two further auction purchases had been made in the four-year-old class.
Most of the foals found new owners within Germany. 19 will leave their country of birth. Besides Great Britain (four foals), customers from Argentina, Italy, the USA and Qatar purchased two foals each.