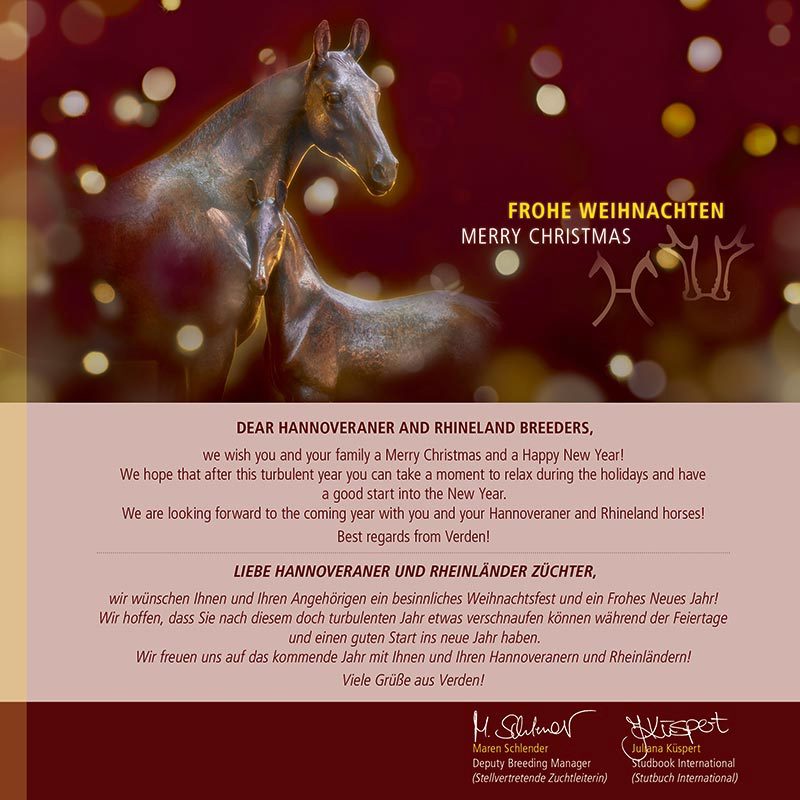 ---
DER HANNOVERANER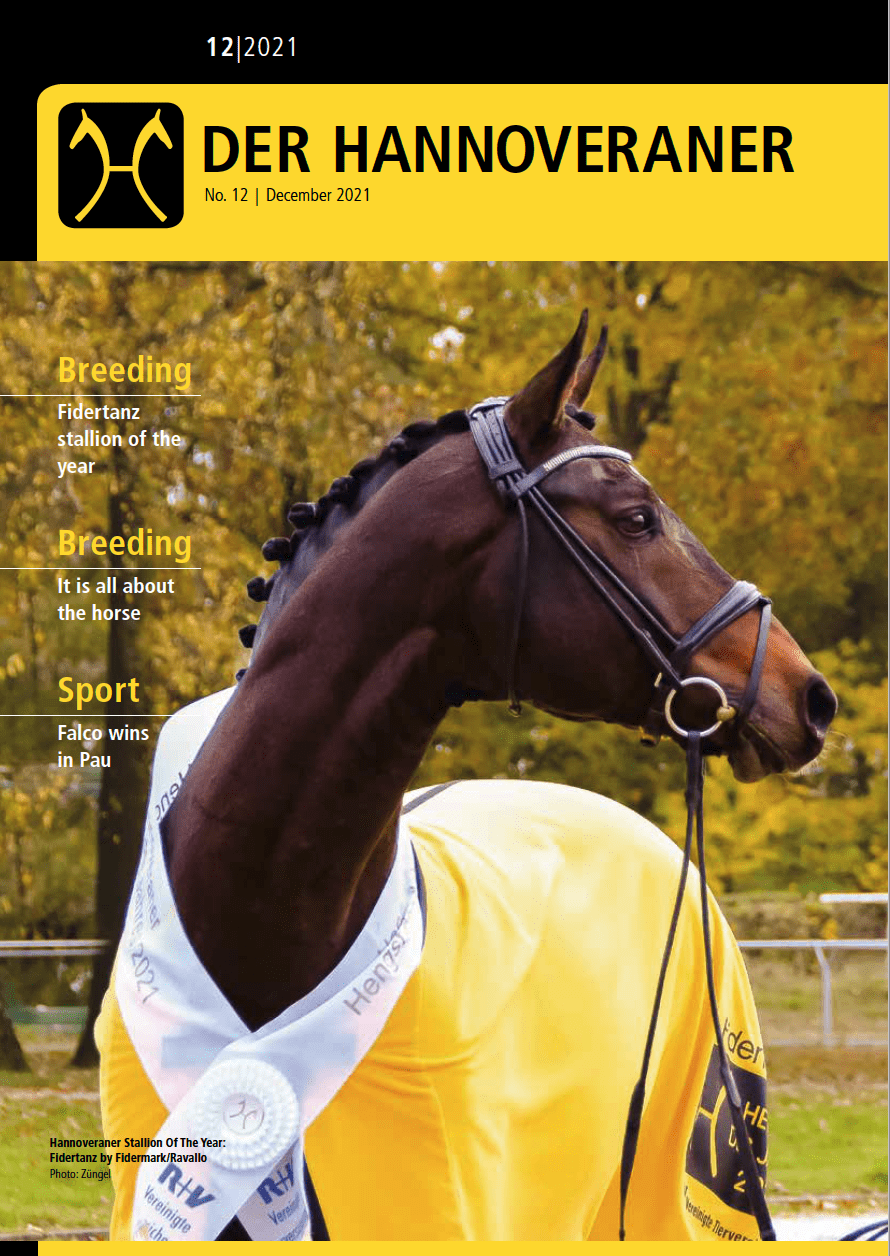 Current-year members can download the pdf file of the latest issue of the English version of our members' magazine DER HANNOVERANER at the following link.
HV's "The Hanoverian" – 12|2021
---
Hannoveraner News
Count Me In and Ireland's Conor Swail win FEI Jumping World Cup in Fort Worth: Count Me In by Count Grannus/Sherlock Holmes (breeder: Friedrich Lüßmann, Neustadt) and Irish rider Conor Swail won the 215,000 US Dollar FEI Jumping World Cup. The decision was close, only about one tenth of a second separated the two from the runners-up, Figor and Tiffany Foster. It was the sixth leg of eight of the North American League.
Nürnberger Burgpokal: The beautiful Schöne Scarlett by Scolari/Londonderry came within a hair's breadth of finishing second in the final for the 2021 Nürnberger Burgpokal. Under Helen Langehanenberg, the Hannoveraner mare bred by Dr. Heidi and Wilfried Bouws, Scheden, was already winning several times in competitions. The bronze medal was also taken by a Hannoveraner: The Quasar de Charry/Velten Third son Quizmaster (breeder: Klaus Küver, Lamstedt) was presented by Frederic Wandres. At the elite auction in October 2015, Quizmaster was one of the most sought-after dressage horses and was sold for 180,000€.
Verden Auction Online - Sporthorses Januar, 22th:The collection of the Verden Auction in January features a interesting collection of 48 dressage and 23 show jumping horses. The auction of riding horses takes place online. Bids can be submitted from January, 16th. The final bid-up for the riding horses starts on Saturday, January 22th, at 2 pm. To bid, please register at https://link.edgepilot.com/s/7f14dac8/sIU6odbJSESu-BOe51IKvg?u=http://www.verdener-auktion-online.com/.
---
---
Cancellation of broodmares and / or membership
Please do not forget to cancel mares, which you have either sold or which will no longer be used for breeding purposes either on our online platform MeinHannoveraner or in written form either by letter, fax (+49-42 31-67 37 12) or email () with the following information:
registration number of the mare
name of the mare
reason for the cancellation (sold, no longer used for breeding purposes, sport/riding horse, death)
your first name and family name
your address
your membership number
Please send us your cancellation before the end of December. Without this cancellation, your invoice for 2022 will include all the mares currently registered under your name.
If you wish to cancel your membership of the Hannoveraner Verband, please do so in writing before the end of December, too.
---
Breeding certificates
Please remember to send us your breeding certificates! If you do not have a breeding certificate for your mare yet, you can also request breeding certificates for the past breeding season here.
---
Yearbook Stallions 2022
The Yearbook Stallions 2022 will be published in a few days! For the price of 25 Euro plus shipping, the Yearbook can be ordered at the Hannoveraner Verband, Mrs. Mindermann, .
---