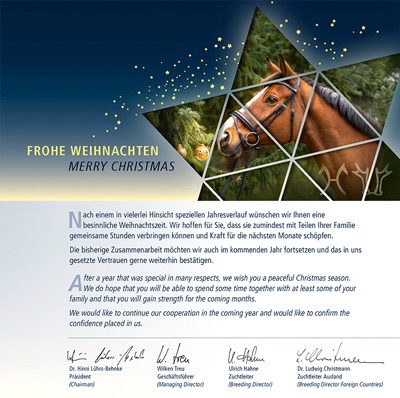 Anne Kollberg
President Hannoveraner International
& the team of Hannoveraner Verband
---
DER HANNOVERANER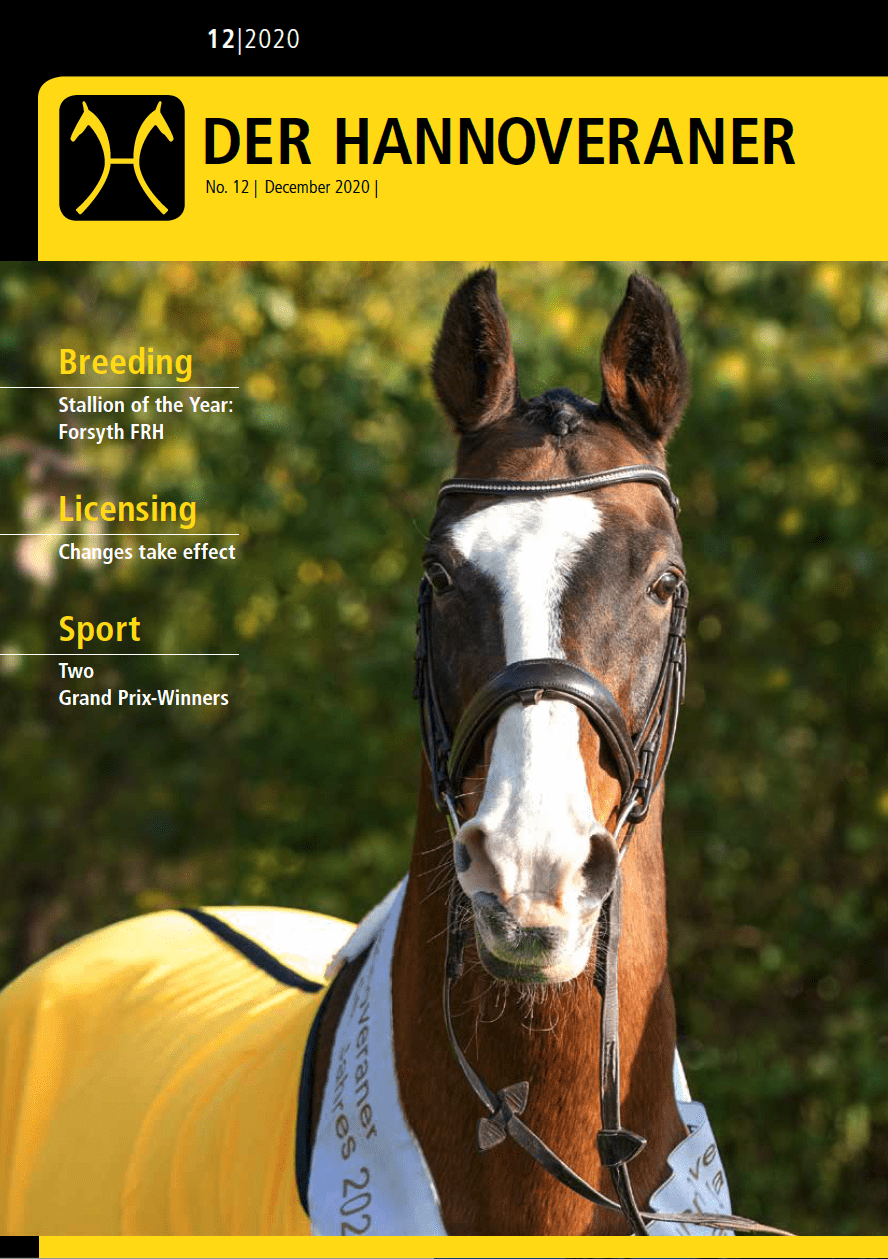 Current-year members can download the pdf-file of the latest issue of the English version of our members' magazine DER HANNOVERANER at the following link.
HV's "The Hanoverian" – 12|2020
---
The office of the Hannoveraner Verband…
… will be closed from 17.12.2020 to 10.01.2021 as part of the Corona lockdown. Incoming e-mails will be checked for their content regularly, but not in a fixed rhythm, but in urgent cases we will get back to you.
For studbook and breeding questions there is the following telephone availability at the Hannoveraner Verband under Tel. 04231 - 6730:
Thursday, 17.12.2020 - Wednesday, 23.12.2020.
Every weekday from 8.00 a.m. to 4.00 p.m.
Monday, 4.1.2021 - Friday, 8.1.2021
Each weekday from 8.00 a.m. to 4.00 p.m.
If you have any question about our upcoming auction of riding horses in January please contact our staff via
We wish you and your families healthy holidays and a good start into the year 2021!
---
Cancellation of broodmares and / or membership
Please do not forget to cancel mares, which you have either sold or which will no longer be used for breeding purposes either on our online platform MeinHannoveraner or in written form either by letter, fax (+49-42 31-67 37 12) or e-mail () with the following information:
- registration number of the mare
- name of the mare
- reason for the cancellation (sold, no longer used for breeding purposes, sport/riding horse, death)
- your first name and family name
- your address
- your membership number
Please send us your cancellation before the end of December. Without this cancellation, your invoice for 2021 will include all the mares currently registered under your name.
If you wish to cancel your membership of the Hannoveraner Verband, please do so in writing before the end of December, too.
---
BHHS - Awards Presentation Evening 2020
On 12 December the British Hanoverian Horse Society held their annual Awards Ceremony – this year digitally due to the Covid-19 pandemic.
The most important awards went to:
Am 12. Dezember veranstaltete der britische Hannoveraner Verband BHHS seine jährliche Züchterehrung – in diesem Jahr digital wegen der Covid-19-Pandemie.
Die wichtigsten Preise gingen an:
Supreme Champions
Filly Champion/Bestes Stutfohlen for 2020 - Half Moon Fantasy (Franklin x Dannebrog) bred by/Züchter Darren Mattia & Julie Deverill
Reserve Filly Champion 2020 – Famous Lady NE (Finest x Lanciano). Breeder/Züchter Ros & Dennis Palmer
Colt Champion/Bestes Hengstfohlen for 2020 - Depeche Mode (Danone x Apache) bred by Ben Ambrose
Reserve Colt Champion for 2020 - Newton Bolero (Baron x Dark Rubin). Breeder Lorna Wilson
Overall Supreme Foal Champion/Gesamtsieger Fohlen for 2020
Half Moon Fantasy (Franklin x Dannebrog). Breeder Darren Mattia & Julie Deverill
Best Yearling 2020
Springbanks Gold (Springbank II x Vivaldi x Sunny-Boy) . Breeder by Sandra Ogden
Best Two Year Old/Beste Zweijährige
Fairytale Romance (For Romance x Rubin-Royal x Sunny-Boy). Breeder Lucinda BellisLucinda Bellis
Best Dressage/Bestes Dressurfohlen 2020
Half Moon Fantasy (Franklin x Dannebrog) bred by Darren Mattia & Julie Deverill
Best Show Jumping/Bestes Springfohlen 2020
Conchello (Contendro x Ustinov). Breeder Charlotte Taylor
Best British Rhineland/Bestes rheinisches Fohlen
Sergio (Santo Domingo x Rubinstein). Breeder Nicola Keenan
Congratulations to all breeders!
Herzlichen Glückwunsch allen Züchterinnen und Züchtern!
---
31st Stallion Show of the Club of Private Hanoverian Studs cancelled
The Club of Private Hanoverian Studs has cancelled the 31st Show of Hanoverian Privately owned Stallions. The event scheduled for February 6 cannot take place due to the Covid-19 pandemic.
---
Verden Auction Online - Riding Horses - January 2021
The collection of the Verden Auction in November features 37 dressage horses and 23 show jumpers. From January 12 till 23 it is possible to follow the daily training of all auction horses. The test riding is only possible with a personal appointment.
Please contact our customer advisors to talk about your preferences. They will be more than happy to make an appointment with you for the test riding. Please keep in mind that the trying of the horses is at your own risk. We strongly ask you to wear a riding helmet.
The auction of riding horses takes place online. Bids can be submitted from January 17. The final bid-up for the riding horses starts on Saturday, January 23, at 2 p.m.
---
Verden - Stallion Licensing with Auction
Under the Corona-related exclusion of the public, eleven young stallions with dressage genes participated, six of which were licensed. Two were awarded a premium: a son of Secret/Fidermark (breeder: Christine Feichtinger, Vaduz/LIE, exhibitor: Gestüt W. M.. Visselhövede) and a son of Foundation/Londonderry (breeder: Alena and Till Hogrefe, Stöcken, exhibitor: Anja Gutschmidt, Rottach-Egern).
Four stallions were auctioned off after the licensing. The highest price was achieved by a black by Floris Prince/Lauries Crusador xx (breeder: Dr. Klaus-Eckart Schlichting, Wingst, exhibitor: Dr. Georg Fanta and Bernhard Schaerffer, Hamburg). He was sold for 57,000 Euros to the dressage stable in Austria, which had already purchased the top horse at the Elite Auction in October. A licensed stallion by Baron/Fürst Romancier for 56,000 Euros, a non-nlicensed stallion by Bon Coeur/Dimaggio for 14,500 Euros and another non-licensed stallion by Secret/Don Nobless for 18,000 Euros will stay in Germany.
A few days later, a licensing for jumping stallions took place. Five young stallions and two already tested stallions were presented. All the young stallions were denied a positive approval, the two already tested stallions were approved. One of them is the Holstein stallion Quiwi Capitol by Quiwi Dream/Cero, born in 2014. Quiwi Dream finished his 50-day test focusing on jumping in Neustadt/Dosse a few weeks ago with an outstanding final score of 9.30. He received a score of 10 for his jumping ability and the test rider also awarded this score for rideability. Quiwi Capitol stands at the Maas J. Hell station in Kl. Offenseth. The second approved stallion is a son of Taalex out of a Cassini II dam, bred by Pferdezucht Dr. Jacobs, Bierbergen. This stallion also passed his 50-day test in Neustadt/Dosse. His final score: 8.26.
---
Stallion performance tests
On 25 November, the 50-day test with focus on dressage ended in Adelheidsdorf. Five Hanoverian stallions participated, among them the already approved Vermeer by Vitalis/Sir Savoy bred by Theresa Bahlsen, Kirchwalsede. Vermeer is available to breeders at the Marbach State Stud and finished the test with an overall score of 8.32. A score of 9 was awarded for all interior characteristics and the canter. Two days later the 50-day test with focus on jumping ended, in which no recognised Hanoverian and Rhineland stallions participated.
All results of 50-day tests and 14-day tests can be found at www.hengstleistungspruefung.de
---
Hannoveraner Jumping Masters - Pilot project with fantastic winners
For the first time the Hannoveraner Jumping Masters were held in Verden. Best four-year-old was Coredo M&M with rider Alexa Stais. Kannandro HB and rider Kai Thomann won the jump-off for the five-year olds. Lunatic and rider Josch Löhden led the field of the six-year olds. Ulando and rider Julia Plate won the last title of the day in the seven-year-old class. The showcase of Hannoveraner show jumping horse breeding convinced at its premiere with its high quality.
---
Hannoveraner Yearbook of Stallions 2021
Also this year there are innovations in the Hannoveraner Yearbook of Stallions. In the progeny information of a stallion, the test class S is shown in a more differentiated way. So you can see which show jumpers are successful in 1.40 meter or 1.60 meter tests, whether dressage offspring are successful in S* or at Grand Prix level. The number of offspring of a stallion is divided into three age classes This makes it easier to interpret offspring performance in sport, among other things. In the breeding value estimation section, another breeding value is added, namely that for height. After all, the question of how tall the offspring of a stallion is is important for every mating decision.
The Hannoveraner Yearbook of Stallions 2021 was published a few days ago and can be ordered at the price of 25 Euro plus postage from the Hanoverian Verband, Mrs. Mindermann, .