The foaling season is coming to an end. And with that, the foal registration really gets going - our registrars are currently spending more time on the road than in the office. The big trips to Poland and France have been made. Now it's on to Austria, the Czech Republic, Sweden, and Denmark, among others.
Of course, we also take a look at Tokyo. In this newsletter, you can read which Hannoveraner and Rhinelanders will be competing in Tokyo and which medals have already been won.
And soon the FEI WBFSH Dressage World Breeding Championships for Young Horses will take place in Verden again. Of course, you will also find out which Hannoveraner and Rhinelanders are qualified.
Best regards
Maren Schlender
Head of Breeding International
---
DER HANNOVERANER
Current-year members can download the pdf file of the latest issue of the English version of our members' magazine DER HANNOVERANER at the following link.
HV's "The Hanoverian" – 07|2021
---
Notification of birth and covering certificates via MeinHannoveraner
Many breeders already use MeinHannoveraner as a service of the Hannoveraner Verband. MeinHannoveraner gives you the opportunity to check your personal data and the data of your horses, which are registered with the Hannoveraner Verband, and in some cases even to maintain them.
You can access MeinHannoveraner via the homepage https://link.edgepilot.com/s/9d76422c/r-z5-OUzWkG2ENjHkpXMxg?u=http://www.hannoveraner.com/. MeinHannoveraner currently offers you the following options:
You can report the birth of your foals
View the coverings of your broodmares
Printing and/or emailing of covering certificates for your broodmares
You will get an overview of all mares and foals registered for you.
The registration of your broodmares
You can register horses for certain events
You will receive studbook excerpts of your registered horses as well as linear profiles, if any have been created for your horses.
You get access to our portal Dam Line
With the possibilities offered by this portal, it is no longer necessary for us to send you forms to report the birth of the foals you expect by post. You can check yourself in MeinHannoveraner which coverings or inseminations have been reported to us and you can report the births of your foals via MeinHannoveraner.
Please do not hesitate to contact Tanja Coors at  if you have any questions.
Innovation: You would like to start with your breeding and you don't have a breeding certificate yet? If your mare is not yet registered with us, we will be happy to issue you a blank breeding certificate. You can order this online athttps://link.edgepilot.com/s/5ff774f1/AzjzUovnKkaNM3w3g_5kGw?u=https://en.hannoveraner.com/hannoveraner-zucht/deckscheine/.
---
Registration Trips 2021
We continue to be optimistic and plan our registration trips.
The registration tour in Austria starts from August 9 and ends with the Hannoveraner Tag in Gerasdorf near Vienna on August 15, after which the trip continues to the Czech Republic. On August 14, the Hannoveraner Tag will take place in Laholm/SWE, followed by the registration trip through Denmark.
The current schedule can be found at https://link.edgepilot.com/s/124d781e/jA-ooTrkq0mvp-ybsIJ8OQ?u=https://en.hannoveraner.com/hanoverian-breeding/.
---
Poland in an upward trend
The Hannoveraner breeders in Poland met again this year in Kunowo at the Roszkiewicz family's stud farm for a central event, which included both a mare performance test with awards and a foal show. Thanks to the commitment of Peter Kuczinsky and the Roszkiewicz family, the Hannoveraner community in Poland is growing steadily and this year, too, new members were welcomed and more foals were registered. A total of nine foals were awarded the Gold Medal. The high number of Gold Medal foals is a good indication of the high quality of this year' s vintage of young Hannoveraner in Poland.
Calua by Cornet Obolensky/Quintender was awarded as the best jumping mare in the mare performance test (breeder and owner: Dr. Roman Roszkiewicz).
The four-year-old Diagara by Diacontinus/El Bundy (breeder: Willi Pott, Bargstedt; owner: Mateusz Kowalczyk) was awarded the title of overall champion mare and mare with the best basic gaits. In addition, Victoria van Gogh by Van Gogh/Diarado (breeder and owner: Agnieszka Gronowska, Warsaw) was awarded the Hannoveraner Premium.
The foal show was won by a dark chestnut filly by Benicio/Diamond Hit bred by Agata Fornalska, Mierzyn, who was awarded a Gold Medal.
---
Good quality in France
North, south, east, west - the Hannoveraner Verband's registration tour through France once again led to almost all regions of this beautiful and diverse country. In addition to Eduard Dewez, the chairman of the French Hannoveraner horse breeding society AFEACH, and Dr. Ludwig Christmann from the Verband's headquarters in Verden, Bo Eitenmüller was there for the first time.  A total of 77 foals and 23 mares were newly registered. Although the number of registered foals is lower than last year, there is a large number of regular breeders who present very high quality foals every year. This is expressed by the high number of 19 foals that were awarded a Gold Medal. Five foals could be selected for the Verden Online Auction International, five of which had received a Gold Medal. A special attraction is a right sister to D'Avie, the World Champion Young Dressage Horse of 2018 and 2019, which the renowned Haras de Hus, Petit Mars, is making available to the auction. The other auction candidates descend from In My Mind, Lord Europe, Bon Coeur, Sir Sandro and Emilio Sanchez.
---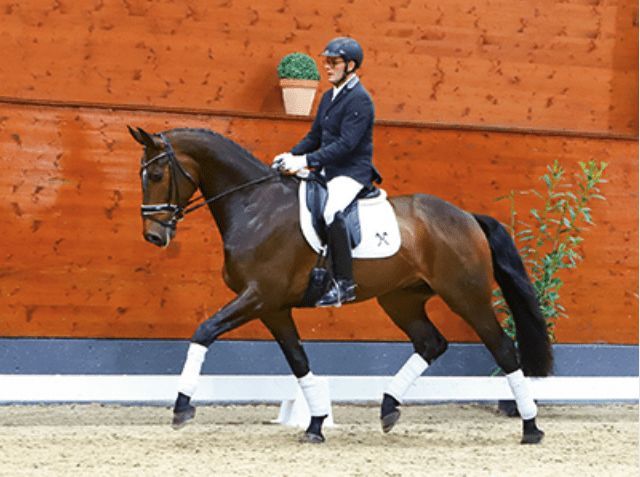 Verdener Auction Online – Riding Horses
The top-priced horse at the Verden Auction Online in July was Saint Jacques, for whom the virtual hammer fell at 56,500 Euros. After the ten-day auction period in Verden, which was used by numerous interested parties to try out their dream horse, an average of 20,205 Euros had to be paid for the 56 young talents. This is the highest mark achieved so far at an auction in July. 34 horses will leave Germany. Nine horses are going to the United States, five to Finland and four to France.
---
Verden Auction Online - August 7/8
The collection of the Verden Auction in August holds a selection of hand-picked auction foals for dressage and show jumping as well as a broodmare. The auction foals present themselves online with an individually customized presentation profile and video so that you can get an idea of the auction candidates.
The auction of the foals will take place online. Bids can be submitted from August 1. The auction will finally take place in two parts on August 7 and 8. To bid, register at https://link.edgepilot.com/s/eec4f1d8/mm_TFYvCk0_g3XHlyyxtAw?u=http://www.verdener-auktion-online.com/.
---
Verden Auction Online - Foals - July
The Verden Foal Spring ended on July 1st. The top priced foal of the auction final was Millie Margaux, who found a new owner in Brandenburg for 41,000 Euros. On average, the 33 Hannoveraner and Rhineland foals changed owners for 9,167 Euros.
Eleven times, customers from abroad got the final bid. Two foals each will start their journey to Belgium and Great Britain.
---
Hannoveraner Championships
Riding horses
The title of Hannoveraner Champion of the three-year-old mares and geldings went to the Secret/Dancier son Sedamo K (breeder: Hof Kleemeyer GbR, Sudweyhe), presented by Anne Maria Kleemann. Vice Champion was Quelindo by Quantensprung/Werlindo (breeder: Willi Schulz-Hausbrandt, Wittingen) with Jacob Schenk in the saddle. Third place went to another Secret son, So Dynamic out of a Welser dam (breeder: Sven Hörnschemeyer, Northeim). The bay was ridden by Kira Goerens-Ripphoff.
Hannoveraner Champion of the three-year-old stallions became the Bon Coeur/Fürst Nymphenburg son Bonjour (breeder: Bernhard Dodenhof, Bülstedt), who left the Verden stallion sales last year as a premium stallion for Denmark. Eva Möller was in the saddle of the strong moving black stallion. Second place went to Le Bonheur by Livaldon/Alabaster (breeder: Willi Rose, Bruchhausen-Vilsen) with Denise Christin Behr. The St. Schufro/Hofrat son St. Athletique (breeder: Friederike Peters, Ahstedt) completed the trio on the podium with Heiko Klausing.
The class leader of the 2017 vintage was the Vitalis/De Niro son Vitalos (breeder: Josef Bramlage, Sögel), skilfully presented by Leonie Richter. He was followed by the licensed and performance-tested stallion Fiducioso by Foundation/Dancier (breeder: Guido Kamphorst, Meppen) with Jessica Lynn Thomas. Two stallions achieved the same score and came third. Fünf Sterne Royal by Fürst Romancier/Sandro Hit (breeder: Henning Schmidt, Barnstedt) from the Warendorf State Stud was presented by Kevin Thomas. The Best of Gold/Sir Donnerhall son Best Dancer (breeder: Andreas Middelkampf, Badbergen) danced his way to bronze with Ruth Kleine Stüve.
In the class of four-year-old mares and geldings, the favourite won: Last year's winner and Bundeschampion Rock Festival by Rock Forever/Fürstenball won the title with his breeder Joline Durand in the saddle. Second place went to the Benicio/Sandro Hit daughter Bea (breeder: Iris Borchers, Verden) with Malin Weiß. The owners had already recognised the great potential of the Hannoveraner premium candidate as a foal and bought the filly at the Verden foal auction four years ago. Final Dream by Franziskus/Weltmeyer (breeder: Karin Storkamp, Ibbenbühren), brought to Verden by Kira Goerens-Ripphoff, came in third.
Jumping horses
The first decision in the classes of the show jumping horses was made in the four-year-old class. Catch Me M by Cador/Silvio (breeder: Peter Mahler, Neuhaus/Oste) led the field with the highest score. The Hannoveraner premium candidate, ridden by Christian Temme, was already highly awarded at last year's Herwart von der Decken-Show. Two Hannoveraner were awarded the title of Vice-Champion. Cornet's Lightning by Cornet's Boy/Arpeggio (breeder: Günter Mulder, Goch), who found a new owner at the Verden stallion seles two years age, and the Lord Fauntleroy/Lordanos daughter ATC's La Rochelle (breeder: Hendrik Schäfer, Köchingen), ridden by Anja-Sabrina Heinsohn, came second with equal scores. The bay had been one of the pearls of the collection at the Verden auction only in January of this year.
In the strong class of five-year-olds, Coredo M&M by Carridam/Loredo (breeder: Pferdezucht Dr. Jacobs GbR, Bierbergen) took the title. Last year, the premium stallion and former Verden Auction horse had already won premiere of the Hannoveraner Masters for show jumpers with Alexa Stais last December. The Celle state stud stallion Diathletico by Diacontinus/Escudo (breeder: Wilfried Griesbach, Neustadt) was not far behind. The Stakkato Prize winner became Vice Champion with Alexander Uekermann. Another stallion followed in third place: The Orlando/Check In son Otto de la Roche (breeder: Elke and Claudia Tegtmeyer, Norderney), Vice Champion of the previous year, was ridden by Oliver Ross and licensed for Hannover on this occasion.
After the exciting jump-off of the six-year-olds, the Diarado/Contendro son Doom SR (breeder: Gestüt Greim, Bärnau) was crowned Hannoveraner Champion. Harm Lahde was in the saddle of the licensed stallion. With his homebred Cosima by Casallco/Chacco-Blue, Harm Wiebusch finished second. The Rhineland registered Campino MR by Colestus/Clinton (breeder: Marius Rittstieg, Seeburg) and Roman Duchac took bronze. This is the third top placing for the bay stallion in the Hannoveraner Championships. Two years ago he was Champion of the four-year-olds and last year he was third of the five-year-olds.
Harm Lahde and Harm Wiebusch also had a thrilling duel in the seven-year-old class, and again Harm Lahde kept his nerve in the jump-off. He won the Hannoveraner Championships with Fipi N by For Pleasure/Grosso Z (breeder: Ratje-Friedrich Niebuhr, Schwarme) ahead of Harm Wiebusch, who rode the Messenger/Centadel son Melypso Blue PS (breeder: Lewitz Stud, Mühlen). Alexa Stais took her second place on the podium after winning the five-year-old class and finished third with Everton PJ by Embassy/Light On (breeder: Pferdezucht Dr. Jacobs GbR, Bierbergen).
Dressage horses
Already on Wednesday the decision was made in the six-year-old dressage horses. The Fidertanz/Sandro Hit-daughter Fleur de Vie (breeder: Dr. Cord Gaus, Großmoor) won the yellow-white sash and can call herself Hannoveraner Championesse in the future. The Hannoveraner premium prospect was presented by Leonie Bramall. The silver ribbon went to the Rhineland horse Elektra di Fonte Abeti by Franklin/De Niro (breeder: Luisa di Antonelli, Italy) with Frederico Migue Mexia de Almeida in the saddle. The bronze medal went to the former Verden auction foal Famous K by Finest/Londonderry (breeder: Martina Knetsch,Vorhop) and Leonie Richter.
Best five-year-old dressage horse was the privately owned stallion Danciero by Dancier/Floriscount (breeder: ZG Broers und Weber, Aurich) with Eva Möller. The black stallion had been awarded the Weltmeyer Prize last year and had represented Hannover's colours at the Bundeschampionat as Hannoveraner Riding Horse Champion. He was followed by the Bon Coeur/Scolari daughter Boa Vista (breeder: Ingo Pape, Hemmoor), who was guided through the lessons by Greta Heemsoth. The dam of the Hannoveraner premium candidate is none other than the 2013 World Champion of young dressage horses, Scara Boa. Third in the five-strong starting field was the DeLorean/Stedinger son DeLaurentis (breeder: Elmadin Löcke, Tiddische), who once found his way to the stable of his current owner via the Verden stallion sales. In Verden he was ridden by Esther Maruhn.
---
Olympic Games - Team gold and silver for Showtime FRH, Salvino and Sanceo
The German dressage riders won the gold medal at the Olympic Games. Among the glorious Olympic winners were Showtime FRH by Sandro Hit/Rotspon (breeder: Heinrich Wecke, Stadthagen) and Dorothee Schneider. Silver went to the USA. The San Remo/Ramiro's Son II son Sanceo (breeder: Gerhard Dustmann, Melle) and Sabine Schut-Kery as well as Salvino by Sandro Hit/Donnerhall (breeder: Joachim Essink, Stockach), who was ridden by Adrienne Lyle, made a significant contribution to the precious metal. Bronze was won by the team from Great Britain.
After the Grand Prix qualified for the freestyle final in Tokyo:
Showtime FRH v. Sandro Hit/Rotspon. Z.: Heinrich Wecke, Stadthagen; R.: Dorothee Schneider (GER)
Sanceo v. San Remo/Ramiro's Son II; Z.: Gerhard Dustmann, Melle; R.: Sabine Shut-Kery (USA)
Salvino v. Sandro Hit/Donnerhall; Z.: Joachim Essink, Stockach; R.: Adrienne Lyle (USA)
Total Us v. Totilas/Sir Donnerhall; Z.: Gestüt Lewitz, Mühlen; R.: Edward Gal (NED)
Die teilnehmenden Hannoveraner und Rheinländer/The participating Hannnoveraner and Rheinländer::
DRESSUR/DRESSAGE
Belstaff v. Brentano II/De Niro; Z.: ZG Schmitz-Leitner, Rommerskirchen; R.: Kim Don Seon (KOR)
Destano v. Desperados/Brentano II; Z.: Heinrich Gießelmann, Barver; R.: Simone Pearce (AUS)
Diavolessa VA v. Don Frederico/Londonderry; Z.: Josef Scheele-von Alvern, Bielefeld; R.: Tatiana Kosterina (RUS)
Divina Royal v. Desperados/Royal Highness; Z.: Janina Weinheimer, Hellwege; R.: José Antonio Garcia Men (ESP/Reserve)
Quater Back Junior FRH (VA) v. Quaterback/Bonheur; Z.: Gerd Janssen, Neuschoo; R.: Nicolas Wagner Ehlinger (LUX)
Rubicon (Rhld.) v. Rubin-Royal/Larome; Z.: Heinrich Dreesen, Mönchengladbach; R.: Masanao Takahashi (JPN/Reserve)
Scolari v. Sandro Hit/Brentano II; Z.: Hermann Timmel, Emsbühren; R.: Shingo Hayashi (JPN)
Sebastien (Rhld.) v. Sandro Hit/Fidermark; Z.: Inge Wencek, Moers; R.: Lindsay Kellock (CAN)
Statesman (VA) v. Sandro Hit/Brentano II; Z.: Bernd Eylers, Hude; R.: Naima Moreira Laliberte (CAN/Reserve)
What a Feeling v. Worldly/A Jungle Prince; Z.: Mathilde Wrede, Cappel; R.: Ismail Jilaoui (MAR)
Wispering Romance v. Weltmeyer/Bergkristall; Z.: Hindrik Kamerhuis, Gölenkamp; R.: Francesci Zaza (ITA)

SPRINGEN/JUMPING
Baloutinue v. Balou du Rouet/Landor S; Z.: Heinrich Meyer, Langwedel: R.: Laura Kraut (USA)
Chacna v. Chacco-Blue/Narew xx; Z.: Gestüt Lewitz, Mühlen; R.: Enrique Gonzales (MEX)
Don Diarado (Rhld.) v. Diarado/Lord Lancer; Z.: Dirk Lohmann, Schermbeck; R.: Maurice Tebbel (GER)

VIELSEITIGKEIT/EVENTING
FRH Corrida v. Contendro/Espri; Z.: Dr. Rainer Zurmaar, Ehlscheid; R.: Andreas Dibowski (GER/Reserve
fischerChipmunk FRH v. Contendro/Heraldik xx; Z.: Dr. Hilmer Meyer-Kulenkampff, Behlmer; R.: Michael Jung (GER)
Don Geniro v. Don Kennedy/Giorgione; Z.: Pamela Dews, Großbritannien; R.: Alex Hua Tian (CHN)
Fantastic Frieda v. For Edition/Pinkus: Z.: Sonja und Klaus Jungclaus, Engelschoff; R.: Joanna Pawlak (POL)
Viscera v. Fidertanz/Wolkentanz; Z.: Lena Nyström, Genarp/SWE; R.: Therese Viklund (SWE)
---
World Championships for Young Dressage Horses
The qualified Hannoveraner and Rheinlanderhorses competing for Germany have been determined. Seven Hannoveraner and two Rhinelander horses have qualified for Verden International with the World Championships for Young Dressage Horses from August 25 to 29 in Verden. Further Hannoveraner and Rhinelander horses competing for other nations will be announced soon via the social media of the Hannoveraner Verband e.V..
Five-year-old dressage horses:
Damaschino v. Danone I/Fidertanz; Z.: Burkhard Wahler, Medingen; R.: Hannah Laser
Danciero v. Dancier/Floriscount; Z.: ZG Boers und Weber, Aurich; R.: Eva Möller
Rod Laver v. Rock Forever I/Fidertanz; Z.: Simone und Thomas Visser, Dentlein; R.: Lena Stegeman
Reserve 1: Diaton v. Dimaggio/Benetton Dream; Z.: Silke Groeneveld, Bunde; R.: Frederic Wandres
Sechsjährige Dressurpferde/Six-year-old dressage horses:
Jetset v. Johnson/Beltoni; Z.:Nina Sixtensson, Köping/SWE; R.: Kira Laura Soddemann
Suarez v. Sezuan/Desperados; Z.: ZG Schmidt, Naumburg; R.: Mette Sejbjerg Jensen
Escamillo, Rheinländer, v. Escolar/Rohdiamant; Z.: Dr. Carolin Langhorst, Ratingen; R.: Manuel Dominguez Bernal/ESP
Siebenjährige Dressurpferde/Seven-year-old dressage horses:
Zoom v. Zack/Don Schufro; Z.: Dorthe M. Jeppesen, Lenzburg/SUI; R.: Helen Langehanenberg
Quiana, Rheinländer v. Quaterstern/Rubinstern Noir; Z.: Brigitta Wego, Wuppertal; R.: Nicole Wego-Engelmeyer
---
Don Principe passed away
The Hannoveraner stallion Don Principe has passed away at the age of 32. The son of Donnerhall out of a dam by Prince Thatch xx was bred by Adelheid Brüning, Ochtmannien. The bay stallion was discovered by Maryana Haymon of Marydell Farms/USA during her first Breeding Orientation Course of the Hannoveraner Verband in Germany. At the pre-selection for the licensing Don Principe was not selected.  He passed his 70-day test as third best and was subsequently licensed by the Hannoveraner Verband. He then moved to the ownership of Maryana Haymon. He was used in the USA in both breeding and sport. Probably his most famous son is Doctor Wendell MF, who was shortlisted for the 2021 Olympics for Russia. Maryana Haymon mourns the loss of Don Principe and his impact on breeding in the US. In 2003, Don Principe was USEF Dressage Breeding Sire of the Year.
---
Breed Orientation Course 2021
One has to be optimistic these days. Therefore, pending on the development of the Covid 19 pandemic we plan for a  Breed Orientation Course in 2021. We have scheduled it from October 30 until November 6 in connection with the stallion licensing for dressage stallions. This course has become iconic. It is an in-depth learning experience, offering lectures on bloodlines in Hanover and on the Hanoverian breeding programme. It includes the practical judging of horses, visits to the State Stud at Celle, to the stallion performance testing station at Adelheidsdorf and to other studs and breeders' farms. A very special highlight is the Hanoverian stallion licensing on the final three days of the course.
As the number of participants is limited, applications will be accepted on a first come basis.