I am pleased to be your new contact person for Hannoveraner breeding abroad and to continue the successful development of the breed outside of Germany together with you.
After tough months of waiting in this unpredictable time of the Corona virus, we are now happy to announce that the first Hannoveraner events outside of Germany could take place. At the beginning of June, a Hannoveraner mare performance test with awards, as well as foal registration was held at two locations in Denmark. In addition, a new board was elected in the Danish horse breeding club. Details can be found in this newsletter.
The next events will take place in Poland and France, the planning for these trips is already in full swing.
We look forward to meeting many of you in the coming summer months!
Best regards
Maren Schlender
Head of Breeding International
---
DER HANNOVERANER
Current-year members can download the pdf file of the latest issue of the English version of our members' magazine DER HANNOVERANER at the following link.
HV's "The Hanoverian" – 06|2021
---
Notification of birth and covering certificates via MeinHannoveraner
Many breeders already use MeinHannoveraner as a service of the Hannoveraner Verband. MeinHannoveraner gives you the opportunity to check your personal data and the data of your horses, which are registered with the Hannoveraner Verband, and in some cases even to maintain them.
You can access MeinHannoveraner via the homepage www.hannoveraner.com. MeinHannoveraner currently offers you the following options:
You can report the birth of your foals
View the coverings of your broodmares
Printing and/or emailing of covering certificates for your broodmares
You will get an overview of all mares and foals registered for you.
The registration of your broodmares
You can register horses for certain events
You will receive studbook excerpts of your registered horses as well as linear profiles, if any have been created for your horses.
You get access to our portal Dam Line
With the possibilities offered by this portal, it is no longer necessary for us to send you forms to report the birth of the foals you expect by post. You can check yourself in MeinHannoveraner which coverings or inseminations have been reported to us and you can report the births of your foals via MeinHannoveraner.
Please do not hesitate to contact Tanja Coors at if you have any questions.
Innovation: You would like to start with your breeding and you don't have a breeding certificate yet? If your mare is not yet registered with us, we will be happy to issue you a blank breeding certificate. You can order this online at https://en.hannoveraner.com/hannoveraner-zucht/deckscheine/.
---
Registration Trips 2021
We continue to be optimistic and plan our registration trips.
On June 11 in Lygne and on June 12 in Grindsted there will be an event with foal registration, foal selection for our online auctions, studbook inspection and riding horse selection for our auctions.
On July 12, the registration tour starts in France and Luxembourg, from July 16, the registration tour takes place in Poland. The registration tour in the Czech Republic and Austria starts on August 9 and ends with the Hannoveraner Tag in Gerasdorf near Vienna on August 15. The current schedule can be found at https://en.hannoveraner.com/hanoverian-breeding/.
---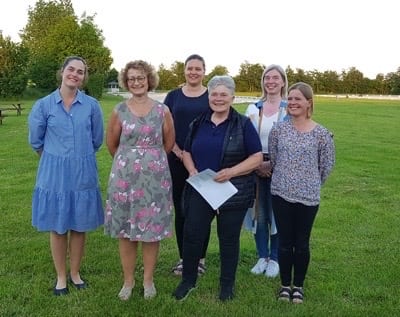 Photo f.l.t.r.: Kamilla Meyer, Karen B. Meyer, Malene Hinge Hoyer, Helene Geervliet, Henriette Bregendorf, June Flittner
New board in Denmark
The Danish Hannoveraner breeding club Hannoveraner Avlsforeningen i Danmark has a new board. Already in the run-up to the meeting, chairwoman Anne Kollberg had announced in the invitation to the general meeting that the previous board would not be available for another election period. The club, which was founded in 2008, was faced with the question of dissolution. At the general meeting in Ringsted at the beginning of June, a new board was now elected, which will support the activities of the Hannoveraner Verband in Denmark. Helene Geervliet, Lynge, was elected as the new chairwoman. Her deputy is Kamilla Meyer, Skaelskoer. Maren Schlender, Erdwig Holste and Bo Eitenmüller from the Hannoveraner Verband were present and thanked the old board for their work. They wish the new board much success and good cooperation with the Hannoveraner Verband.
For interested breeders in Denmark, the new homepage of the breed club is available at http://hannoveranerdanmark.dk.
---
Two breeding events in Denmark
On Denmark's largest island, Zealand, two events were held at the beginning of June at the Stutteri G. Stud of Helene Geervlieth, Lynge, and one day later at the Grindsted Riding Club to the west. On both dates, a mare performance test as well as studbook inspections were offered.
---
Verden Auction Online - Riding Horses - July 
The collection of the Verden Auction in July holds 38 dressage and 25 showjumping horses.
Bids can be submitted from July 11. The final bid-up for the riding horses will begin at 2 p.m. on Saturday, July 17. All you need to do to bid is register at www.verdener-auktion-online.com.
---
Verden Auction Online - Foals - June (1/2)
Sir Lui and Savanna achieved top prices as a double: together, the two black beauties will be a future pas de deux for a new customer in Germany. The first exciting bidding duel of the evening revolved around the Sezuan's Donnerhall/Don Crusador daughter Savanna (breeder and exhibitor: Reinhard Wilms GbR, Hinte), who was the third foal to enter the final bidding. After 46 bids, the hammer fell at 26,500 Euros for customers from Germany. It was precisely these customers who struck a second time and secured the top price of the evening for 27,500 Euros: Sir Lui by Secret/Sarkozy (breeder and exhibitor: Zuchtgemeinschaft Dittmer, Rhade). An average of 9,259.62 euros was paid for the 26 representatives of the 2021 vintage.
---
Verden Auction Online - Foals - June (2/2)
The best paid foal was Vom anderen Stern by Viva Gold/Fidertanz (breeder and exhibitor: Kai Baumgartner, Wulkau). A new customer from Lower Saxony secured the promising youngster for 20,500 Euros. Charity Odessa by Chacfly PS/Cascadello (breeder and exhibitor: Ludwig Decker Jun., Bierbergen) comes from the very best dam line of Klaseta.
18 auction foals were bought by bidders from Germany, four move to a new stable in Poland, three of the foals start their journey to Spain, two move to Ukraine and one foal each moves to Sweden, Great Britain and Hungary.
---
Stallions licensed in Australia and New Zealand
During the registration trips of the daughter societies in Australia (Hanoverian Horse Society of Australia/HHSA) and New Zealand ( New Zealand Hanoverian Society/NZHS), stallions were also presented for licensing. The five-year-old Hannoveraner stallion Fidibus by Floriscount/Rubin Royal/Werther, bred by Friedel Cordes, Süderwalsede, and owned by Alexis Hellyer and Elliot Patterson of the Pines Performance Center, Moggill, Queensland, was licensed in Australia. Fidibus has already achieved excellent results in young horse competitions.
Licensed in New Zealand was the four-year-old Rhineland-bred Furst Hit EDH by Fürstenball/Sandro Hit/Jazz bred and owned by Elite Dressage Horses, Hamilton.
Due to the current situation, the licensing committees of the two daughter societies were each supported digitally from Verden with test riders on site.
---
Potential Olympic candidates
The Tokyo 2020 Olympic Games and Paraolympics have been postponed by one year. At the Equestrian Games, the dressage riders will determine their Olympic champions from July 23 to 28. They will be followed by the eventers from July 29 to August 2. Finally, from August 3 to 7, the show jumpers will compete for gold, silver and bronze. The Paralympics will take place from August 24 to September 5. Deadline for the nomination of participants is July 5. As of June 22, 2021
Dressage/Dressur
Divina Royal by Desperados/Royal Highness; breeder: Janina Weinheimer, Hellwege; rider: Jose Antonio Garcia Mena (ESP)
Duke of Britain FRH (Hann GBR) by Dimaggio/Rubinstein; breeder: Sarah and Tony Pidgley, Windsor/GBR: rider: Frederic Wandres (GER)
Faustus by Falsterbo/Forrest xx; breeder: Heino Bruns, Gödenstorf; rider: Dorothee Schneider (GER)
Fernando by Florestan/Contendro; breeder: Tobias Große Lembeck, Warendorf; rider: Shingo Hayashi (JPN)
Hawtins Delicato (Hann GBR) by Diamond Hit/Regazzoni; breeder: Judith Davis, Staunton /GBR, rider: Fiona Bigwood (GBR)
Mount St John Freestyle by Fidermark/Donnerhall; breeder: Stephan Kurz, Zöbingen; rider: Chalotte Dujardin
Quantico by Fighting Fit/Constant; breeder: Marijke Goethals, Eeklo/BEL; rider: Juan Matute Guimon (ESP)
Roccabar by Riedinger/Compliment; breeder: Ute Meyer, Meetschow; rider: Hiroyuki Kitahara (JPN)
Salvino by Sandro Hit/Donnerhall; breeder: Joachim Essink, Stockach; rider: Adrienne Lyle (USA)
Sanceo by San Remo/Ramiro's Son II; breeder: Gerhard Dustmann, Melle; rider: Sabine Shut-Kery (USA)
Santiago Song (Rhld.) by Sir Donnerhall/Larome; breeder Horse Centre Antwerp, Niylen (BEL); rider: Thibault Vandenberghe (BEL)
Scolari by Sandro Hit/Brentano II; breeder: Hermann Timmel, Emsbüren; rider: Shingo Hayashi (JPN)
Showtime FRH by. Sandro Hit/Rotspon; breeder: Heinrich Wecke, Stadthagen; rider: Dorothee Schneider (GER)
Tarantino by Toronto/Carbid; breeder: Hans-Günther Böhl, Bad Berleburg; rider: Carina Scholz (GER)
Total US by Totilas/Sir Donnerhall; breeder: Gestüt Lewitz, Mühlen; rider: Edward Gal (NED)
Toto Jr. by Totilas/Desperados; breeder: ZG Schmidt, Naumburg; rider: Edward Gal (NED)
Jumping/Springen
Baloutinue by Balou du Rouet/Landor S; breeder: Heinrich Meyer, Langwedel; rider: Laura Kraut (USA)
Coby by Contagio/Escudo I; breeder: Jürgen Geffken, Lilienthal; rider: Philipp Weishaupt (GER)
Cornetto K by Cornet Obolensky/Calido; breeder: Krull GbR, Dörpen; rider: Alexandra Thornton (GBR)
Don Diarado (Rhld.) by Diarado/Lord Lancer; breeder: Dirk Lohmann, Schermbeck; rider: Maurice Tebbel (GER)
Eventing/Vielseitigkeit
FRH Butt's Avondale by Nobre xx/Heraldik xx; breeder: Prof. Dr. Volker Steinkraus, Ollsen; rider: Anna Siemer (GER)
FRH Corrida by Contendro/Espri; breeder: Dr. Rainer Zurmaar, Ehlscheid; rider: Andreas Dibowski (GER)
fischerChipmunk FRH by. Contendro/Heraldik xx; breeder: Dr. Hilmer Meyer-Kuhlenkampff, Behlmer; rider: Michael Jung (GER)
---
Rotspon retired from stud
The now 26-year-old stallion of the Celle State Stud is no longer available at stud. "Rotspon found it increasingly difficult to jump on the phantom", the state stud announces. "We had the hope that the otherwise energetic Rotspon would still manage to fulfill his duties as a stallion- unfortunately, this is not the case. For the welfare of the stallion, we have therefore decided to stop offering his fresh semen."
Rotspon was reserve champion at his licensing in 1997 and was awarded the title of Hannoveraner Stallion of the Year in 2017. There are nearly 2800 offspring registered for the Hannoveraner Verband, including 708 broodmares and 17 licensed stallions.
---
German Championships
In Balve, Vittorio by Valentino/Ramiro's Bube (breeder: Dr. Hartmut Schulte-Wiese, Plettenberg) and Sophie Hinners became German Champions of female show jumping riders. The Rhinelander Cascadello-Boy RM by Cascadello/Balou du Rouet (breeder: Josef Ruyter, Rees) and Katrin Eckermann were the runners-up.
Two bronze medals were won by the Sandro Hit/Rotspon son Showtime FRH (breeder: Heinrich Wecke, Stadthagen) and Dorothee Schneider in the Grand Prix Special and the Freestyle.
In the division of U25 dressage riders Carlos FRH by Carabas/Weltmeyer (breeder: Franz Johann Reinartz, Eupen/BEL) and Hannah Erbe won the bronze medal in the Grand Prix and the silver medal in the Freestyle Final.
---
Breed Orientation Course 2021
One has to be optimistic these days. Therefore, pending on the development of the Covid 19 pandemic we plan for a  Breed Orientation Course in 2021. We have scheduled it from October 30 until November 6 in connection with the stallion licensing for dressage stallions. This course has become iconic. It is an in-depth learning experience, offering lectures on bloodlines in Hanover and on the Hanoverian breeding program. It includes the practical judging of horses, visits to the State Stud at Celle, to the stallion performance testing station at Adelheidsdorf, and to other studs and breeders' farms. A very special highlight is the Hanoverian stallion licensing on the final three days of the course.
As the number of participants is limited, applications will be accepted on a first-come basis.
For more information please contact Tanja Coors by August 30, e-mail: , ph.: +49-4231-673719, fax: +49-4231-673712