Dear Hannoveraner and Rhineland breeders, almost all foals are born by now. We wish you as breeder or owner many beautiful moments with the new generation of horses!
All information about the dates of foal registration can be found below. The team of the Hannoveraner Verband is already looking forward to meeting many faces and horses live on site again!
With best regards from Verden
Your team of the Hannoveraner Verband
---
DER HANNOVERANER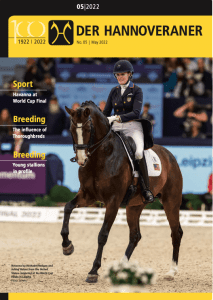 Current-year members can download the pdf file of the latest issue of the English version of our members' magazine DER HANNOVERANER at the following link.
HV's "The Hanoverian" – 05|2022
---
MeinHannoveraner - Many possibilities of use
The member portal MeinHannoveraner offers a digital administration of your membership and your horse stock. From birth registration to mare management ( breeding certificate, studbook extract, canceling and registering mares) and online payment of membership fees to online access to DER HANNOVERANER in German and English, the portal provides the breeder with many options. Click here to go to MeinHannoveraner.
Please do not hesitate to contact Tanja Coors at if you have any questions.
---
Amendment of the fee schedule
During the Delegates' Assembly, the proposed changes to the Fee Schedule were voted on and passed. A summary and the detailed fee schedule can be found here.
---
The breeding dates abroad are set
The Hannoveraner Verband is also active abroad. In addition to the EU member states Austria, Belgium, Croatia, Czech Republic, Denmark, Finland, France, Hungary, Italy, Luxembourg, Netherlands, Poland, Portugal, Slovakia, Slovenia, Spain and Sweden, the Hannoveraner Verband also conducts its breeding program in the contracting states Switzerland and Norway and the third country states Russia, Canada, South Africa and Ukraine. Foal registrations and studbook inspections are possible in the listed countries.
For most countries there are (linked below) fixed events and registration trips.
[More]
---
Yearbook Stallions 2022
The Yearbook Stallions 2022 will be published in a few days! For the price of 25 Euro plus shipping, the Yearbook can be ordered at the Hannoveraner Verband, Mrs. Mindermann, .
---