Dear Hannoveraner and Rhineland breeders,
at the CCI5* in Kentucky, USA, Michael Jung, and fischerChipmunk FRH won with a world record! With a sensational 20.1 points, they finished with a result that has never been achieved before in a CCI5*. For the Contendro/Heraldik xx son, bred by Dr. Hilmer Meyer-Kulenkampff, it was also the first start in a CCI5* in contrast to his rider. With this victory, Michael Jung could already celebrate his eleventh 5-star victory.
We hope that the season continues so successfully for this pair and keep our fingers crossed!
Best regards
Maren Schlender
Head of Breeding International
---
DER HANNOVERANER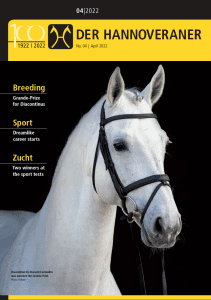 Current-year members can download the pdf file of the latest issue of the English version of our members' magazine DER HANNOVERANER at the following link.
HV's "The Hanoverian" – 04|2022
---
Invoice for membership fees, breeding certificates and notification of birth via MeinHannoveraner
NEW: Invoices for membership fee are online, payable directly in MeinHANNOVERANER via credit card
Many breeders already use MeinHannovearner as a service of the Hannoveraner Verband. MeinHannoveraner gives you the opportunity to check your personal data and the data of your horses, which are registered with the Hannoveraner Verband, and in some cases even to maintain them.
Like last year, users of MeinHannoveraner will only receive the invoice for membership fees via MeinHannoveraner. The invoice is available in the mailbox. There will be no additional postal delivery of the invoice. As of this year, the invoice can be paid directly in MeinHannoveraner by credit card.
You can check yourself in MeinHannoveraner which coverings or inseminations have been reported to us and you can report the births of your foals via MeinHannoveraner.
Please do not hesitate to contact Tanja Coors at  if you have any questions.
---
Verden Auction Online - Riding horses on April 23, 2022
Moonlight Sonata by Morricone/Lauries Crusador xx (breeder: Dr. Carsten Haack, Freiburg, exhibitor: Dr. Erdal Yesilkaya, Odenthal) achieved the top price at 105,000 Euros. The buyer from Lower Saxony found what he was looking for for the first time in Verden.
The highlight of the showjumping horses was head number 4, Quinta by Qualito/Perigueux (breeder: Carsten Thies, Winsen, exhibitor: Stüvel GbR, Zeetze), she achieved a knockdown price of 38,500 Euros. She will start her journey to international customers in Greece.
Almost exactly half of the auction lot will advertise Hannoveraner abroad. Five times customers from France placed the last bid, four times buyers from Finland had the longest breath. Three horses were sold to Spain.
[More]
---
Verden Auction Online - Foals
The Bonds/San Amour - son Be My Beauty King (breeder and exhibitor: Stefan Hermann, Northeim) was already the favorite for the top price in the run-up to the auction. His full sister, Be My Beauty Queen, born in 2017, is the most expensive foal sold at a Verden Auction to date, with a hammer price of 160,000 euros. A breeder from Schleswig-Holstein secured the high-quality bay for 20,000 euros.
The highest-paid foal with jumping genes was Haiti by Hardrock Z/Comme il faut (breeder and exhibitor: Hof Brüning GbR, Ochtmannien), which was worth 12,500 Euros to a buyer from Hungary. Last year, his brother Emilio by Epleaser can't Heike was also part of the lot at the opening event of the Verden Foal Spring.
The first online auction of foals ended with an average price of 8,227 euros. Hannover's youngest will not only grow up all over Germany but also abroad. In addition to buyers from Europe, there were customers from Argentina and the USA.
---
Delegates' Assembly
The Delegates' Assembly for the fiscal years 2020 and 2021 will be held in Verden on May 11, 2022.
---
The breeding dates abroad are set
The Hannoveraner Verband is also active abroad. In addition to the EU member states Austria, Belgium, Croatia, Czech Republic, Denmark, Finland, France, Hungary, Italy, Luxembourg, Netherlands, Poland, Portugal, Slovakia, Slovenia, Spain and Sweden, the Hannoveraner Verband also conducts its breeding program in the contracting states Switzerland and Norway and the third country states Russia, Canada, South Africa and Ukraine. Foal registrations and studbook inspections are possible in the listed countries.
For most countries, there are (linked below) fixed events and registration trips.
---
Short disposition test in Münster-Handorf
At the pilot project "2-day test" of the Westphalian Studbook in Münster-Handorf, places one to three were taken by Hannoveraner. The Vitalis/Fidertanz son Vogue (breeder: ZG Werth, Moers) led the 26-strong field of participants. The three-year-old achieved a final score of 9.33. Escaneno by Escamillo/Veneno (breeder: Tobias Schult, Hünxe) was hardly inferior to him with a final score of 9.05. Third in the group was Geronimo G by Glamourdale/Escolar (breeder: Gestüt Grasekamp, Datteln), who received an even "very good" (9.01).
---
Report from New Zealand
Today we celebrate the New Zealand Hanoverians and Rheinlanders that have performed very well over the past summer months.

South Island Dressage Championships.
Novice Champions - Falcon O Rhein.(Furstenball Old/Lessing) with Candice Nichol B. Anne Stewart
Reserve Champion - Flash O Rhein. (Furstenball Old /Dream of Gold) with new owner Jan Morice B. Anne Stewart
And a very close third after a countback was
Dulcet (Dante Weltino/Furst Romancier) with Cherie Pearson B. Janne and Georgia Worth. Dulcet also won both the South Island Performance awards – The Super 5 and Musical Fresstyle -at this level.
Elementary Champion - Hi D`Zine MH (His Highness/Dancier) with Allie Harper B. Matthews Hanoverians.
Advanced Medium Champion - Zodiac DW (Zonik/Anamour) with Sophie Griffith B. David Woolley
Advanced Champion - Wisdom WDS Rhein. (Whisper IV/Anamour) with Amelia Greening B. Kieryn Walton.
Small Tour Champion - Sartorial Hit SW (Sarkozy/Anamour) with Jackie Thomas B. Sterling Warmbloods
Grand Prix Champion - I LIke It Imp. (Iberio/Wolkenstein II) with Kate Tobin B.Gerhard Wendelken
Young Rider Advance Champion - Donatello MH (De Niro/Witzbold) with Jorja Dann. B. Matthews Hanoverians.
Master Champion - Denzel MH (Dancier/Brentano II) with Mary Davis B. Matthews Hanoverians.
Dressage 4 Denmark – a specially staged show to give our GP riders a chance to achieve a MER for the World Championships, given that they could travel to Australia to compete there but not get back home easily again due to travel restrictions.
GP Reserve Champion - Timbermill Prequel (Prestige VDL KWPN/Dream Boy Hann) with Vanessa Way B. Kerry Sanders
Reserve Small Tour Champion - BL All BY Chance (Anamour/ Hey Baba Riba xx) with Renee Etherington. B. Wendy Freeman
Young Rider Champion - BL About Time (Anamour/Witzbold) with Meg Johnston B. Wendy Freeman
South Island Showjumping Championships.
Champion Junior Rider and Equitation Series - Henton Excalibur (El Bundy/Dynamit) with Madison Lockstone B. Henton Lodge Hanoverians – Dave and Bridget Sutton.
This combination also became Young Rider reserve champion at the Central District Championships.
Hawkes Bay Show Jumping Championships.
GP Reserve Champion 1.40m - Enya MH (Edward/Gymnastik Star) with Melody Matheson. B. Matthews Hanoverians – Peter and Judith Matthews and owned by Matthews Hanoverians and Angela Miller.
Young Horse 6-year-old Champion 1.10m Groove Girl PSH (Graf Top/Prince of Praise xx) Maddison Greatorex B. Nicolette Rendle
This combination also won the same class at Waitemata Show Jumping Festival.
Champion at 1.15m and placed in Young Rider Championship - Cravino STS (Corofino II Holst/Anamour) with Chantelle Smith B. Colin and Toni Louisson
Hunua of the Year Eventing (in place of the canceled Horse of the Year Show)
Reserve Champion 3* Henton for Glory (For Edition/Escudo I) Donna Edwards- Smith. B. Henton Lodge Hanoverians
CHS Royal Genie (Royal Blend/Dynamit) was placed in this class with Charlotte Treneary .
This combination also ran 5th in the 3* at Hawkes Bay and 2nd in the 2* at Central Districts.  B. Chris and Tracey Sorrell.
Hawkes Bay Eventing Championships
Reserve Champion 2* Henton Ambassador (Anamour/Distelfink) with Matthew Grayling B. Henton Lodge Hanoverians
Champion 95 cm class Henton Hight Court (Hyperion/Limonit) with Olivia Sutton B. Henton Lodge Hanoverians
 
By Robin Potter – Studbook keeper, New Zealand Hanoverian Society.
---
Breeding certificates
Please remember to send us your breeding certificates! If you do not have a breeding certificate for your mare yet, you can also request breeding certificates for the past breeding season here.
---
Yearbook Stallions 2022
The Yearbook Stallions 2022 will be published in a few days! For the price of 25 Euro plus shipping, the Yearbook can be ordered at the Hannoveraner Verband, Mrs. Mindermann, .
---