Dear Hanoverian and Rhineland breeders,
The outbreak of the herpes virus in Spain in times of the Covid-19 pandemic was a great shock. Many horses lost their lives. In many European countries, all horse shows and other equestrian events were canceled in March. Now we hope that under observance of the necessary safety measurements events can take place again. Tomorrow we are going to hold our annual free jumping competition, which you can follow worldwide on the internet.
Anne Kollberg
President Hannoveraner International
& the team of Hannoveraner Verband
Dr. Ludwig Christmann
Director department
breeding in foreign countries
---
DER HANNOVERANER
Current-year members can download the pdf file of the latest issue of the English version of our members' magazine DER HANNOVERANER at the following link.
HV's "The Hanoverian" – 03|2021
---
Special provision 2021 for the registration of stallions
We thought we had a viable SPTconcept in terms of testing after a year of Covid-19, now we have the herpes problem. National shows are allowed again after March 28, but only if the horses are not stalled. However, without stabling, the stallion performance tests cannot be performed as a disposition or sport test. Therefore, these have been cancelled until April 11, 2021.
In order to give breeders and stallion owners sufficient planning security for the current breeding season, this now results in a similar decision situation as in 2020:
1. Three- and four-year-old licensed stallions may be provisionally entered in Stallion Book I for the 2021 breeding season even without previous participation in a stallion performance test. Five- and six-year-old licensed stallions must have at least one result from a 14-day performance test in order to be provisionally entered in Stallion Book I for 2021. There is no special solution for seven-year-old stallions.
 
2. We will again provisionally adopt the licensing decisions for young stallions of other accepted studbooks (licensing in 2020) and also provisionally enter the stallions in Stallion Book I. (Decision of the Breeding Committee still has to be confirmed by the Presidium).
---
Find covering certificates for your mares in MeinHannoveraner
Many breeders already use MeinHannovearner as a service of the Hannoveraner Verband. MeinHannoveraner gives you the opportunity to check your personal data and the data of your horses, which are registered with the Hannoveraner Verband, and in some cases even to maintain them.
You can access MeinHannoveraner via the homepage www.hannoveraner.com. MeinHannoveraner currently offers you the following options:
-         You can report the birth of your foals
-         View the coverings of your broodmares
-         Download covering certificates with the details of your active mares
-         You will get an overview of all mares and foals registered for you
-         Register and deregister your broodmares
-         Download studbook excerpts of your registered horses as well as linear profiles, if any have been created for your horses.
-         You get access to our portal Dam Line
You can check yourself in MeinHannoveraner which coverings or inseminations have been reported to us and you can report the births of your foals via MeinHannoveraner.
Please do not hesitate to contact Tanja Coors at  if you have any questions.
---
Brexit consequences
The responsible British authority DEFRA (Department for Environment, Food & Rural Affairs) has rejected the application of the Hanoverian Association to continue to operate in Great Britain and to look after Rhenish and Hanoverian breeders there. The Hannoveraner Verband has informed the affected breeders about this situation by e-mail and pointed out that breeding of the Hannoveraner and Rhineland horses in Great Britain is still possible. The responsibility for this now lies exclusively with the British Hanoverian Horse Society.
In order to allow further trade with horses, but also with semen between Germany and England, the Hannoveraner Verband will be listed as a third country studbook. A deadline of June 30, 2021, has been set for this.
---
BHHS: Katy-Holder-Vale confirmed as president
The British Hanoverian Horse Society's general membership meeting was held March 22 via Zoom Conference. Chair Katy Holder-Vale, Vice Chair Judith Davis and Studbook Manager Kate Eaton were up for re-election. They were unanimously confirmed in their positions. Due to time constraints, Nicole Nelson stepped down from her position as Director. Alison Ramseier was elected to succeed her.
Treasurer Sandy Senior shared that 2020, a difficult year financially due to the Corona pandemic, was successful. Studbook Manager Kate Eaton was also able to report positive numbers regarding foal registration. Registration is still pending for some foals. Overall, she expects about 220 foals of the 2020 birth year to be registered.
---
Hochmeister new at Weedern
The former Moritzburg state stud stallion Hochmeister by Hochadel Sherwood out of the famous Alferate mare line will move into a stallion box at the Hanoverian stud Weedern in the Russian district of Kaliningrad. There he will succeed the Weltmeyer son Walchensee and will also meet daughters of the Dancier son Dantander Hit. Dantander Hit has been heavily used in past years in Weedern and has left a very good progeny.
---
Stallion lines, part two
On Wednesday, March 31, there will be part two of the English-language seminar on stallion lines in Hanoverian breeding via video conference. Start time is 8 p.m. CET, which is 7 p.m. British time. Speaker will be Dr. Ludwig Christmann. New registrations will be accepted by Kate Eaton . The topic will be mainly stallion lines with non-Hanoverian origin. The first part was followed by more than 30 participants. They will automatically receive the access link.
---
Registration trip to South Africa cancelled
Due to the still prevailing Covid 19 pandemic, the registration trip to South Africa had to be cancelled once again. In a Zoom conference, South African breeders and representatives of the Hannoveraner Verband discussed possible alternatives for foal registration and studbook entry.
---
Registration trips 2021
We remain optimistic and hopeful. A first draft of a schedule for registration trips to some countries, which will hopefully be possible this year, has been prepared. The following trips are planned up to and including July: Denmark: June 11/12, Belgium, France and Poland: mid-July each.
---
Linear profiles online in MeinHannoveraner
With the help of the VIT Verden, the Hannoveraner Verband has reviewed the linear profiles of 2201 mares in mare performance tests and 3412 mares with studbook inspection results and created genetic profiles for the sires of these mares. For 75 stallions with ten or more linear described offspring, corresponding diagrams could be generated. Work is currently underway to make these results available to all Hanoverian and Rhineland breeders in MeinHannoveraner. It is expected that this work will be completed within the next two weeks. So it is worthwhile to have a look at MeinHannoveraner from time to time.
---
Watch the  Free Jumping Competition live on Youtube
The free jumping competition will be open for all three and four year old Hanoverians and Rhinelanders for the first time in 2021. The date is Wednesday, March 31, starting at 9.00 am German time. Approximately 50 three-year-olds and 30 four-year-olds were registered for the competition. Judges will be the internationally successful rider and trainer Mario Stevens and Thomas Schönig from the Hannoveraner Verband. The competition will be broadcast live on YouTube channel of Hannoveraner Verband https://www.youtube.com/watch?v=J8MlCimTYQk More information can be found here:
---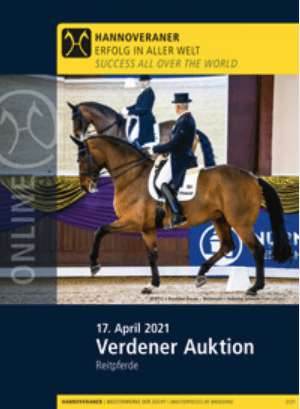 Verden Auction Online on April, 17th - Sport Horses
You are planning to purchase a horse? The collection of the Verden Auction Online on April, 17th, features stars of tomorrow and friends for a lifetime. We will be happy to present an exquisite collection of dressage, show jumping, eventing and pleasure horses! It is our pleasure to present the carefully chosen, test ridden and vet checked horses– for you! From April 6 to17 it is possible to follow the daily training of all auction horses. The test riding is only possible with a personal appointment. Please contact our customer advisors to talk about your preferences. They will be more than happy to make an appointment with you for the test riding. The 44 dressage horses and 35 show jumper will be auctioned online at www.verdener-auktion-online.com. Bids can be submitted from April 11. The final bid-up for the riding horses starts April 17 at 2 p.m. On the website you can register for bidding.
---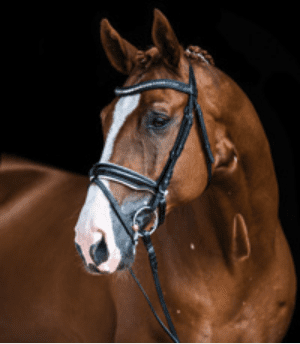 Grande Prize for Stanley
The Stakkato/Loredo son Stanley is one of the older Grande Prize winners by comparison. He did not enter stud service until he was four years old after passing his performance test, and his first crop was not particularly strong in numbers, so it took a little longer for the first breeding values to come about based on the sport and breeding results of his offspring. The stallion, born at Wilfried Berg in Burgdorf in 2006, took third place in his 300-day test in Adelheidsdorf. With Eva Bitter, he won the Hanoverian Show Jumping Championships. Injuries ended his sport career, and he returned to the Celle State Stud, where breeders did not pay much attention to him at first. In the meantime, his successful offspring Han.Pr.A. Sally with Finja Bormann, Smire S with Yasser Al Sharif and Stuart with Katrin Eckermann are competing on international show grounds. His heredity out of a safe mare line should give courage to give his breeding career a boost again.
The naming is intended to honor the hereditary performance of the prepotent stallion Grande. The previous winners of the Grande award can be found here
---
Farewell to Elvis VA
Where he danced, he conquered hearts. He became team World Champion and Olympic champion with Germany's Nadine Capellmann. Now he passed away at the age of 25: Elvis VA.
Read more about Elvis in the attached DER HANNOVERANER.
---
The experiment – Once proven jumper sires meet modern mares
They were the heroes of their time, and the sound of their names still brings a glow to the eyes of many Hannoveraner show jumping breeders…They were stallions of the year, stood for Hannoveraner virtues and made the Hannoveraner show jumper internationally desirable. A glorified past? Irretrievable? Perhaps. Maybe not. Read more about the experiment in the attached DER HANNOVERANER.
---
Sultan de Paluds sold to Great Britain
The Soliman de Hus/De Niro son Sultan des Paluds (breeder: Pablo Bouillot, Maussane des Alpilles/FRA) has new owners. The French-bred dark chestnut was runner-up in the 2017 World Championships for seven-year-old dressage horses with Dutch rider Kirsten Brouwer. Now he has been sold to the Pidgley family from Great Britain. The goal of 16-year-old Annabella Pidgley, who is trained by Cathrine Dufour, is the European Junior Championships.
---
Bloomberg wins in Ermelo
At the end of October last year, Bloomberg by Bon Coeur/Don Index (breeder: Ludwig Schüring, Gescher) won the 21-day test in Ermelo/NED with a final score of 8.85. A total of ten dressage stallions were approved, the Hannoveraner was the only horse bred in Germany. The black stallion was exhibited by the Ferienhof Stüker stallion station in Weeze and impressed with his character and rideability. Shortly before, Bloomberg and his rider Marina Welbers had been fourth at the Hanoverian Championships in Verden as well as at the Bundeschampionat and had passed his 14-day test in Adelheidsdorf. There he was also licensed for Hanover.
---
Breed Orientation Course 2021
One has to be optimistic these days. Therefore, pending on the development of the Covid 19 pandemic we plan for a  Breed Orientation Course in 2021. We have scheduled it from October 30 until November 6 in connection with the stallion licensing for dressage stallions. This course has become iconic. It is an in-depth learning experience, offering lectures on bloodlines in Hanover and on the Hanoverian breeding programme. It includes the practical judging of horses, visits to the State Stud at Celle, to the stallion performance testing station at Adelheidsdorf and to other studs and breeders' farms. A very special highlight is the Hanoverian stallion licensing on the final three days of the course.
As the number of participants is limited, applications will be accepted on a first come basis.
For more information please contact Tanja Coors by August 30, e-mail: , ph.: +49-4231-673719, fax: +49-4231-673712
---
Hannoveraner Yearbook of Stallions 2021
Also this year there are innovations in the Hannoveraner Yearbook of Stallions. In the progeny information of a stallion, the test class S is shown in a more differentiated way. So you can see which show jumpers are successful in 1.40 meter or 1.60 meter tests, whether dressage offspring are successful in S* or at Grand Prix level. The number of offspring of a stallion is divided into three age classes This makes it easier to interpret offspring performance in sport, among other things. In the breeding value estimation section, another breeding value is added, namely that for height. After all, the question of how tall the offspring of a stallion is is important for every mating decision.
The Hannoveraner Yearbook of Stallions 2021 was published a few days ago and can be ordered at the price of 25 Euro plus postage from the Hanoverian Verband, Mrs. Mindermann, .