Only a few weeks ago, one could not have imagined a foreword like this. The current situation in parts of Europe also shocks the Hannoveraner Verband and hardly allows a normal everyday life. This is especially true for our work in the affected countries. We cannot guess what will happen in the near or distant future. We are in contact with our members and partners who are directly and indirectly affected by the war. Our thoughts are with you and we hope that there will be a peaceful solution soon!
What unites us in the Hannoveraner Verband is what this newsletter is about - our horses. There is good news from France. Read among other things which Hannoveraner are among the TOP 100 young horses in the rankings in France.
Best regards
Maren Schlender
Head of Breeding International
---
DER HANNOVERANER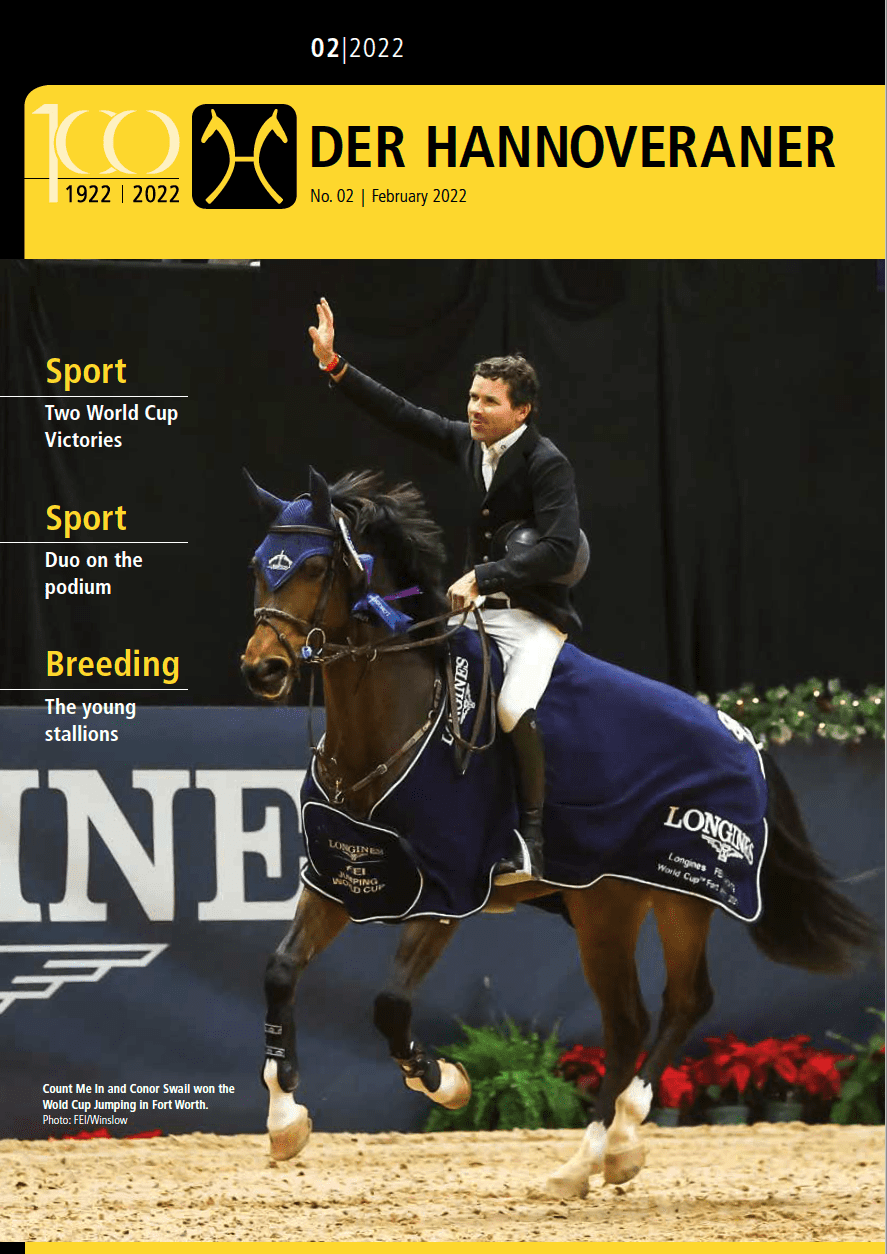 Current-year members can download the pdf file of the latest issue of the English version of our members' magazine DER HANNOVERANER at the following link.
HV's "The Hanoverian" – 02|2022
---
Invoice for membership fees, breeding certificates and notification of birth via MeinHannoveraner
NEW: Invoices for membership fee are online, payable directly in MeinHANNOVERANER via credit card
Many breeders already use MeinHannovearner as a service of the Hannoveraner Verband. MeinHannoveraner gives you the opportunity to check your personal data and the data of your horses, which are registered with the Hannoveraner Verband, and in some cases even to maintain them.
You can access MeinHannoveraner via the homepage https://link.edgepilot.com/s/14be7375/SdY-sriOkkiVXkFOMssuNA?u=http://www.hannoveraner.com/. MeinHannoveraner currently offers you the following options:
You can report the birth of your foals
View the coverings of your broodmares
Download covering certificates with the details of your active mares
You will get an overview of all mares and foals registered for you
Register and deregister your broodmares
Download studbook excerpts of your registered horses as well as linear profiles, if any have been created for your horses
You get access to our portal Dam Line
Like last year, users of MeinHannoveraner will only receive the invoice for membership fees via MeinHannoveraner. The invoice is available in the mailbox. There will be no additional postal delivery of the invoice. As of this year, the invoice can be paid directly in MeinHannoveraner by credit card.
You can check yourself in MeinHannoveraner which coverings or inseminations have been reported to us and you can report the births of your foals via MeinHannoveraner.
Please do not hesitate to contact Tanja Coors at  if you have any questions.
---
Verden Auction Online - Riding horses on April 23, 2022
The collection of the April Auction includes 37 selected dressage horses and 21 show jumpers. The auction horses can be inspected in training every day from April 10 to 23 and can be tried out by appointment. The collection of riding horses can already be seen online at https://link.edgepilot.com/s/23226061/r-DntxdOnUSl9CIbv9w1LQ?u=http://www.verdener-auktion-online.com/.
The auction of the riding horses will take place online. Bids can be submitted from April 17 onwards. The final bid-up of the riding horses will start on Saturday, April 23, at 2 pm. To bid, register at https://link.edgepilot.com/s/23226061/r-DntxdOnUSl9CIbv9w1LQ?u=http://www.verdener-auktion-online.com/.
---
Hannoveraner successful in France
Among the TOP 100 horses in the annual ranking of the French sport federation Société Hippique Francaise (SHF), Hannoveraners have been highly successful in the young horse classes of four to six year old dressage horses. In the "Championat Cycle Classique", the highest level of the young horse classes, eight Hannoveraners were placed among the best 15 horses in the four-year-old class alone.
The first two places were claimed by Berlioz LH by Bon Bon Coeur/De Niro (breeder: Jean Claude Ferrand, Contest/FRA) and Damore Mio Mercoeur by Don Juan de Hus/Sandro Hit (breeder: ZG Guillaume Gautier, Joue sure Erdre/FRA). Dempsey FBC by Don Juan de Hus/Contendro I (breeder: Hof Brüning, Ochtmannien/GER) follows in fourth place. The Scolari/Christ son Sounds Great Equitelos (breeder: Günter Janzen, Wischhafen/GER) and the Don Juan de Hus/Lauries Crusador xx daughter Hann.Pr.A. Darling Sunsation (breeder: Wiedeke Zijp, Leffard/FRA) follow in seventh and eighth place. Also in the Top 15 are Figari Gold by Fürst Romancier/Hohenstein (breeder: Thorsten Hogrefe, Rethem/GER), Voulez vous by VDB by Vitalis/St. Moritz (breeder: Andreas Trompeter, Sottrum/GER) and Beau Coeur MB by Bon Coeur/Weltmeyer (ZG Bley, Delmenhorst/GER).
Third best five-year-old is Hann.Pr.A. Dina Sunsation by Don Juan De Hus/Lauries Crusador xx (breeder: Wiedeke Zijp, Leffard/FRA), the full sister to Hann.Pr.A. Darling Sunsation. Other Hannoveraners in the Top 15 are Bellini Jiva by Benicio/Scolari (breeder: Ingo Pape, Hemmor/GER), Fortius LTH Dressvalue by Fürst Belissaro/Bonifatius (breeder: Anja Eisel, Behren-Lübchin/GER), Loudzi Gold by Livaldon/ Scolari (breeder: Heinz Gerdes, Hude/GER) and Damour de Maison Rouge by Don Juan de Hus/ San Amour I (breeder: Denise Sebillotte - Moser, Villiers Sur Tholon/FRA).
In the six-year-old class, the Hannoveraner colours are held high by Dothraki de la Gesse by Dragon Hill/Rubin-Royal (breeder: Helen Burgess, Boulogne sur Gesse/FRA) and Dragon Star by Dimaggio/Wolkentanz II (breeder: Diane Riggaz, Aubignan/FRA), who took 13th and 14th place in the ranking.
The most successful breeders were also determined in the "Championat Classique". Xavier Marie, Petit Mars, whose horses can be recognised by the suffix "de Hus", took second place behind Sylvain Massa. Wiedeke Zijp follows in fourth place. Jean-Claude Ferrand, Helen Burgess, ZG Guillaume Gautier and Diane Riggaz are also among the top 20.
From a breeding point of view, the evaluation of the successful horses according to their sires and damsires is highly interesting. In terms of lifetime gain, the Dutch Don Juan de Hus by Jazz /Krack C is the top sire, who also had a great influence on the Hannoveraner breed in France, especially due to his breeding at Haras de Hus. At a little distance follows the Hannoveraner Finest by Fürstenball/Wie Weltmeyer bred by Andreas Trompeter, Sottrum/GER. Bon Coeur by Benetton Dream/Sandro Hit (breeder: Birgit Tietjen, Taaken/GER) follows in fourth place.
The Hannoveraner influence is also undeniable on the dam's side: The top 10 include sire greats such as Lauries Crusador xx, Weltmeyer and De Niro.
---
WebSeminars in English
The Hannoveraner Verband has been successfully offering WebSeminars since January 2021. The further development of the "Verden Horse Seminars" also aims to reach breeders and interested people outside Germany. In addition to the very successful WebSeminars in German, we also offer selected topics in English. Current topics and dates can be found here.
---
Stallion directory 2022 available online
The stallion directory is online. As an addition to the ultimate guide "Jahrbuch Hengste" (Yearbook Stalltions), the stallion directory offers information on all stallions currently available for breeding.
---
Breeding certificates
Please remember to send us your breeding certificates! If you do not have a breeding certificate for your mare yet, you can also request breeding certificates for the past breeding season here.
---
Yearbook Stallions 2022
The Yearbook Stallions 2022 will be published in a few days! For the price of 25 Euro plus shipping, the Yearbook can be ordered at the Hannoveraner Verband, Mrs. Mindermann, .
---