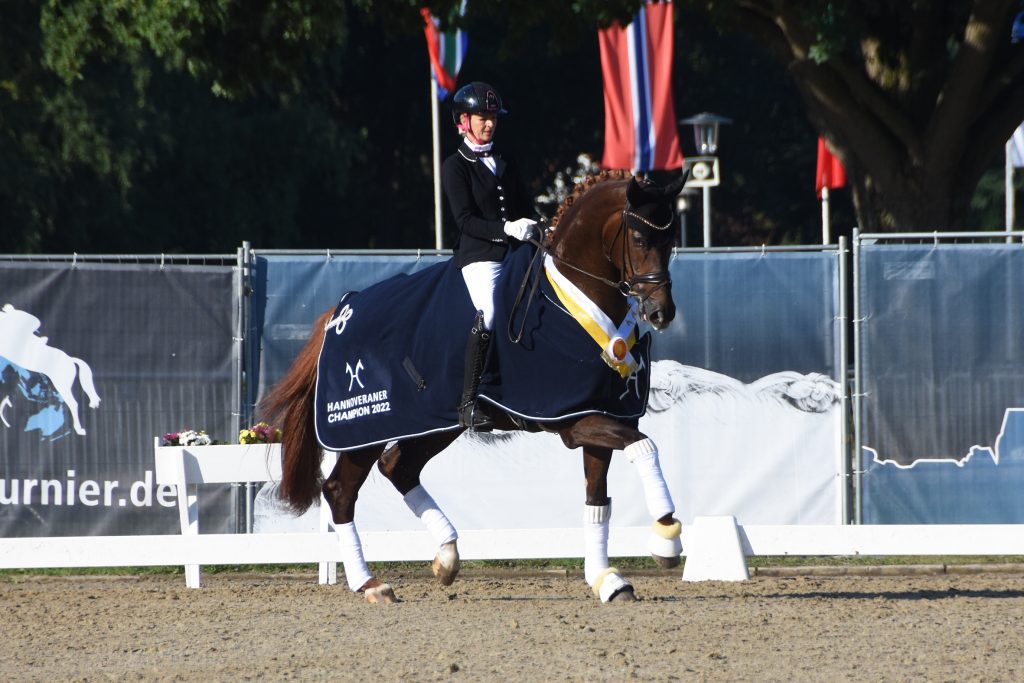 ---
Verden. The winners' fanfare sounded four times at the Hannoveraner Riding Horse Championships. The privately owned stallion Secret produced two champions and two vice-champions. San to Alati, Vogue, Mary Lou and So Dynamic won in Verden's arena.
Two Secret sons led the field of four-year-old stallions. The Secret/Belissimo M-son San to Alati (breeder: Lena Marie and Kerstin Klose, Burgwedel) and rider Mareike Mimberg became Hannoveraner Champion of the four-year-old stallions with a lead of two tenths. The winner of the dressage test for stallions in Münster-Handorf took the title in impressive style. Second place went to Segantini by Secret/Fidermark (breeder: Dr. Christine Feichtinger, Vaduz/LIE), who was perfectly presented by Jessica Lynn Thomas. The premium stallion had completed his 50-day test in Adelheidsdorf as the best. My Milano by Millennium/De Niro (breeder: Johann von der Decken, Krummendeich), ridden by Lukas Fischer, completed the podium in third place. 
The final of the three-year-old stallions was eagerly awaited. The judges saw the Vitalis/Fidertanz son Vogue (breeder: ZG Werth, Moers) and Leonie Richter at the top. The privately owned stallion had already attracted attention at his short disposition test in Münster-Handorf in April. Vice Champion became La Bonheur B by La Vie/Danone (breeder: Hubert Brömlage, Damme). Eike Bewerungen was in the saddle of the grey. The Escamillo/Fürst Romancier son Estubendo (breeder: Inga Bulle, Lüdingworth) took third place with the Spanish rider Judit Sarda.
The competition continued with the division of three-year-old mares and geldings. The Millennium/Christ-daughter Mary Lou (breeder: Heinrich Ramsbrock, Menslage) took the Champion's crown. The Hannoveraner premium prospect, ridden by Hermann Burger, had won her class at the Herwart von der Decken Show four days earlier. Dribbler by Don Martillo/Dancier (breeder: Angela Fitschen, Wohlsdorf) took silver place with Ida Hofman-Bang. The athletic chestnut out of the renowned dam line of Pille had come into Spanish ownership via the Verden foal auction. Third place went to Belcanto HB by Benicio/Rascalino (breeder: Helmut Bäßmann, Meitze) and Kira Goerens-Ripphoff.
The last title of the Hannoveraner Championships 2022 was won by another Secret son: So Dynamic by Secret/Welser (breeder: Sven Hörnschmeyer, Northeim) was best of the four-year-old mares and geldings with rider Kira Goerens-Ripphoff. Last year, the bay had been third at the same place and had represented Hannover's colours in the final of the Bundeschampionat. Julia Bolte from Syke-Okel celebrated a very special success in second place. She is not only the breeder of Special Design by Secret/Relevant, but also presented her herself. With her dam H.W.'s Romina she was once successful up to Inter I-level. The Morricone/San Amour-daughter Macadamja (breeder: Heinrich Gießelmann, Barver), whose dam was Reserve Champion Mare at the Herwart von der Decken-Show in 2012, followed with Simone Kaiser on third place.
Results: www.verden-turnier.de