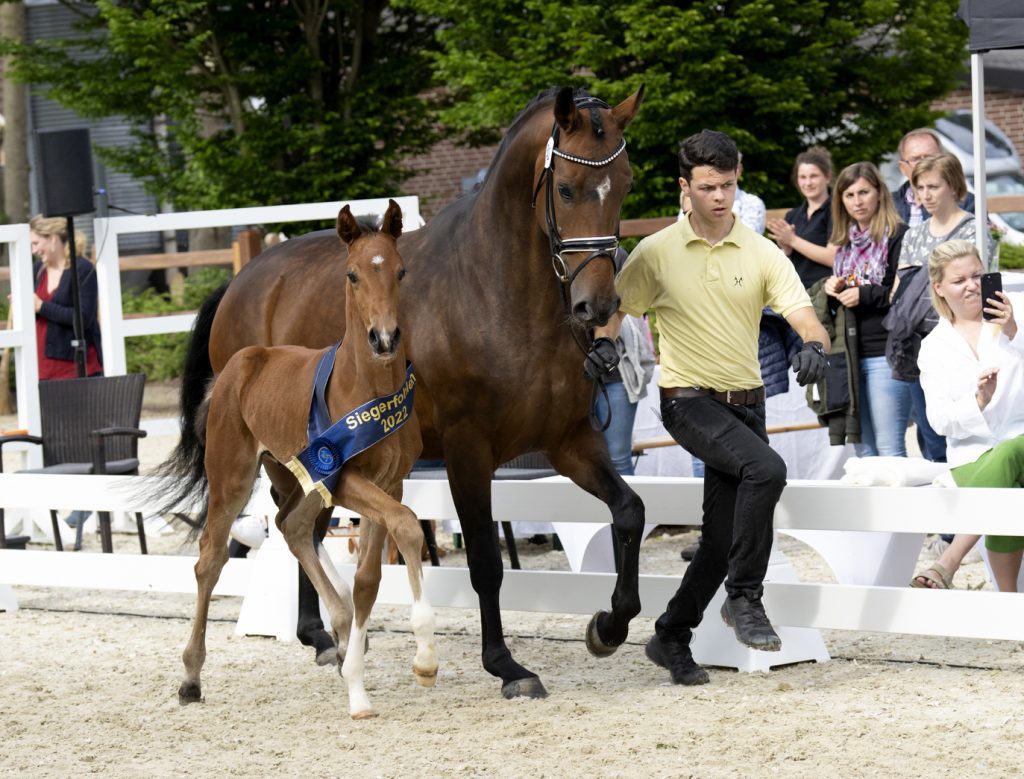 The last of the five online auctions of the Verden Foal Spring ended with a very good result. An average of 10,320 Euros had to be paid for the 32 selected representatives of the 2022 vintage. Equipped with the right name of a well-known champagne brand, Veuve Clicquot achieved the top price with 33,500 Euros.
Ten bidders were interested in the strong moving Valdiviani/Sir Donnerhall son Veuve Clicquot (breeder and exhibitor: Hans-Dieter Erfkemper, Borken). At the hammer price of 33,500 Euros, he was sold to regular Hannoveraner customers from Spain after almost 30 minutes. It was not the first time that the breeder had reason to celebrate. A few weeks ago, Veuve Clicquot was the winning foal at the foal show in Hünxe. Veuve Clicquot did not have to make the journey alone. The second most expensive foal, Franco's Hitparade by Franco Nero/Sandro Hit (breeder and exhibitor: Stefan Herrmann, Northeim), also went to Andalusia for 24,000 Euros.
The best-paid foal with jumping genetics has an even longer journey ahead of him. Buyers from the USA purchased the Conthargos/Chacco-Blue daughter Candora (breeder and exhibitor: Marion Menck, Rübehorst). The bay filly out of the dam line of Naturkind cost 13,500 Euros. It is the 32nd foal of the breeder that found a new owner at a Verden auction.
The Verden Foal Spring closed with a very satisfying finale. Twelve foals achieved prices in the five-digit range. 18 of the 32 foals are expected to leave Germany. By far the largest contingent (seven foals) was auctioned to Spain.